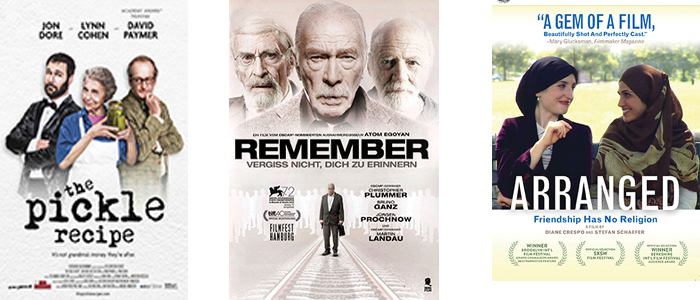 ---
January 27-29, 2018
The 13th Annual West Valley Jewish Film Festival will be held on January 28-29 at Beth Emeth Congregation, 13702 W. Meeker Blvd. in Sun City West.
The three films shown at this year's festival are "The Pickle Recipe," "Remember" and "Arranged." Tickets for each film are $12 if purchased at the door. Tickets bought in advance are $10 per film or three films for $27.
THE PICKLE RECIPE
(USA, 2016, 97 min., English)
The king of Detroit's Jewish party scene, Joey Miller finds himself down on his luck and deeply in debt after a freak accident totals his prized sound equipment. In dire need of help to pay for his daughter's (Taylor upcoming bat mitzvah, Joey turns to his shady uncle Morty, the black sheep of the family. Morty agrees to loan the money if Joey will do the unthinkable: steal his grandmother's closely guarded pickle recipe.
REMEMBER
(Canada/Germany, 2015, 94 min., English and German)
Burdened with memory loss and his beloved wife's recent passing, 90-year-old Zev Guttman is in a race against time to find personal catharsis and overdue justice. Having seemingly suppressed the wartime horrors of decades earlier, he is prompted to track down his fugitive Nazi tormentor by fellow Auschwitz survivor Max, a wheelchair-bound resident of their New York City nursing home. As Zev closes in on his target, his manhunt is complicated by his own constantly crumbling sense of self, leading inexorably to a shocking climax.
ARRANGED
(USA, 2009, 90 min., English, Hebrew, Arabic and Spanish)
The story about two young women – Rochel an Orthodox Jew, and Nasira a devout Muslim – who meet as first-year teachers at a public school in Brooklyn. Over the course of the year they learn they share much in common – not least of which is that they are both going through the process of arranged marriages.
A brief commentary of each film will precede its screening, and complimentary refreshments will be served after each screening. For more information, call 623-584-7210 or visit bethemethaz.org.

---
---