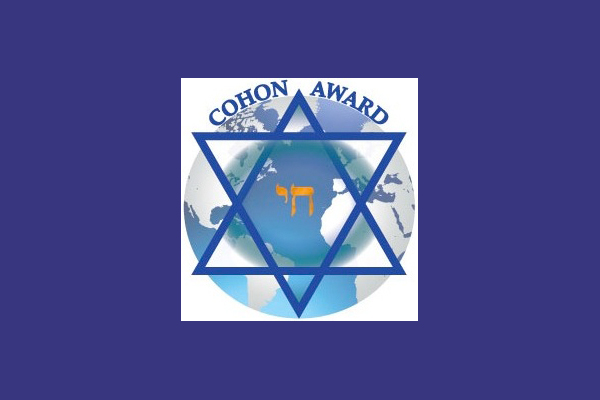 ---
September 1st is the deadline to submit your nomination for the winner of the 2017 Cohon Award. The Cohon Award was established by the children and grandchildren of Rabbi Samuel S. and A. Irma Cohon and awards are presented annually to individuals for accomplishments that benefit Klal Yisroel – the entire Jewish people.
Achievements will be considered in the following areas:
UNITY. Chronic infighting and rivalry can be disastrous to Jewish life. A program that effectively replaces that spirit with cooperation and mutual respect, transcending geographical, doctrinal or other differences, and strengthening ties to a common identity, will be welcomed.
EDUCATION/INFORMATION. A program or media use that spreads Jewish information to a wide public. A published or publishable book that adds something to Jewish knowledge or to understanding of Jewish people; a musical or dramatic stage or film score, script or production with the same standard; a school program that shows content, originality and effectiveness.
RESCUE. Individuals who save the lives of endangered Jewish people, rehabilitate destroyed or damaged Jewish communities, or enable Jewish refugees to find safe haven anywhere in the world.
CREATIVE ARTS. Original or interpretive work in music, visual arts, literature, dramatic arts or mixed media that celebrates or commemorates Jewish life.
As significant contributions build the fund, the award grows. The 2010 award was $25,000. By 2015 it had increased to a total of $45,000. The 2016 award amount was $50,000.
The deadline to submit nominations and applications is Sept. 1, 2017. The winner will be selected at High Holiday time, and the award will be presented at Hanukkah.
The nomination form can be found at cohonaward.com/recommend. If you are recommending another individual, please complete the entire form. If you are recommending yourself, only complete the bottom portion.

---
---