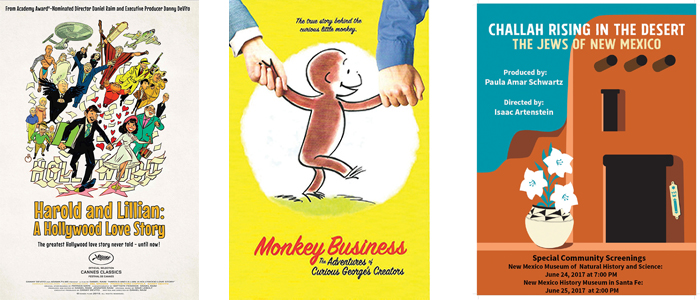 ---
Jan. 11-21, 2018
SaddleBrooke Kick-Off – Sunday, Jan. 7, 3 pm, $5
HAROLD & LILLIAN: A HOLLYWOOD LOVE STORY
(USA, 2016, 94 min., English)
Two unsung heroes working in the Hollywood system for six decades, storyboard artist Harold Michelson and film researcher Lillian Michelson, left an indelible mark on classics by Alfred Hitchcock, Steven Spielberg, Stanley Kubrick, Roman Polanski and many more.
Presented by SaddleBrooke & the Northwest Division, Jewish Federation of Southern Arizona
Opening Night at The Loft Cinema – Thursday, Jan. 11, 7 pm, $10
SHELTER – Arizona Premiere
(Israel, 2018, 93min., English/Hebrew/Arabic)
In this subtle thriller, a female Mossad agent is sent to protect a female Lebanese informer in a safe house in Hamburg, Germany. The relationship that evolves between the women is tested with the threat of terror, deception, and a surprising turn of fate.
Presented by The Loft Cinema
Media sponsor: Tucson Local Media
Friday, Jan. 12, 1 pm
CHALLAH RISING IN THE DESERT: THE JEWS OF NEW MEXICO
(USA, 2017, 84 min., English)
Amidst New Mexico's unique Jewish community, the five-braided challah represents five waves of settlement including Conversos escaping the Spanish Inquisition 400 years ago, German Jewish pioneers of the Santa Fe Trail in the 1800s, scientists of the 1940s at Los Alamos and the counterculture of the 1960s.
Special Guest: Producer/Director Isaac Artenstein
Saturday, Jan. 13, 7:30 pm
HARMONIA
(Israel, 2016, 98 min., Hebrew/Arabic with subtitles)
A modern and layered adaptation of the biblical tale of Abraham, Sarah and Hagar, set in the world of the Jerusalem Philharmonic Orchestra. Conductor Abraham and his wife Sarah, the orchestra's harpist, cannot have children. Hagar, a young horn player from East Jerusalem who joins the Western Side Orchestra, offers to have a baby with Abraham for the couple. The child grows estranged from Sarah as the thin line of family balance is shaken.
Sunday, Jan. 14, 1 pm
MONKEY BUSINESS: THE ADVENTURES OF CURIOUS GEORGE'S CREATORS
(USA, 2017, 81 min., English)
Hans and Margret Rey, a German-Jewish couple who narrowly escape Nazi-occupied France on makeshift bicycles, secretly carry the unpublished Curious George manuscript with them. Forced to live in Brazil while they await visas to the United States, the couple eventually sail into New York harbor to start life anew and create a children's book classic.
Special Guest: Cartoonist and Rey Foundation Executive Director Nat Scrimshaw
Presented by Sarah Iden & Marc Herman in memory of Lola & Marvin Herman
Media sponsor: PBS Kids-Arizona Public Media
Sunday, Jan. 14, 3:30 pm
FANNY'S JOURNEY
(France/Belgium, 2016, 94 min., French with subtitles)
Following her father's arrest, 13-year-old Fanny leaves Nazi-occupied France with her younger sisters for an Italian foster home for Jewish children. When they are suddenly left on their own, a brave and resourceful Fanny leads this band of orphans on a trek toward the Swiss border in the hopes of freedom.
Presented by Fay Green & Family
Media Sponsor: Arizona Jewish Life Magazine
Sunday, Jan. 14, 7 pm
THE ESSENTIAL LINK: THE STORY OF WILFRID ISRAEL
(Israel, 2016, 82min., Hebrew/German/English)
As the owner of the largest department store in Berlin and a member of one of Germany's most prominent Jewish families at the time of Hitler's rise to power, Wilfrid Israel helped save thousands of Jewish children through the Kindertransport operation and secured escape for hundreds of his employees and their families from Nazi Germany.
Presented by the Arizona Jewish Post
Monday, Jan. 15, 1 pm
HAROLD & LILLIAN: A HOLLYWOOD LOVE STORY
Repeat presentation, see description from Jan. 7
Monday, Jan. 15, 3:30 pm
MR. PREDICTABLE
(Israel, 2016, 91 min., Hebrew with subtitles)
Adi has been a nice guy, a doormat, his entire life. This changes when he meets Natalia, who entices him into a life of emotions, passion and romance. Now he has to choose between love and reason, dreams and reality, Natalia and family.
Presented by Talya Simha Fanger-Vexler (Legendary Properties)
Monday, Jan. 15, 7 pm
AN ACT OF DEFIANCE
(Netherlands, 2017, 123 min., English/Afrikaans)
Nelson Mandela and his inner circle – some black, some Jewish – face a possible death sentence for conspiracy to commit sabotage after they are arrested by the apartheid South African government during a raid in the town of Rivonia during the summer of 1963. Bram Fischer, a sympathetic lawyer, risks his career and freedom to defend these men.
Presented by Mary and Barry Ganapol
Tuesday, Jan. 16, 5 pm
BOMBSHELL: THE HEDY LAMARR STORY
(USA, 2017, 90 min., English)
The film follows the film star's double career, spending her days acting with the silver screen's leading men and her nights working on electrical and mechanical inventions which were destined to change the course of the world.
Showing with:
A PAGEANT FOR SURVIVORS
(Israel, 2017, 4 min., English/Hebrew w/ subtitles)
Each year, Haifa, Israel, plays host to a beauty pageant. Each contestant is a Holocaust survivor. And last year's winner – 84 year-old Rita Berkowitz –is set to pass her crown on to the new queen.
Presented by The Desert Leaf
Tuesday, Jan. 16, 7:30 pm
THE FREEDOM TO MARRY
(USA, 2016, 86 min., English)
The profound, emotional, untold story of how same-sex marriage became law of the land. This film follows Evan Wolfson, the architect of the movement, civil rights attorney Mary Bonauto and their key colleagues on this multi-decade long battle, culminating in a dramatic fight at the United States Supreme Court.
Presented by JPride
Wednesday, Jan. 17, 5 pm
THE GUYS NEXT DOOR
(USA/Italy, 2016, 74 min., English/Italian with subtitles)
Rachel and her husband Tony are a traditional married couple living in Boston with their three teenage children. But there's nothing traditional about Rachel's decision, at 41, to become a surrogate for Erik, her friend from college, and his husband Sandro, twice within two years. This movie explores the intimate struggles and possibilities that creating family brings.
Presented by Reveille Men's Chorus
Wednesday, Jan. 17, 7:30 pm
THE CHILDREN OF CHANCE
(France, 2015, 90min., French with subtitles)
Whisked away in an ambulance with a broken leg, a young boy is separated from his family just as they are arrested by police in Nazi-occupied France. Diagnosed with tuberculosis, he finds friendship, camaraderie and safety in the shelter of an isolated children's hospital.
Showing with:
BANK ROBBERY
(USA, 2017, 3 min., silent film)
From Director Eitan Penner comes this short film project from the 2017 JCC Summer Camp whose theme was "Lights, Camera, Camp J!" Starring the JCC Campers from Giborim 2.
Thursday, Jan. 18, 1 pm
ORIENTED
(Israel, 2015, 86min, Arabic/Hebrew/English with subtitles)
Explore the lives of three gay Palestinian friends in Tel Aviv as they field being outsiders of both their national and sexual identities, while dealing with Israeli friends and Jewish boyfriends during a challenging time: the 2014 Israel-Gaza conflict.
Thursday, Jan. 18, 5 pm at The UA Hillel, free with a student ID.
TICKLING GIANTS
(Egypt, 2016, 111 min., English)
Known as ""the Jon Stewart of Egypt," Bassem Youssef, an established heart surgeon, uses the power of satire to speak for the people and against a repressive government.
Presented by Larry & Goldie Goldstein
Friday, Jan. 19, 1 pm
1945
(Hungary, 2017, 91 min., Hungarian with subtitles)
On a summer day in 1945, an Orthodox man and his grown son solemnly return to a village in Hungary where villagers are preparing for the wedding of the town clerk's son. The townspeople – suspicious, remorseful, fearful, and cunning – expect the worst and behave accordingly.
Saturday, Jan. 20, 7:30 pm
ON THE WATERFRONT
(USA, 1954, 108 min., English)
Leonard Bernstein's only original film score can be found in this classic film, starring Marlon Brando as an ex-boxer getting mixed up with mobsters while working on the docks of Hoboken's waterfront.
Presented in partnership with the Tucson Desert Song Festival.
Jamie Bernstein, daughter of Leonard Bernstein will introduce the film and take questions following the film. Presented by The Arizona Daily Star.
Sunday, Jan. 21
10:30 am closing brunch; separate purchased ticket of $18
11:30 am film MONSIEUR MAYONNAISE
(Australia, 2016, 94 min., English/French with subtitles)
Australian artist and filmmaker, Philippe Mora, investigates the secret past of his father's clandestine role in the French Résistance in WWII and his mother's miraculous escape en route to Auschwitz.
Film presented by The Hacienda at the River
Please be advised that all films are unrated and may contain content that is unsuitable for children under the age of 13. For the comfort of all our patrons, please refrain from wearing fragrance to screenings. All films are shown at the Tucson J unless otherwise noted.
TICKET PRICES:
Season Pass: $118
6-Pack: $45
General Admission: $9
Discounted GA: $8
Opening Night: $10
Closing Brunch: $18
Purchase tickets at TucsonJCC.org or call 520-299-3000

---
---