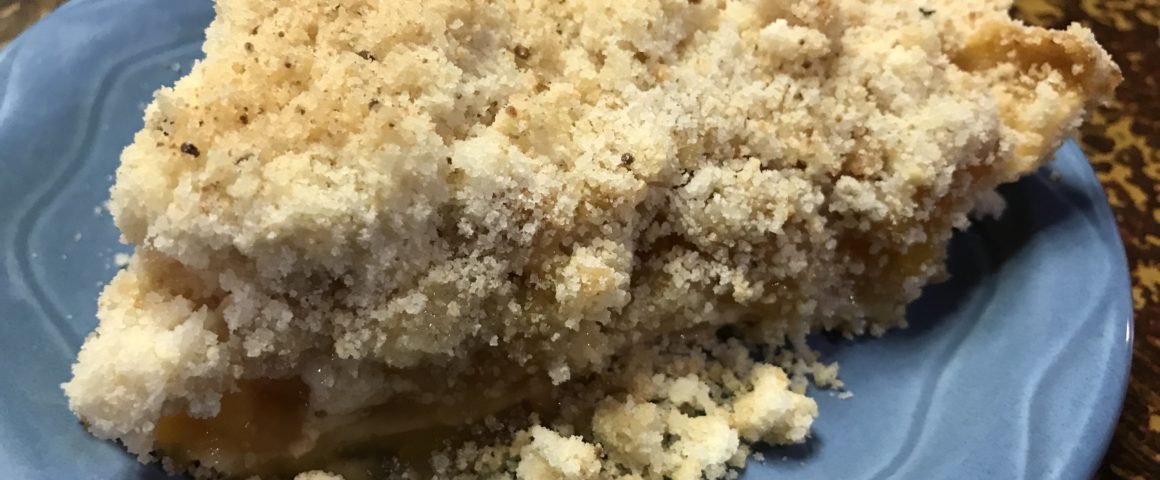 ---
You drive by it twice, every time you go back and forth from Phoenix to Prescott, Sedona, or Flagstaff, and if you've never taken the Rock Springs exit, well you're missing a true slice of heaven.
Forty miles north of Phoenix, lies the tiny community of Rock Springs (population 3,339 including adjacent Black Canyon City), but don't let the small size fool you. It has one of the most popular and longest operating restaurants in Arizona, the Rock Springs Café. How popular? Because the café is famous for its pies, I asked a server (who called everyone "Hon"), "How many pies does this place sell?"  She said, "I can tell you this, we sold 12,000 pies the week of Thanksgiving."  If that isn't enough of a recommendation for you to stop in, I will try to entice you with a few more details.
The Rock Springs Café has been in continuous operation since 1918 serving home-style comfort food and baked goods.  It looks every bit as much as an old western watering hole, and if you sit at the counter, you can mingle with the locals.  Their offerings include full breakfasts, lunches and dinners, but oh those pies!  I counted 17 different pies on the menu one day.  They sell them by the slice or by the whole pie to eat in or to go. Usually, there is a line for pie to go, but it moves fairly quickly.
You're probably interested now so let's get down to business.  Over the course of several visits, here is what I had:
Top Sirloin and Eggs  $14.95
(Eggs any style)
I usually avoid ordering steak and eggs because who wants that dried up thin piece of overcooked meat you are so often served, plus, this seemed a little pricey. Was I surprised to discover a real steak, charbroiled medium rare (as I ordered), along-side my perfectly cooked sunny side up eggs. The meat was nicely seasoned, juicy and tender. This breakfast is also served with a side of home fries, a mixture of crispy potatoes, sweet peppers and onions, and choice of toast. This dish was worth every penny and is highly recommended.
Cinnamon Roll  $4.95
(No description – because it's not on the menu)
I was eyeing a piece of Tennessee lemon pie, which I had heard is like a custard, when one of the locals at the counter suggested I try a cinnamon roll because they just came out of the oven. I didn't even know they offered them, nor did I know they were the size of your face when I ordered one. Out comes this huge, rectangular, crispy-edged, hunk of sugar glazed swirl – and I can't wait to dive in. It was soft, warm, gooey, with all of the cinnamon goodness you would want. I asked the server for a to-go box because of the size of this treat, but I didn't end up using it. It was just too good. I would have missed this if I hadn't engaged in chit-chat with a stranger at the counter. Lucky me.
Bourbon Burger  $13.95
(Caramelized onions with a sweet bourbon sauce on top)
There are several burger options on the menu, but as soon as I saw caramelized onions and bourbon sauce in the same sentence, I knew this was for me. It's a charbroiled burger, cooked just the way I ordered it, on a fresh bun. It is served with a good sized order of French fries, tomatoes, pickles, and of course, the caramelized onions and bourbon sauce. It is such a pleasure to be served a burger at the temperature you order, especially when the server goes out of the way to ask you how you want it cooked. Sometimes I wonder why restaurants even bother to ask how you want it cooked since the chef pays no attention anyway. Rock Springs Café seems always to get it right.
I saved writing about the best for last, the pies. Rock Springs Café has three categories of pies, cream, specialty and fruit. All of their slices are $4.95 and I never met a slice I didn't like. I also never met the Tennessee lemon pie I so desperately wanted because they were always sold out. Anyway, here are some slices I did dive into:
Peach Crumb Pie
I'm not a fan of peaches, so this is the ultimate test. Is Rock Springs Café pie so good that I can order something I don't really like and love it? The answer, yes! The peaches were firm and sweet, and the crust heavenly. The really great part was the crumb topping, a generous layering of crumbled sugared pastry. No need for à la mode, although it is available for only one dollar.
Apple Pie
An American classic served hot or cold, à la mode or not. There are two great parts of this pie.  The first is their selection of apples and the second is the top crust. The apples are slightly tart which just goes to remind you that you are eating apple pie. I prefer this tartness to the sweet sticky type of apple filling. The top crust is a golden brown layer of pastry, sort of dense, and when you sink your teeth into a bite, it tastes like home.
JD Pecan Pie
This is my absolute favorite pie they make. The JD stands for Jack Daniels. Yep, there is definitely a splash of this famous Tennessee whiskey in the pie. You can taste it, and that is what takes it over the top. The pecans are crunchy. The pie is sweet. The crust is flaky, but oh that whiskey flavor just ties it all together. They do have a "virgin" version of this delicious dessert.  If you want pecan pie without Jack Daniels, well they just call it pecan pie. Go for the JD.  You won't be sorry.
On your next trip north, plan a stop at the Rock Springs Café. Weekends are their busiest time, just be patient. The people are friendly and the service is great, but they run out of things because they're so good. They have an all-you-can-eat fish fry on some days, and specials, too. You can pre-order pies and have them shipped as well. This is how they sell 12,000 pies at Thanksgiving.  You can take home a slice of Arizona, but be warned, you will keep coming back for more.
Rock Springs Café  $$
35900 S. Old Black Canyon Hwy., Rock Springs
623-374-5794
rocksprings.cafe
Editor's note: Rock Springs makes their pie crust with lard, which is a pig-based product.

---
---