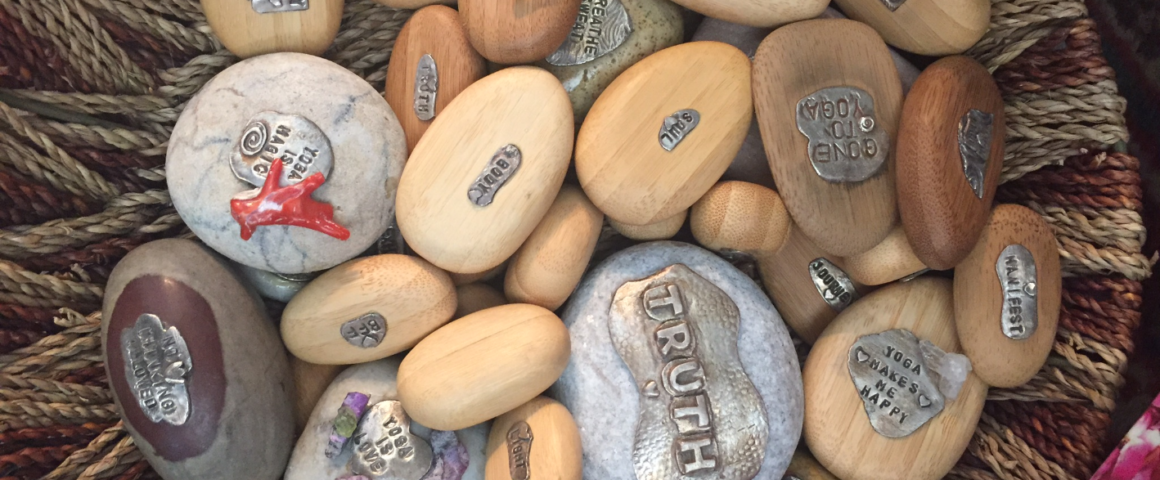 ---
When you walk into Allison North's home studio, your eyes don't know what to focus on first.
Everywhere your gaze falls are thoughtfully created vignettes of her completed designs that draw you in, and wherever you turn you notice a detail that escaped you before. Nestled amongst the finished artwork, is a variety of metal findings, stones and other trinkets just waiting to be transformed into something magical.
Most of Allison's custom designed jewelry and decorative pieces are created using precious metal clay or PMC. PMC is a medium consisting of tiny particles of precious metal such as silver, gold, bronze or copper mixed with an organic binder. The material she works with can be handled like clay, but when fired at a high temperature in a kiln, it becomes transformed into 99.9% silver.
The advantage of working with the medium like PMC is that Allison can stamp or carve intricate
designs into the clay before it is fired – creating unique and custom items personalized for the individual.
She creates rings, earrings, necklaces, bracelets, dog tags, keychains and stones specially made with names or sayings that hold distinctive meaning for the wearer. "I just listen to hear what the customer is looking for and make what they want," explains Allison. "I am very empathetic – I read what people need or want."
The range of Allison's work really has no limits, having created everything from one-of-a-kind wedding gifts to memorial pieces. "People express themselves through me," she says. The sign hanging in her studio aptly says, "Allison North Designs – Jewelry for the Soul."
She moved to Scottsdale in 1990 with her husband Nicholas Ricciardelli and their two sons, Alex and David. She jokes about the difficulties of pronouncing and spelling her married last name saying simply, "I go by North!"
Allison started making jewelry more than 10 years ago and reflects that maybe some of her talent for creating with words was inherited from her grandfather, "He was a cartoonist and created the Jumble word puzzle in the paper."
You can find her selling her wares at yoga festivals, and she occasionally hosts shopping boutiques in her home with other artists. She is fortunate in the fact that most of her business comes from people contacting her via Facebook or from word of mouth.
Working from a spiritual base and calling her work "art from the heart," Allison scours antique stores looking for unusual pieces of hardware, trinkets, belt buckles or vintage jewelry that can be repurposed into a new treasure. She will create designs for people of any faith, and believes she is the only jeweler who makes custom pieces incorporating Hebrew letters.
She also admits she finds inspiration in all kinds of places, some unexpected. "I went to a yoga festival, and one man told me to, 'Enjoy your sandwich,' so that became a saying on a piece!" she jokes.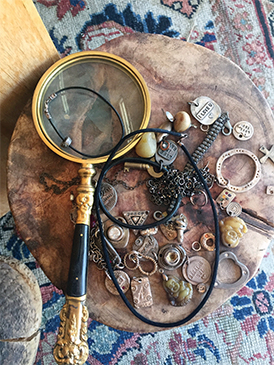 The method of how she goes about making her jewelry is also unique because she doesn't do any sketches of the design ahead of time. "I work from my hands, I don't draw anything out," says Allison. "My hands do the work from my heart – that's how it goes."
She also likes her creations to reflect her self-realization and awareness. "I care about the expression of the piece, what the person wants to say," explains Allison. "For example, on the front, you could have a yin and yang symbol and on the back can be a message, just for yourself, something that you don't have to say out loud."
Many people have told her that the item she custom-made for them is their favorite piece of jewelry. Her customers often say, "I never take it off!" Allison admits that she loves to hear that and it is apparent that all of the work she does is truly "art from the heart."
For more information on Allison's work, or to contact her about designing a made-for-you piece, visit allisonnorthdesigns.com.

---
---