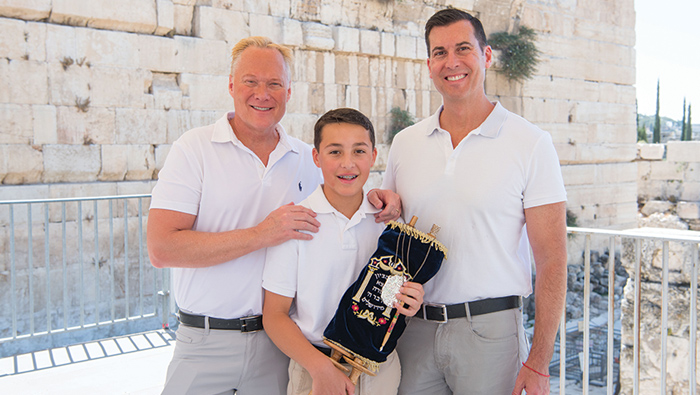 ---
Planning a bar mitzvah is stressful enough, but what if you had moved to an area where there wasn't a large Jewish community and no Jewish day school? Such was the case for Mark Aronauer and his husband, Jack.
They lived in Phoenix when their son, Mason, was in 3rd and 4th grade and he was a student at Pardes Jewish Day School. Then the family moved to Santa Fe, NM. "When we moved, Mason was no longer in a Jewish day school (because there wasn't one), so we weren't so involved with the day-to-day Jewish education when Mason was in the 5th and 6th grade," explains Mark.
That's when the family started thinking about having Mason's bar mitzvah in Israel. "Every year we take a big trip," says Mark. "We have been to Europe, Dubai, Argentina – the whole idea of having a bar mitzvah in Israel resonated with us." The family is back in Phoenix now, and Mark admits that they may have gone the more traditional route had they been living here when they were beginning their planning.
Mark and Jack started researching the logistics of the trip. "Normally, when you go to Israel for a bar mitzvah, you reach out to a tour company who you don't know, and they get you a rabbi, and it's a whole business – and not very personal," explains Mark. They wanted a more personal approach. Mark had a childhood friend, Cindy Roth, who is a cantor and event planner at a synagogue in California and had performed bar mitzvahs around Mammoth Lakes and Lake Tahoe. What they both liked about Cindy's approach was that she caters each service to the individual family.
Mark reached out to Cindy, and she agreed to be Mason's tutor. "Most of Mason's practice happened over FaceTime, although there was one time when our family and Cindy were both in
Palm Springs and they met to study," comments Mark. Mark and Jack also asked Cindy to accompany them to Israel.
Their two-week stay in Israel began on June 7 of this past summer. "We spent two weeks traveling with family (there were nine of us total). We traveled through the whole country from Jerusalem to the northern border," says Mark. Mark's mother was there for the first week of their stay and his father arrived in the second week, so they planned Mason's bar mitzvah in the middle so both grandparents would be able to attend. Mark also explained that the extra time, "Gave Mason a chance to have a connection with Israel before his bar mitzvah."
Their first visit to the Western Wall happened on Friday night. After they went to the Kotel and left their notes in the Wall, they came back out and sat and observed. "It was a phenomenal feeling to get to the Wall at Shabbat. You see a lot of the religious scholars, dressed in their long black coats and payot," reflect Mark "Guys on one side singing and girls on the other. There were young adults that had come on their Birthright trip. People were visiting the Wall for the first time. All this stuff was going on around you – it was overwhelming – a really amazing moment."
On June 13 the family arrived at Robinson's Arch for the bar mitzvah. Robinson's Arch is at the southern end of the Western Wall, outside of the security area. The religious activities there are coordinated by the Masorti, or Conservative movement, enabling men and women to be able to pray together. There are four different table stations set up for bar/bat mitzvah ceremonies in this area.
Since the Torah is typically read in Israel on Monday and Thursday, and it was a Tuesday, the family had the entire place to themselves. "Also because it was Tuesday, we didn't have to make a reservation in advance and were able to choose the table in the area we liked," explains Mark. They brought the tablecloth, tallit, Torah (all the way from Phoenix), yad and set up the whole service right there. "We wrote the service and there were four portions of the Torah read – Masons' grandpa, grandma, Jack and I all did an aliyah."
Even though they knew it would be a remarkable experience, Mark states how it surpassed their expectations. "For Jack and me, and my parents, we all said it was more of a connection and more of a service than an of us even expected." And Mason gets to say he became a bar mitzvah in Israel.

---
---