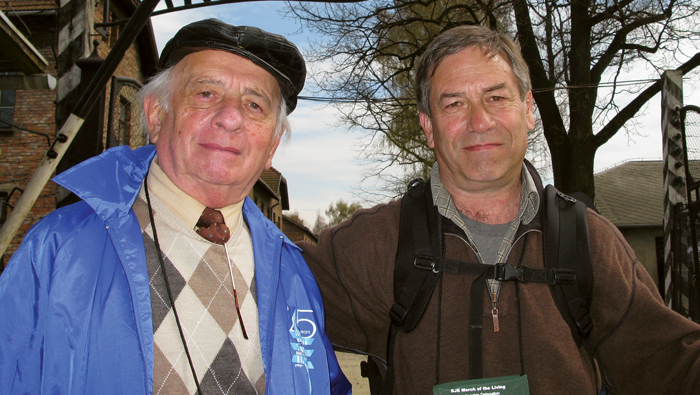 ---
Never forget. This short declarative sentence frequently is used to commemorate a wide array of national and international tragedies occurring in unprecedented numbers, but it originally was articulated after the Holocaust to memorialize the murder of more than 6 million European Jews.
Very often "never forget" is used in conjunction with "never again," as a reminder to do everything in our power to prevent that level of human tragedy from reoccurring.
Four of the Valley's Jewish organizations will come together on Sunday, April 17, at the Ina Levine Jewish Community Campus to present the Arizona premiere of "Surviving Skokie: A Heartwarming Tale of Community, Transformation and Discovery," a film that is the cinematic representation of "Never forget. Never again."
"Surviving Skokie" is director Eli Adler's deeply personal film that follows the path of his father, a Polish immigrant and concentration camp survivor who tried to rebuild his post-World War II life in the film's titular Midwest city. The Greater Phoenix Jewish Film Festival, the Bureau of Jewish Education, the Phoenix Holocaust Survivors' Association and Generations After – Descendents of Holocaust Survivors in Greater Phoenix joined forces to present the film with the shared goal of ensuring the message continues to remain unforgotten.
Encapsulating a dark and ugly time in America's past, "Surviving Skokie" is the story of a father who didn't want to remember his haunted past until something so awful forced his hand, and a filmmaker son wanted to understand what made his father stay silent for so long. The entire family of Jack Adler, the director's father, perished in the Holocaust. After being liberated, Jack found his way to Skokie, IL. In this small suburb of Chicago, almost 7,000 Holocaust survivors made their lives over – the largest concentration of survivors in the U.S. at the time.
These men and women had survived the horrors of the Holocaust and came to America to put the past behind – and leave it there. For decades they kept awful memories secret, not even telling their spouses or children. But in the late 1970s, when a group of neo-Nazis (led by Frank Collin, ironically the son of a Jewish Holocaust survivor) threatened to march through their quiet village "because that is where the Jews are" – the survivors could – and would – remain silent no longer.
"Co-producer Blair Gershkow and I made this film to not only honor my father, but to honor all survivors," says Adler. "We believe its message of speaking out against intolerance of all forms is as pertinent today as it was in 1977."
Adler's father, Jack, confronts his own past, returning to his birthplace with his son to tell the stories of family members who perished in the ghetto and death camps. They visit Jack's ancestral home of Pabianice, Poland, and Auschwitz, retracing the steps of his horrifying journey.
With many survivors of the Holocaust, the horrible truths and wretched experiences are buried deep inside, hiding from the light of day and pain of rediscovery. "Never forget," is a rallying cry for all Jewish people, yet the dwindling numbers of concentration camp survivors are often the ones who do not wish to remember. The recent death of outspoken Valley resident Helen Handler, a Holocaust survivor who shared her personal experiences with thousands of people, silences one more voice.
"Eli Adler's film looks at the significance and longer-term impacts of that tumultuous episode, especially from the perspective of Holocaust survivors," says Janice Friebaum, director of Generations After. "Here in Greater Phoenix, we have quite a large number of Jews from the Skokie-Chicago area, including Holocaust survivors and their descendants, for whom this film will be of keen interest."
Friebaum adds that "Surviving Skokie" will also appeal to a wider audience "as it demonstrates inspiring examples of courage and catharsis in the face of hate and bullying."
Indeed, the film commends not only the Holocaust survivors who reopened old wounds in order to prevent fresh ones, but thousands of others in the Skokie community – Jews, Catholics and Protestants, civic and religious leaders and veterans of World War II, young and old – who rose up against the voices and gestures of hate.
"Films featuring the stories of people who are willing to take a stand against hatred and discrimination are characteristics the Greater Phoenix Jewish Film Festival looks for in films we seek to share with the community," states the festival's executive director, Robert Segelbaum.
Eli and Jack Adler will be present at the "Survivng Skokie" premiere to introduce the film and participate in a moderated post-screening film discussion with the audience. To order tickets, call 480-792-6736 or visit phoenixhsa.org

---
---