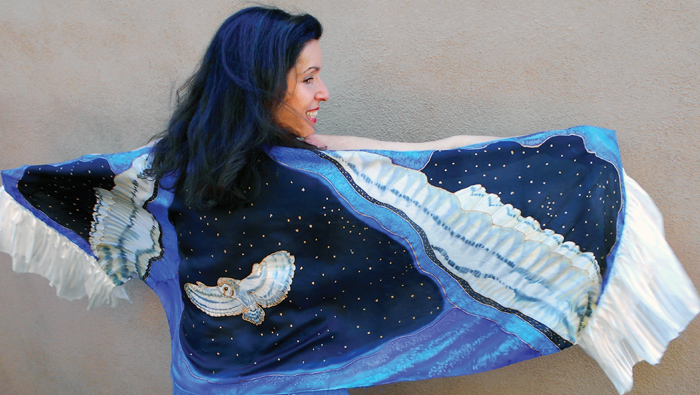 ---
Artist Beth Surdut has always been interested in wildlife. She might have become a naturalist, had she been drawn to science instead of art. Her newest exhibit, "The Art of Paying Attention," features detailed drawings of the "critters" she encounters around her Tucson home.
Beth only recently started doing these intricate drawings. "I was a stained glass designer and fabricator for many years," says Beth. "Then I started painting on silk because I wanted life to be more portable." Her painting-on-silk pieces include tallits, wedding canopies, Torah covers and healing scarves.
"Although there was wildlife included in my work, the visual … wasn't necessarily really detailed," explains Beth. But detail is an ongoing part of her artistic process. "If I was painting a hibiscus, I wanted to know exactly how many petals it had – what everything looked like in 'real life' before I translated it to my artistic vision."
When she set out to draw animals (she started with ravens in her work titled "Listening to Raven"), she says, "I was so intent on getting to know the animal I was looking at, that I was drawing everything. I wanted to know as much as I could." Then she started thinking about other artists who include wildlife in their work. "I was trying to figure out what the difference was between the pieces that appeal to me and the pieces that don't resonate with me," she says.
She realized the difference was in how the artist "sees" the animal: taking a more deliberate approach instead of thinking, "Oh, look at that gorgeous animal! I'm going to paint it" without knowing the animal first. "I want to know everything I can and then do the artwork," says Beth. She adds that just as she sees people as individuals, she also sees critters as individuals "because they do have personalities – if you spend enough time watching them."
Her newest exhibit is much more than the detailed drawings of animals that seem so lifelike, you expect them to leap off the page. In "The Art of Paying Attention," Beth also writes nature stories about these Sonoran Desert animals that she tells on Arizona Public Media/NPR radio station KUAZ at the University of Arizona. "I do the research, write the story, draw the critters, collect the natural sounds and collect the music," says Beth of the process. "I know exactly what I want and where I want it dropped in. Then I bring it all to Mark [McLemore, host of Arizona Spotlight]. I go into the station with Mark and a recording engineer, we lay down the voice track, and he pieces it all together and makes it a beautiful thing."
Beth wanted to engage people through her storytelling and personal experiences but realized that she also wanted to include more comprehensive information about the animals. Without a science background herself, Beth called expert Theresa Crimmins, assistant director of the USA National Phenology Network in Tucson. "I said, 'I think that you and I want the same thing. We want people to fall in love with nature so that they will spend time looking at it and getting to know it, seeing the difference that care – or lack of care – makes.'" The USA-NPN also supports "Nature's Notebook," an online program where amateur and professional naturalists regularly record observations of plants and animals to generate long-term data sets used for scientific discovery and decision-making.
Beth also began accompanying LoriAnne Barnett on presentations. LoriAnne is the education director for the USA-NPN and president of the Arizona Association for Environmental Education. She asked Beth if she would like to take a 10-month certification course to become an environmental educator. "I wanted … to see how people who are in a more traditional setting approach environmental education," says Beth. "I wanted to be able to hear what they hear and see what they see" in an effort to impart information that would resonate with them. Most environmental educators go on to teach in the classroom, while Beth uses her multi-platform nature stories as teaching tools for outdoor workshops.
These workshops reflect Beth's passion for sharing the natural world. "Wouldn't it be fun to do a program where kids, and adults, using my "Art of Paying Attention" radio pieces [could] start looking around at what lives around them in their daily lives and keeping track of it in ways that work for them?" asks Beth enthusiastically. "Either through 'Nature's Notebook' or stories, drawings or writing poems – whatever it is that speaks to them."
Beth's wildlife drawings from "The Art of Paying Attention" will be on display at an exhibit at Tucson's Agua Caliente Park Ranch House Gallery from April 15 through May 10. An artist's reception will be held on Sunday, April 30 from 10 am to noon. Beth will facilitate two "The Art of Paying Attention" workshops for ages 12 and older at Agua Caliente on April 23 and May 10. She enjoys the setting at the park, calling it "an oasis. I do workshops out there because the pond supports and draws so many animals."
To see more of Beth's creations, including her work in stained-glass and hand-painted tallits, visit bethsurdut.com. Click on the "Critters" tab to view more of her animal drawings and to listen to her NPR radio pieces.

---
---