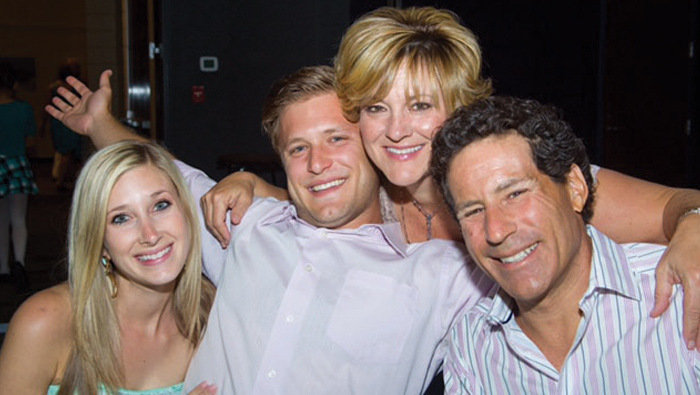 ---
Brenda Landau has come full circle in her career with her current position as legacy officer at the Jewish Community Foundation of Southern Arizona. Throughout her employment history, she has held positions in education, interfaith, outreach, social justice, philanthropy and campaign.
"I have worked with young people all the way through older people and tried to connect people, and now I can feel like I am working to help the future of the community." she reflects.
Her sense of giving back to the community was ingrained in her as a child. "I didn't realize we didn't have money because we were constantly giving everything away. We had homeless people coming to shower at our house, my parents put one of the neighborhood kids through Pima Community College, kids who didn't have money came over and had breakfast at our house – my parents would have given away literally anything they had to help other people," Brenda remembers.
She grew up in an interfaith family, but felt that she didn't "fit in" with the Jewish culture. That was until she entered high school and met Hannah Adelman. "I was already somebody who cared a lot about making the world a better place…but she brought me to my Judaism," says Brenda. Hannah also was Brenda's second chance bat mitzvah teacher. "I had my bat mitzvah when I was 15. That morning, she gave me the name Bracha, which means blessing. In truth, Hannah was my blessing."
As a teen, Brenda got involved in youth groups, "There were always these conventions and events that would come up and I couldn't afford to go to them, but there were always scholarships available, so somehow or other I was always going to everything I ever wanted."
Then in 1998, her father was dying and they were discussing his end-of-life wishes. He expressed that if anyone wanted to give something, to have them give to a Jewish scholarship fund. "Because," he told Brenda, "that is what made you who you are."
"I started thinking about it and realized that really was what, in large part, made me who I am," she says, "and I think that's how I fell into giving back, to and through Jewish organizations, not just with a Jewish lens."
Giving back is an integral part of her job as a legacy officer, "I particularly like the feeling of knowing the community is being insured for the future, but I also like being able to talk to people, to hear what brought them to where they are, how they became philanthropic and help them define what they want – what they care about."
This passion for preserving the community was not lost on her son Matt, 27. When he was a teen he was very involved, even leading the congregation's kids in a jog-a-thon for five years that resulted in their first capital campaign gift of over $25,000, but he admits he was nervous about getting too involved. "When I was younger, I was always hesitant about joining another youth group or taking on more volunteer projects," he says. "As I began to make it towards the end of college, I truly understood that she was not pushing me for my own self-betterment and future career, but for her love of our community and for humanity."
Matt currently works as the director of leadership development at the Jewish Federation of Southern Arizona, in addition to working part-time at Congregation Or Chadash in Tucson. At the synagogue, he has worked as an aide to special needs students, taught the eighth grade comparative religions class and co-taught the seventh grade youth philanthropy program.
"I believe that every value and lesson my mother taught me throughout the years has led me to where I am today," shares Matt. "My mother started teaching us the values of tzedakah and tikkun olam at a very early age. I watched her serve the Jewish community and the respect that everyone had for her because of the way she gives of herself, for the betterment of the community."
Brenda admits that she has a spot for anyone who has a need. "The worst thing that ever happened to my bank account was when the checkout machines came up with those 'would you like to contribute to…' whatever cause they are supporting that week. I go through the line and it asks me if I would like to contribute, and then I forgot something and have to go through the line – and I'll hit 'yes' again."
Luckily for all of us, not only will Brenda strengthen the community by hitting "yes" at the checkout, but she will continue, as legacy officer, to assist individuals in leaving a legacy for the community for many years to come.

---
---