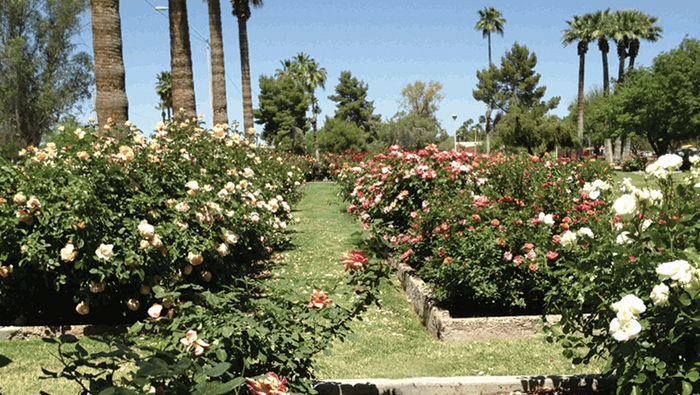 ---
You're the One. Ruby Ruby. Voodoo. Sexy Rexy. If you recognize these as names of roses, you're probably a rosarian. If you don't, there's no time like the present to become one and join legions of lovers and cultivators of roses the world over.
What's so special about the rose? Not only is it the national flower and floral emblem of the U.S. as decreed by President Ronald Reagan in 1986, but its variety, beauty, fragrance and hardiness (it grows in all 50 states) make it a favorite for novice and expert gardeners alike.
"There are many types of roses," says Arizona Rose Society Master Rosarian Jeannie Cochell of Phoenix. "On average, a rose bush can live anywhere from five to well over 500 years. Roses have a history dating back to the days of Cleopatra."
Not only do they add beauty to our lives, but roses are also used to make perfume and have medicinal purposes, including rose oil for sensitive skin and stress relief. Rose petals are used for making rose water and flavoring for cooking. Rose hips, a natural source of vitamin C, are used to make herbal tea and other nutritional supplements.
As a master rosarian, Jeannie has paid her "rose" dues. Such a title requires volunteerism in writing, lecturing and working in local and district rose societies. "I joined my first rose society in 1997 and the American Rose Society in 1998," says Jeannie. "After three years, I qualified to take classes and a test to become a consulting rosarian," or CR, teaching other rose enthusiasts to learn to grow better roses. After 10 years as a CR, Jeannie qualified to become a master rosarian. She has been the garden chair for the Valley Garden Center Rose Garden at Encanto Park in Phoenix for the past four years.
"Roses are very popular. Contrary to what people think, they're easy to grow," says Bill Wray, buyer and manager at Berridge Nurseries, a longtime Phoenix nursery founded by Jim Berridge, Jr. in 1938. In December and January, Berridge offers more than 5,000 bare-root rose plants – dormant roses sold without soil around the roots – in more than 100 varieties. He says that bare-root roses are less expensive than roses already growing in containers. Floribunda rose varieties – bushy, thick, showy roses with more flowers – get through the Valley's hot summers better than the long-stemmed, single-flower hybrid tea roses.
Bill suggests avoiding planting bare-root roses on hot, west-facing walls and recommends "deadheading" (cutting dead roses) to promote new growth. Regular fertilizing also keeps rose plants healthy and less susceptible to fungus and insects.
The window of time for planting bare-root roses, which have been growing in commercial fields for at least one to two years before harvest, is from mid-December through mid-February, says Jeannie, adding that "ideally, the roses will be planted and growing so they are fully 'leafed out' by the end of March to withstand the onset of summer." The Valley's mild winters are ideal for roses, which can also tolerate the occasional frost. And Jeannie offers the little-known fact that nearly 70% of the rose bushes sold in the U.S. originate on rose farms – west of Phoenix!
A master rosarian's tips for growing ravishing roses
Give roses ample water, preferably flooding
versus slow drip.
Plant for optimum morning sun and
some afternoon shade
(especially in summer months).
Avoid full-strength fertilizers from mid-June to
mid-September.
Plant your bare-root roses in a large hole
in sandy loam soil with plenty of rich soil from decaying compost, or "humus."
—Jeannie Cochell, master rosarian (who favors the Iceberg
rose, a white floribunda that blooms 365 days a year)
Resources
American Rose Society: rose.org
Mesa-East Valley Rose Society: roses4az-mevrs.org
Phoenix Rose Society: phoenixrose.org
Rose Society of Glendale: roseglenaz.com

---
---