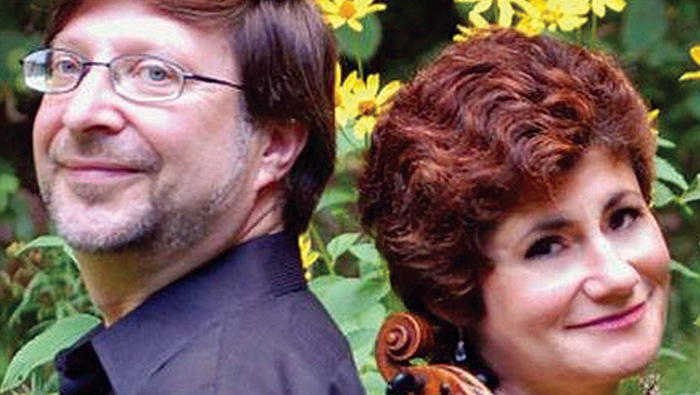 ---
The Tucson Jewish Community Center at 3800 E. River Road in Tucson is pleased to announce the fall Celebration of Heritage Concert Series. The series, hosted by Roza Simkhovich, includes performances by Anna Gendler and Alexander Tentser from the Tucson Symphony Orchestra, classical guitarist Michael Lich, lyricist Richard Fuchs, and mezzo-soprano Korby Myrick and pianist composer Richard Hereld.
Tickets for each performance are $10. Tickets can be purchased for all four concerts for $40 for non-members and $36 for members of The J. Tickets are available at tucsonjcc.org or by calling 520-299-3000.
Roza Simkhovich holds a MS from Kaliningrad State Technical University, Russia and MEd from University of Arizona, Tucson, AZ. She is an educator with more than 30 years of experience, formerly a Senior Lecturer in the Department of Russian and Slavic Studies at University of Arizona and with OASIS. A former board member of the Tucson J, in the 1980s she started "The Celebration of Heritage Concert Series" in the spring of 2017 which was a resounding success.
Celebrating Felix Mendelssohn and Fanny Mendelssohn
Tuesday, October 10 at 7 pm
Join us for an unforgettable program featuring Anna Gendler and Alexander Tentser from the Tucson Symphony Orchestra, in a violin and piano duo. The program is dedicated to the music of the great German Romantic composer of Jewish origin Felix Mendelssohn and his sister Fanny Mendelssohn. Anna Gendler, a graduate of the Moscow Conservatory in Russia, has been a member of the Tucson Symphony Orchestra since 1991.  Tentser is one of the organizers and presenters in the 2013 and 2015 Shaol Pozez Memorial Fine Arts Symposiums on Jewish Music.
Celebrating Spanish, Latin and Baroque Contemporary Music
Sunday, November 19 at 2 pm
Classical guitarist Michael Lich will perform a concert of exciting Spanish and Latin music and Baroque-Contemporary.  The performance will include works by Albéniz, Brouwer, Lich, Rodrigo and Scarlatti. Michael Lich (classical guitarist, banjo-player, arranger and composer) is an eclectic musician who performs a wide variety of musical styles including classical, jazz and bluegrass. Michael's classical guitar career has taken him from Skagway, Alaska to Rio de Janeiro, Brazil; Busan, South Korea to Frankfurt, Germany. Michael currently is on faculty at the Academy of Music and Dance of Tucson/Oro Valley, Quest for the Arts and Pima Community College in Tucson, Arizona.
Celebrating America's History!
Thursday, November 30 at 7 pm
Richard Fuchs is a native of Long Island, New York and has been involved in music & lyric writing for more than 50 years.  His coral setting of "GETTYSBURG" was published and had its premiere performance on the steps of the Lincoln Memorial in Washington, DC on November 19, 1983. His "REQUIEM GEMINI" about the September 11th attack on the World Trade Center and his "CIVIL WAR CANTATA – 150" commemorating the 150th anniversary of the Civil War have been performed many times throughout the country. Additionally, Mr. Fuchs composed the musical score for the off-Broadway play "1999" as well as his signature song "LONG ISLAND."  Richard and Carol, his wife of 53 years, spend their fall and winter months here in Tucson and the summer and spring seasons back in New York.
Celebrating Italian Melodies; Operatic Arias, Art Songs and Folk Music
Sunday, December 17 at 2 pm
Come join Tucson's beloved mezzo-soprano, Korby Myrick, and her husband, pianist and composer Richard Hereld for an afternoon of beautiful Italian melody.  The program will be drawn from operatic arias, art songs and folk songs and will feature masterpieces by such composers as Bellini, Rossini, Donezetti, Tosti, Mozart and Verdi. You're sure to leave humming. Viva Italia!
Call for Participants!
The Celebration of Heritage Concert Series features the talented groups and individuals in the variety of genres of the performing arts, while celebrating the multicultural mosaic of our heritage. If you would like to participate as a performer in our concerts, please contact Roza Simkhovich at rozas@cox.net or call 520-298-6599.

---
---