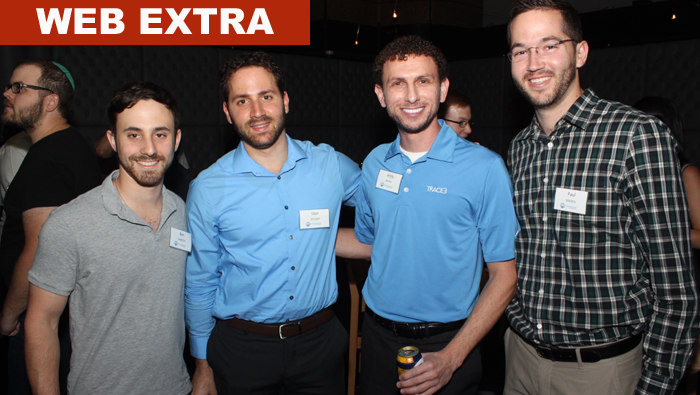 ---
PHOTO: From Left Ben Leighton, Idan Shtayer, Andy Becker and Paul Mallery at the Chai Tech launch event in April.
On Thursday, Aug. 27, Chai Tech takes an exclusive, behind-the-scenes tour of the IO data center.
The event is open to Jewish professionals and students in the information, technology and engineering fields and takes place from 5:30 to 8 p.m. at the IO data center, located at 615 N. 48th St. in Phoenix.
Participants will learn about data security, carrier connectivity, modular technology and more.
"We look forward to welcoming the Chai Tech professionals into IO's state-of-the-art data center in Phoenix. Our 587,000-square-foot facility is one of the largest multi-tenant data centers on the West Coast," said Anthony Wanger, president and co-founder of IO. "IO Phoenix showcases the most efficient way to implement data center technology and support the Internet of Things."
Chai Tech is a division of the Jewish Federation of Greater Phoenix Business & Professionals Groups. Chai Tech strengthens the Greater Phoenix Jewish community by engaging professionals in the technology and engineering fields. The Jewish Federation of Greater Phoenix exists to strengthen and sustain a vibrant, inclusive community that enriches lives through Jewish values, innovation and stewardship.
"Chai Tech members have access to unique opportunities to go behind the scenes with industry leaders at places like IO data center," said Amanda Garcia, coordinator of the Federation's Business & Professionals programs. "Our partnership with Century Link supplies power to this technology and engineering networking event."
Registration and valid identification are required for the tour. Networking reception begins at 5:30 pm and includes kosher hors d'oeuvres. Tour begins at 6:30 pm.
Cost is $18. Register by Aug. 19 at jewishphoenix.org/iotour or contact Amanda Garcia, agarcia@jewishphoenix.org or 480-634-4900 ext. 1202.

---
---