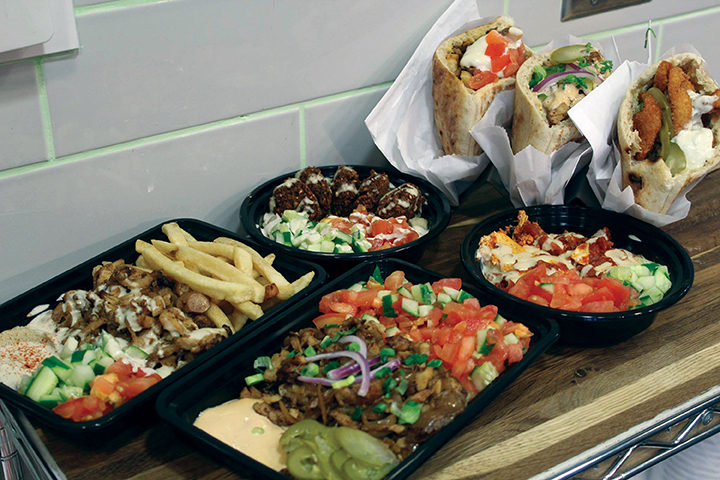 ---
Chick-In will celebrate its one-year anniversary at the end of the month; and based on its online reviews, people cannot get enough of this Mediterranean-inspired, fresh, fast-food restaurant.
Israeli owner Yariv Elazar says he had never operated a restaurant before but had "a lot of passion to eat." So when the opportunity arose, he jumped at the chance to open a kosher restaurant on the campus of Arizona State University.
"Everything started with the vision of Rabbi Shmuel Tiechtel (Chabad at ASU)," explains Yariv. "The dean at ASU wanted to have a kosher operation, and the rabbi was pushing this through for almost 13 years. I took advantage of the fact that my brother-in-law used to have a sandwich place at ASU – so this was the connection. I was in the right place at the right time." Yariv's brother-in-law used to operate Mozart Café, a kosher dairy restaurant on campus.
Yariv says that Chick-In is "the closest thing you can find in the United States that makes you feel like you are dining in Israel." Everything is made fresh daily, from scratch, with some items, like the Israeli salad, being made several times a day. "We took modern Israeli cuisine and traditional Israeli cuisine, and we gave it a contemporary interpretation," he explains.
The recipes he started with were all created by family members and then "fine-tuned" by professional Israeli chef Maayan Glass. He helped create the menu and stayed with Yariv to open the restaurant. "We closed for the summer, and when we re-opened in August he came back again until early December," says Yariv. Maayan wanted to make sure everything was perfect, and he helped to train local chefs and cooks, so Chick-In could continue delivering the quality "street food" cuisine he established.
The restaurant uses the best kosher meat and products imported from Israel and local produce. The cost to run a kosher operation is expensive, but Yariv strives to keep the prices affordable because the majority of their clientele are students. Chick-In offers catering and delivery through DoorDash, Postmates, GrubHub and Seamless.
Having a location in the middle of ASU can be a little challenging. "If you want to dine with us and you are coming from off-campus, you need to find parking, and then there's a 3-minute walk. Many people find it a little difficult," says Yariv.
He is looking to open another Chick-In in a location that will be easier for nonstudents to get to. "Friends of mine that live in Scottsdale complain that the food is too good and I'm too far away," says Yariv.
Another challenge is that between ASU's schedule and observing Jewish holidays (including Shabbat) they are only open about 38 weeks out of the year. "Whenever we close for the Jewish holidays I feel like the non-Jewish students get upset," says Yariv. "I am trying to educate them more about Jewish holidays and what it means to be kosher."
Yariv says that Chick-In gets a lot of repeat customers, good reviews and positive comments.
"If you come once, that's it. We own you. You are not going to let go," he jokes. "We have established something really, really yummy and I think I was able to transfer our passion and enthusiasm – you can actually feel it when you're here."
Chick-In is located on the campus of ASU in Wilson Hall at 240 E. Orange Mall in Tempe. For more information, visit chickinaz.com.

---
---