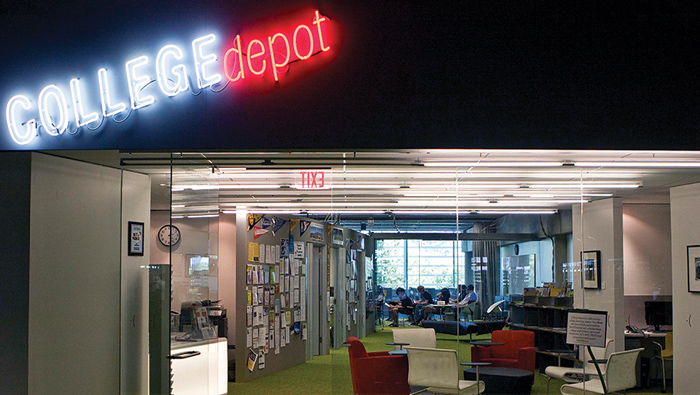 ---
By Lee Franklin
College isn't just a dream, it's a plan. Just ask Griselda and Breanna Rivera, a mother-daughter duo from Phoenix who turned their college dreams into reality with help from Phoenix Public Library's College Depot – a free, one-stop shop for assistance with college admission, scholarships and financial aid.
Griselda, who didn't complete high school, wanted a better education for her daughter, so she sought out College Depot. Inspired by her daughter's college success – and with the support of College Depot – Griselda earned her GED (General Education Development test) and is now pursuing a master's degree.
"We could have never imagined going to college if it weren't for [the] help. I am forever grateful for College Depot!" says Griselda.
If you want to go to college but aren't sure where to start, follow in the footsteps of Griselda and Breanna and visit College Depot on the second floor of Burton Barr Central Library in downtown Phoenix. The library is accessible by city bus and light rail. College Depot has been serving the Phoenix community for more than seven years, providing a comprehensive range of free, bilingual (English/Spanish) college-access services to more than 17,000 middle school, high school and college students, as well as adults, that includes:
Individualized college planning
Workshops, summer programming and field trips
Access to current online and onsite materials and resources
Aptitude assessments
One-on-one guidance completing college applications and navigating the financial aid/scholarship application process
According to the Center for the Future of Arizona, 65% of Arizona jobs will require post-secondary education and training by 2020. To attract high-wage jobs, a highly qualified workforce with a quality education is critical. Research shows that while half of individuals from high-income families have a bachelor's degree by age 25, just one in 10 from low-income families does. Helping families break the cycle of poverty through education while improving college attainment rates is how Phoenix Public Library is transforming our community.
Other Phoenix Public Library Programs Offer a Bright Future
In the fall of 2014, College Depot launched the "ReEngage Phoenix" program to help those between the ages of 16 and 24 who are neither in school nor working. This population is often referred to as "opportunity" or "disconnected" youth and faces a significantly higher rate of chronic, long-term unemployment. Studies show that Phoenix has a "disconnected youth" rate of one in five young adults. ReEngage Phoenix helps youth and adults identify the measures they can take to obtain a high school diploma or GED.
ReEngage Phoenix participants receive a customized education plan and access to a provider database (including requirements, enrollment dates and costs) designed to assure a good geographic and cultural fit. The program also offers ongoing follow-up, support and encouragement.
In January 2015, Phoenix Public Library launched a unique resource called Career Online High School (COHS). Part of the world's first accredited, private online school district, COHS is designed to reengage adults into the education system and prepare them for post-secondary education or the workforce by helping them earn a high school diploma and a credentialed career certificate in their chosen career path.
College Depot is located on the second floor of Burton Barr Central Library at 1221 N. Central Ave. in Phoenix. Call 602-261-8847 or visit phoenixpubliclibrary.org/collegedepot for more information.
Lee Franklin is community relations manager for the Phoenix Public Library.

---
---