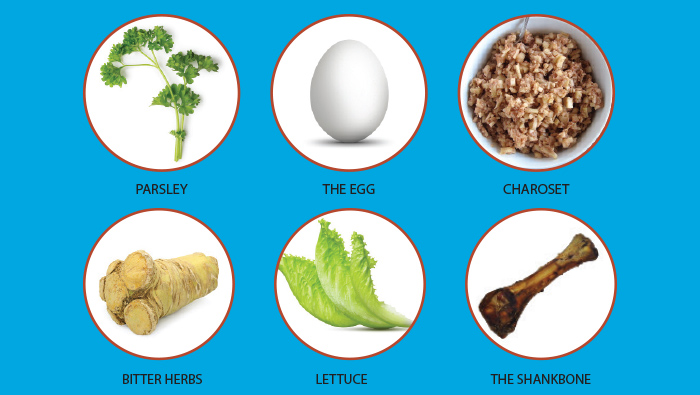 ---
Beginning with the words
"Let all who are hungry come and eat," the Passover seder is a journey that recreates the Israelites' exodus from Egypt and the great Festival of Freedom with song, story and special festival foods. Here is a listing of some community seders in the Valley and Tucson.
APRIL 1
The Chocolate Seder
The J's annual Chocolate Seder is a high-energy event, oozing with sweetness and boasting chocolate-dipped strawberries for the karpas, a marshmallow and chocolate charoset mixture and even four glasses of chocolate milk substituted for a traditional seder's four glasses of wine! The evening includes a fun, interactive Seder, singalongs, prizes and of course…lots of chocolate!
6–7:30 pm April 1 at the Tucson Jewish Community Center,
3800 E River Road, Tucson
$5 per person ($3 in advance); space is limited
RSVP: 520-299-3000 or tucsonjcc.org
APRIL 6
Chocolate Seder
Celebrate Passover with your family at The J! This "traditional" seder is entirely made of chocolate, but there's also savory treats to eat. Music and crafts round out the fun.
5:30 pm April 6 at Valley of the Sun JCC, 12701 N Scottsdale Road, Scottsdale
Members: $30; Non-members: $45; Price per family up to 5 people, additional, $8 per person
RSVP: 480-634-4949 or youth@vosjcc.org
APRIL 10
Community Seder
Authentic and family-friendly Passover seder led by Chabad Tucson's Rabbis Yossie Shemtov and Yehuda Ceitlin with full course dinner, insights, stories and songs.
6:30 pm April 10 at Young Israel Chabad, 2442 E Fourth St, Tucson
$45 adult, $25 child; after April 6: $54/adult
RSVP: 520-881-7956 or chabadtucson.com
Community Passover Seder
Enjoy an in-depth Hebrew/English Passover experience, with plenty of translation and an abundance of explanation while enjoying a delicious four-course meal, with all the trimmings.
7:30 pm April 10 at Rabbi's home in Fountain Hills
$36 adult, $18 ages under 12
RSVP: 480-776-4763 or jewishfountainhills.com
Jewish Community Annual Passover Seder
A delicious meal, traditional songs and the Four Questions.
7:15 pm April 10 at Pollack Chabad Center, 875 N McClintock Dr, Chandler
$55 adult, $40 child.
RSVP: 480-855-4333 or chabadcenter.com
Passover Service & Seder
Service & Seder conducted by Rabbi Leo M. Abrami. Catered by Gary Shindler of Designs in Food. Delicious and traditional strictly kosher menu featuring brisket and Chicken.
6 pm service; 6:45 pm seder April 10 at Beth Emeth Congregation, 13702 W Meeker Blvd, Sun City West
Members: $50 adult; Non-members: $55 adult; $25 ages under 12
RSVP by April 3: 623-584-7210
Pesach Seder
Join us for a warm and interactive seder with delicious, traditional food and inspiring insights into the Hagaddah.
Noon on April 10 at El Conquistador Country Club, 10555 N La Canada Dr, Tucson
RSVP: Chabad of Oro Valley, 520-477-8672 or jewishorovalley.com
Seder Under the Stars
An evening of inspiration, humor and song. Full four course sumptuous dinner including salmon, roast chicken and chocolate macaroons.
6:30 pm April 10 at Chabad-Lubavitch of Mesa, 941 S Maple Ave, Mesa
$30 adult, $10 students, $5 ages under 12.
RSVP: 480-659-7001 or chabadmesa@gmail.com
APRIL 10 & 11
Annual Passover Seder
Experience the Holiday of Freedom with your family at an inspirational seder complete with hand baked matzah, four cups of superb kosher wine and a gourmet Passover dinner.
7 pm April 10 and 8 pm April 11 at Chabad of Anthem, 41332 N Hudson Trail, Anthem
$36 adult, $20 child
RSVP: jewishanthem.com/pesach
Don't Passover the Seder
Traditional Passover Seder with all the trimmings! Hand-baked shmurah matzah, fully catered meal and explanatory tidbits throughout.
7 pm April 10 and 7:30 pm April 11 at Chabad of the West Valley, Glendale.
$36 adult, $15 student/child, $80 family discount rate
RSVP by April 3: 602-375-2422 or ichabad.org
Jewish Students Seders
U of A Chabad will be hosting interactive seders both nights of Passover. The seder will be English-friendly and not very prayer intensive.
7:30 pm April 10 & 11at Chabad at University of Arizona, 1436 E Drachman St, Tucson
RSVP: 520-820-8939 or jewishwildcats.com
"Let My People Go"…
To a Temple Emanu-El Passover Seder
Join Rabbi Samuel M. Cohon, Rabbi Batsheva Appel and Cantorial Soloist Marjorie Hochberg for the celebration. Both seders will be hamish (home-like), spiritually uplifting, filled with music and include a scrumptious kosher-for-Passover dinner. The seders are open to all.
6 pm April 10 & 11 at Temple Emanu-El, 225 N Country Club Road, Tucson
Members: $45; Non-members: $55; $35 college & military; free for ages 3 and under
RSVP: 520-327-4501 or tetucson.org
The Pesach Experience
The Pesach Seder features a four-course meal, hand-baked shmurah matzah, four cups of wine, English-Hebrew Haggadahs and insights into the Festival of Freedom.
7:30 pm April 10 & 11 at Chabad, 401 Suffolk Dr., Sierra Vista
$36 per person, $18 military
RSVP: 520-820-6256 or jewishsierravista.com/rsvp
APRIL 11
Passover 2nd Night Seder
Or Adam Congregation is hosting this seder catered by Mark Vanek (the Dancing Chef), complete with all the trimmings, four glasses of wine or juice, choice of chicken or vegetarian meal, Mark's special charoset, afikomen and dessert macaroons.
6 pm April 11 at Cutler Plotkin Jewish Heritage Center,
122 E Culver St, Phoenix
RSVP: 480-865-4710 or oradaminfo@gmail.com
Second Night Congregational Seder
Conducted by Rabbi John Linder and Cantorial Soloist Todd Herzog. Seasons Gourmet Catering will prepare a full-course, traditional, kosher-for-Passover seder dinner.
6 pm April 11 at Temple Solel's Social Hall, 6805 E McDonald Dr, Paradise Valley
Members: $55 adult; $45 ages 5-12; Non-members: $75 adult; $55 ages 5-12; free for ages 4 and under
RSVP by April 4: Edie Bradt, 480-991-7414 or ebradt@templesolel.org
Second Night Passover Seder
Share great dialogue, family participation, supervised children's play and traditional dinner by Handmaker Catering.
Ma'ariv 6:15 pm; seder 6:45 pm April 11at Congregation Anshei Israel, 5550 E Fifth St, Tucson
Members: $45 adult, $30 child; Non-members: $55 adult, $40 child; $37 college & military
RSVP by April 4: caiaz.org/2nd-night-passover-seder-apr-11-2017
Second Night Seder
Delicious Passover seder dinner catered by Mark Vanek. A joyful celebration and lots of fun!
The seder includes a complete kosher-for-Passover meal and stories to relive the Exodus. A community seder that feels like family.
6 pm April 11 at Congregation Or Tzion, 9096 E Bahia Dr #106, Scottsdale
Members: $55 adult, $35 ages 4-12; Non-members: $80 adult, $50 ages 4-12; free for ages 4 and under
RSVP: 480-342-8858 or congregationortzion.org

---
---