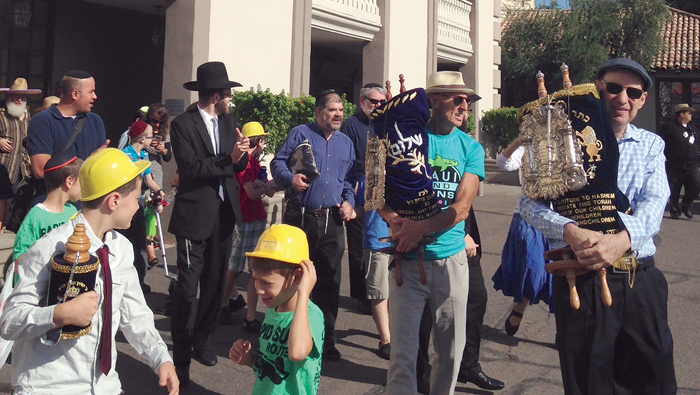 ---
FLAGSTAFF
CHABAD
CHABAD JEWISH COMMUNITY CENTER OF FLAGSTAFF
1254 W University Ave. #130, Flagstaff
928-255-5756
REFORM
TEMPLE HEICHAL BAORANIM
2609 N Patterson Blvd., Flagstaff
Mail: PO Box 31058, Flagstaff
928-527-8747
LAKE HAVASU CITY
REFORM
TEMPLE BETH SHOLOMJEWISH CONGREGATION
116 N Acoma Blvd.,
Lake Havasu City
928-680-0017
PRESCOTT
CHABAD
CHABAD OF PRESCOTT
4891 Butterfly Dr., Prescott
928-227-2691
REFORM
TEMPLE B'RITH SHALOM
2077 Brohner Way, Prescott
928-708-0018
SEDONA
INDEPENDENT
JEWISH COMMUNITY OF SEDONA AND THE VERDE VALLEY
100 Meadow Lark Dr., Sedona
Mail: PO Box 13, Sedona
928-204-1286
SOUTHERN ARIZONA
CHABAD
CHABAD OF COCHISE COUNTY
Mail: 2160 E Fry Blvd.Suite 5, PMB 555, Sierra Vista
520-820-6256
INDEPENDENT
BETH SHALOM TEMPLE CENTER
1751 N Rio Mayo, PO Box 884, Green Valley
520-648-6690
REFORM
TEMPLE KOL HAMIDBAR
228 N Canyon Dr., Sierra Vista
520-458-8637
TUCSON
CHABAD
CHABAD ON RIVER
3916 E Fort Lowell Road, Tucson
520-661-9350
CHABAD OF ORO VALLEY
1217 W Faldo Dr., Oro Valley
520-477-8672
CHABAD AT UNIVERSITY OF ARIZONA
1025 N Euclid Ave., Tucson
520-820-8939
CONSERVATIVE
CONGREGATION ANSHEI ISRAEL
Robert Eisen, Rabbi
Nichole Chorny, Cantorial Soloist
5550 E Fifth St., Tucson
520-745-5550 • caiaz.org
info@caiaz.org
The heart of Conservative Judaism in Tucson since 1930, CAI is an egalitarian congregation dedicated to sustaining Jewish traditions while adapting to the modern world. Families come to pray together, study sacred texts, share lifecycle events, and to find companionship. No other institution can offer you what your Synagogue can to help you lead a fully Jewish life: A connection with God, your people, your heritage, other caring souls, and yourself.
CONGREGATION BET SHALOM
3881 E River Road, Tucson
520-577-1171
CONGREGATION ESHEL AVRAHAM
522 N Norris Ave., Tucson
520-298-6033
HUMANIST
SECULAR HUMANIST JEWISH CIRCLE
520-730-0401
ORTHODOX
CONGREGATION CHOFETZ CHAYIM
5150 E Fifth St., Tucson
520-747-7780
CONGREGATION YOUNG ISRAEL
2443 E Fourth St., Tucson
520-326-8362
REFORM
CONGREGATION CHAVERIM
5901 E Second St., Tucson
520-320-1015
CONGREGATION M'KOR HAYIM
PO Box 31806, Tucson
520-904-1881
CONGREGATION OR CHADASH
Rabbi Thomas A. Louchheim
3939 N Alvernon Way, Tucson
520-512-8500 • 520-512-8600
orchadash-tucson.org
office@orchadash-tucson.org
Join the warm and welcoming Reform Jewish congregation in Tucson by becoming a part of the Congregation Or Chadash community! Join us for holidays and Shabbat services. Enroll your children in the only accredited Reform religious school in Arizona. Become involved and make friends in our active Brotherhood and Sisterhood. Be a part of social action projects, social activities and much more! Find your Jewish home at Congregation Or Chadash. We look forward to meeting you!
INSTITUTE FOR JUDAIC SERVICES AND STUDIES AT SADDLEBROOKE
38759 W MountainView Blvd., Tucson
520-468-6994
TEMPLE EMANU-EL
225 N Country Club Road, Tucson
520-327-4501
RENEWAL
CONGREGATION KOL SIMCHAH
Services: St. Francis in the Foothills, 4625 E River Road, Tucson
Mail: 2732 S Gwain, Tucson
520-296-0818
RABBINIC BOARDS
TUCSON BOARD OF RABBIS
Rabbi Batsheva Appel, President
520-327-4501
THE VALLEY
CHABAD
CHABAD OF ANTHEM
41332 N Hudson Trail, Anthem
623-349-1770
CHABAD OF DOWNTOWN
Services: 2700 N Central Ave. #890, Phoenix
Mail: 2110 E Lincoln Dr., Phoenix
602-492-5559
CHABAD OF THE EAST VALLEY POLLACK CHABAD CENTER FOR JEWISH LIFE
875 N McClintock Dr., Chandler
480-855-4333
CHABAD OF FOUNTAIN HILLS
11010 N Saguaro Blvd. #105, Fountain Hills
480-776-4763
CHABAD OF GILBERT
4475 E. Carriage Way, Gilbert
480-269-6680
CHABAD OF MESA
941 S Maple, Mesa
480-659-7001
CHABAD OF NORTH PHOENIX
22044 N 44th St. #100, Phoenix
480-442-8672
CHABAD OF PARADISE VALLEY
Mail: 5402 E Lincoln Dr.,
Paradise Valley
480-788-9310
CHABAD OF PHOENIX
2110 E Lincoln Dr., Phoenix
602-944-2753
CHABAD OF SCOTTSDALE
10215 N Scottsdale Road, Scottsdale
480-998-1410
CHABAD OF GOODYEAR
2508 N 134th Ave., Goodyear
623-466-6110
CHABAD OF THE WEST VALLEY
Mail: 7942 W Bell Road, C5 #101, Glendale
602-375-2422
CONSERVATIVE
BETH EL CONGREGATION
1118 W Glendale Ave., Phoenix
602-944-3359
BETH EMETH CONGREGATION OF THE WEST VALLEY
13702 W Meeker Blvd.,
Sun City West
623-584-7210
CONGREGATION OR TZION
Rabbi Micah Caplan,
Senior Rabbi
Michelle L. Mandell,
Program Director
Dennie Lieber, Office Administrator
9096 E Bahia Dr. #106, Scottsdale
480-342-8858 congregationortzion.org
admin@congregationortzion.org
Congregation Or Tzion is a community of nearly 500 families, building upon a strong Conservative Jewish presence. We are a mutigenerational, highly participatory, family friendly community in the north Phoenix/north Scottsdale area. We are affiliated with United Synagogue of Conservative Judaism and pride ourselves on offering compelling programming, innovative learning opportunities and spiritual prayer services for all ages.
TEMPLE BETH EMETH OF SCOTTSDALE
7330 E Earll Dr. #L, Scottsdale
Mail: PO Box 2831, Scottsdale
480-941-4112
TEMPLE BETH SHOLOM OF THE EAST VALLEY
Ken Leitner, Rabbi
Jill Glickman, VP Membership
Michele Millman, Office Manager, Preschool Director and Religious School Assistant Director
3400 N Dobson Road, Chandler
480-897-3636 • tbsev.org
info@tbsev.org
A traditional, egalitarian synagogue that is formally affiliated with the USCJ. In existence for over 60 years, we offer a friendly, warm and supportive environment. We boast a preschool, vibrant religious school, active youth groups and an outstanding adult education program. The Religious School offers a religious education program for children from toddler through high school, and transitions them to Hebrew High. Services are held every Friday evening and Saturday morning, and on all High Holidays.
HUMANIST
OR ADAM CONGREGATION FOR HUMANISTIC JUDAISM
Jeffrey Schesnol, Ordained Madrikh Celebrant and Ceremonial Leader
Your Downtown Phoenix Congregation Human Centered Centrally Located
122 E Culver St., Phoenix
Mail: 14747 N Northside Blvd. #111-437, Scottsdale
480-865-4710 • oradam.com
oradaminfo@gmail.com
Or Adam, your downtown congregation. Or Adam, Hebrew for light of humanity, reflects our desire to share our love and respect for Jewish culture and tradition with others, and emphasizes that our destiny is not guided by a supernatural force, but by the human power within ourselves. For 30 years, we have provided a community experience that rewards Jewish identity and enriches the dignity of all humankind. Weddings, B'nai Mitzvot, Baby Namings and Memorials.
INDEPENDENT
AVIV OF ARIZONA (LGBT)
Services: Cutler-Plotkin Jewish Heritage Center
122 E Culver St., Phoenix
Mail: PO Box 80553, Phoenix
480-382-8481
CONGREGATION KEHILLAH
Bonnie Sharfman, Rabbi
Renee Joffe, Administrator
Rich Goldman, President
7430 E. Pinnacle Peak Road #132, Scottsdale
602.369.7667 congregationkehillah.org
info@congregationkehillah.org
We are an exciting, young, multi-generational congregation connected by learning, love of community and commitment to making the world a better place. Kehillah is a participatory community where members are valued and supported. Join us for Friday night services, our unique, family-friendly YEP! (Youth Education Program) with Online Learning Center, FYC (programming for families with young children), Torah Talk, social programs and activities, abundant learning opportunities, travel to Israel and more. We are open to all.
CONGREGATION NEFESHSOUL
Services: Valley Unitarian Universalist Campus
6400 W Del Rio St., Chandler
Mail: PO Box 51591, Phoenix
480-759-1930
CONGREGATION SHOMREI TORAH
4927 E Evans Dr., Scottsdale
602-320-3369
THE NEW SHUL
7825 E Paradise Lane, Scottsdale
480-515-2272
ORTHODOX
AHAVAS TORAH: THE SCOTTSDALE TORAH CENTER
13402 N Scottsdale Road,  #B140-150, Scottsdale
480-467-4593
BETH JOSEPH CONGREGATION
515 E Bethany Home Road, Phoenix
602-277-8858
CONGREGATION BETH TEFILLAH
Rabbi Pincus Allouche
10636 N 71st Way, Scottsdale
480-600-5065• bethtefillahaz.org
info@bethtefillahaz.org
membership@bethtefillahaz.org
Congregation Beth Tefillah is a welcoming, vibrant synagogue where you are sure to feel at home. Our name is an expression of our primary objective:  to serve as a "house of prayer" and a spiritual lighthouse to every Jewish man, woman and child, regardless of background, affiliation or level of observance. Join us for holidays, Shabbat services and daily Shaharit services. Our Limudim Educational Center provides Hebrew and Judaic curriculum for children and adults.  Our social activities are fabulous! We look forward to knowing you soon!
OHR HATORAH CONGREGATION
6516 N Seventh St., Phoenix
480-359-5572
SHAAREI TZEDEK CONGREGATION
Mail: 7608 N 18th Ave., Phoenix
Services: Beth El Congregation, Sam Shurgin Building,
1118 W Glendale Ave., Phoenix
602-944-1133
YOUNG ISRAEL OF PHOENIX
6232 N Seventh Street, #107, Phoenix
602-265-8888
REFORM
BETH AMI TEMPLE
Rabbi Arthur J. Abrams
Pam Beitman, Cantorial Soloist
Bobbi Lazarus, Administrator
Services: 3535 E Lincoln Dr., Paradise Valley
Mail: 3104 E Camelback Road #508, Phoenix
602-956-0805
bethamitemple.org
bethamitemple@hotmail.com
A small temple with a big heart. Established in 1978, we are a centrally-located boutique Reform temple for active adults seeking spiritual and social connections. Modest dues. No building fund. High Holiday and Friday night services followed by oneg. Something for everyone here with many social clubs and activities, including cultural events, speakers, concerts, hiking, tennis, travel, discussion, mahjong, Torah study and community involvement. Couples, singles, empty-nesters, winter visitors – everyone is welcome at Beth Ami!
CONGREGATION BETH HAGIVOT
PO Box 19498, Fountain Hills
480-650-3061
CONGREGATION BETH ISRAEL
10460 N 56th St., Scottsdale
480-951-0323
CONGREGATION MERKAZ HA-IYR
12861 N Eighth Ave., Phoenix
480-414-5213
DESERT FOOTHILLS JEWISH COMMUNITY ASSOCIATION
Mail: PO Box 25068, Scottsdale
Membership: 480-585-4437
NORTH VALLEY JEWISH COMMUNITY ASSOCIATION
39506 N Daisy Mountain Dr. #122-198, Anthem
623-256-0658
SUN LAKES JEWISH CONGREGATION
9240 E Sun Lakes Blvd. N,
Sun Lakes
Membership: 480-305-0533
TEMPLE BETH SHALOM AND JCC OF THE NORTHWEST VALLEY
12202 N 101st Ave., Sun City
623-977-3240
TEMPLE CHAI
4645 E Marilyn Road, Phoenix
602-971-1234
TEMPLE EMANUEL OF TEMPE
5801 S Rural Road, Tempe
480-838-1414
TEMPLE HAVURAT EMET
Services: 9330 E Riggs Road, Chandler
Mail: PO Box 13111, Chandler
480-988-6409
TEMPLE KOL AMI
Jeremy Schneide, Rabbi
Michael Rosenthal, Administrator
15030 N 64th St., Scottsdale
480-951-9660 • templekolami.org
membership@templekolami.org
We are a relationship-centric Reform Jewish community that honors tradition while embracing innovation. We see ourselves as a force for good, "doing Jewish" across The Valley via unique social action programs. There's something for everyone at Temple Kol Ami: an outstanding Early Childhood Center, a religious school kids love to attend, online Hebrew lessons, Boomer groups and many more meaningful opportunities for education, volunteerism, spiritual growth and fun.
TEMPLE SOLEL
John Linder, Rabbi
Todd Herzog, Cantorial Soloist
Ben Davis, Executive Director
6805 E McDonald Dr., Paradise Valley
480-991-7414 • templesolel.org
Temple Solel is a growing, welcoming Reform congregation offering worship services, engaging programs, social functions and volunteer opportunities for congregants from all walks of life and across the age spectrum. Our name, Solel, tells something about our philosophy. The Hebrew word Solel means Pathfinder in English. Since our founding in 1966, we have looked for fresh pathways and approaches to Jewish celebration, learning and living, while maintaining an abiding respect for traditional Jewish values.
RENEWAL
RUACH HAMIDBAR – SPIRIT OF THE DESERT
Rabbi Sarah Leah Grafstein
602-321-3336 • ruach.org    Rabbi@Ruach.Org
Looking for a spiritual home for your soul? Check us out! We are a small, friendly community of egalitarian Jews and spiritual seekers of all ages. Join us for joyful prayer, song, dance, music, meditation, story-telling and drumming. Experience Jewish renewal and Carlebach Shabbat and holy days services, Torah, Kabbalah and Chassidus classes, "Drum Shalom" drumming circles. No Hebrew or background is necessary. GLBTQ and differently-abled friendly. Everyone is welcome! Easy access to the rabbi.
SEPHARDIC
AVDE TORAH JAYAH
1900 W Chandler Blvd., #15355, Chandler
602-518-0229
SHAAREI TZION OHEL BRACHA
(Nusach Sefaradi)
6516 N Seventh St. #200, Phoenix
602- 277-5366
RABBINIC BOARDS & ERUVS
BOARD OF RABBIS OF GREATER PHOENIX
phoenixbor@gmail.com
CHANDLER ERUV PROJECT
(East Valley)
875 N McClintock Dr, Chandler (Attn: Eruv Committee)
480-855-4333
PHOENIX COMMUNITY ERUV
(Central Phoenix)
Hotline: 602-264-3788
VALLEY ERUV PROJECT
(Paradise Valley, North Phoenix, Scottsdale)
Hotline: 480-389-5736
YUMA
REFORM
CONGREGATION BETH HAMIDBAR AND YUMA JEWISH COMMUNITY COUNCIL
PO Box 5634, Yuma
928-210-8368

---
---