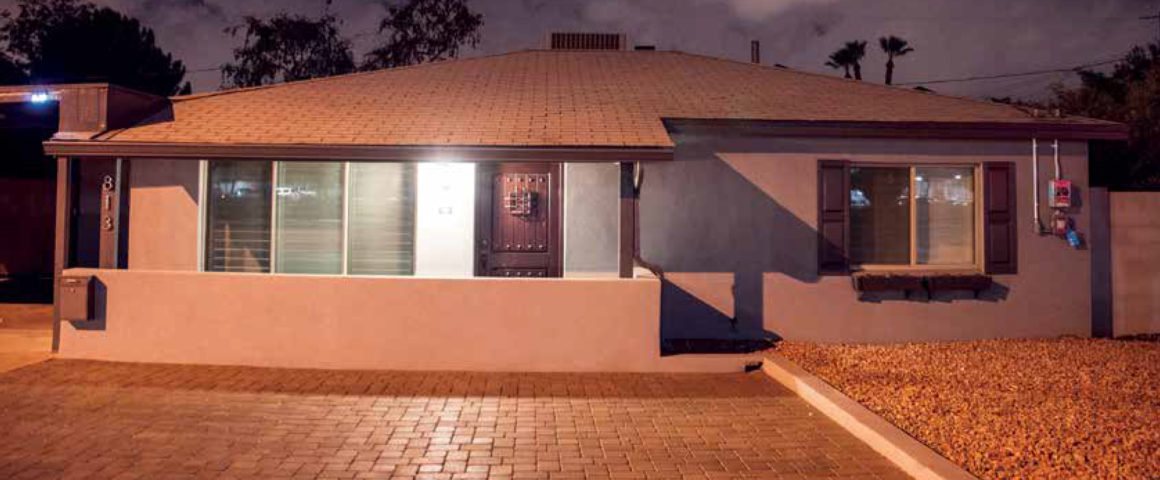 ---
Nestled among a row of houses on Glendale Avenue near Seventh Street, sits Shalom Home. And although the home faces a busy city street, the feeling you get as you enter is one of tranquility and peace.
Shalom Home is a labor of love created by Shira and Jesse Charyn. Their goal is to create a residential care facility that offers residents a safe, healthy, spiritual environment where they can feel like they are mishpacha (family). A place where families can come visit, interacting with their loved ones and enjoying activities, both inside and outside.
The inspiration for Shalom Home came from Shira's grandmother, Clara Shinder, z"l. Clara lived with the family while Shira was growing up after her grandfather's death. When Shira's mother, Shari Finkelstein, was no longer able to care for Clara physically, the family made the difficult decision to place her in an assisted living facility.
Shari would visit Clara daily and when she noticed that she was not being adequately cared for, would move her to another facility. It was hard on Clara and painful for the entire family. The situation worsened as her health was impacted.
"Every two weeks for nine years I ran to the emergency room," says Shari. Clara would constantly get urinary tract infections that would require frequent antibiotic use and sometimes even hospitalization. These hospital visits would extend from five days to two weeks.
In August 2016, Clara passed away from sepsis. "Because of the lack of cleanliness and hygiene, what ultimately took her life was the use of antibiotics," Shari says.
When shiva ended a week after her grandmother's passing, Shira decided to pursue the creation of Shalom Home. "I never want another person going through what Nana went through," she says.
The couple took their savings, and with financial support from Shira's parents, they rented the home next door and began the renovations necessary to turn their home into a care facility. But not just any care facility. "We wanted to make Shalom Home a sustainable, chemical-free environment for organic living," says Shira.
The inside of the 3,200-square-foot home has been painted using chemical-free paint, and the couple worked with consultants at Banner Alzheimer's Institute to determine what colors would be the most soothing for anyone with memory issues.
There are also air filtration units, solar panels for power use and cisterns for harvesting rainwater for the greenhouse and raised-bed organic gardens. They also have planted citrus and pomegranate trees and have four hens laying eggs that the residents can collect.
In addition to sustainability, Shalom Home is also very high-tech. They have cameras in public spaces so that family members can log onto a secured website and view their loved ones. "All residents will have iPads or some technology to be able to communicate with loved ones," says Shira. They also have Paro, a therapeutic robotic baby harp seal that elicits emotional responses similar to animal-assisted therapy.
The home has five bedrooms for residents; a barrier-free shower room so if a resident is entirely bed-bound they could still have access to a shower; a bathroom with a bidet toilet seat to help with cleanliness and hygiene; a dairy kitchen and dairy sitting area; and a meat kitchen with custom butcher block countertop.
Shalom Home is a nonprofit, kosher, assisted living facility. When fully staffed they will have two certified caregivers, plus one caregiver who will be awake for 24-hour care. Since Jesse and Shira are both certified care providers and live next door, they can be there in a few minutes if the need arises.
Shira quit her job at a home healthcare agency to oversee Shalom Home full time. Jesse is continuing his work as a chaplain but he also facilitates services and lifecycle events at Shalom Home. He will become an ordained rabbi in June.
"This is the legacy we want to leave to the community," says Shira. She jokes that someone who recently visited Shalom Home had the perfect description. "It's a kibbutz on the outside and the Four Seasons on the inside."
For more information, visit shalomhomeaz.org.

---
---