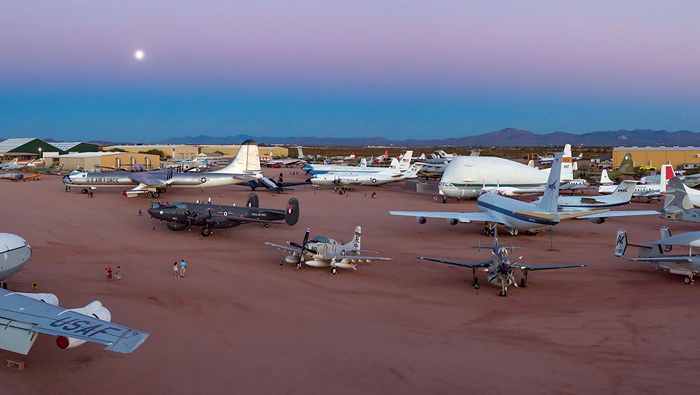 ---
When the mercury climbs during the day, desert dwellers turn nocturnal. Here are some warm weather events happening in the cool of the night.
Head to a higher elevation
Movies on the Square
(5 pm activities; movies 7:30-8 pm Saturdays through Sept 3).
Each evening begins with entertainment from the community, music and a movie at dusk. Free. Heritage Square, downtown Flagstaff. flagdba.com/movies-on-the-square.
Summer Concert Series
(5:30 pm Saturdays through Sept 24).  Features a variety of world-class musicians performing under the pines. $18 adults ($14 members); $9 ages 6-16, free for ages 6 and under; season passes available. The Arboretum at Flagstaff, 4001 S Woody Mountain Road, Flagstaff. 928-774-1442 or thearb.org/ events/summer-concert-series.
Evening Forest Walk
(7 pm Fri June 17, July 15 and Aug 19). Enjoy the sights and sounds of the forest at night. Free. Highlands Center for Natural History, 1375 S Walker Road, Prescott. 928-776-9550 or highlandscenter.org.
Zoo by Moonlight
(8-9:30 pm June 20, July 19, Aug 18 and Sept 16). Nocturnal residents that you may not see during the day are out and about at night. Docents are available to help spot animals and answer questions. $6 ($4 members). Heritage Park Zoological Sanctuary, 1403 Heritage Park Road, Prescott. 928-778-4242 or heritageparkzoo.org.
Evening events around the Valley
Backyard Stargazing for Everyone
(7-9 pm Mondays June 6, July 11 and Aug 8). Join Tony La Conte inside for a short lecture and discussion. After dark, weather permitting, telescopes will be placed in front of the library for viewing the night sky. Glendale Main Library, 5959 W Brown St., Glendale. 623-979-1393 or stargazingforeveryone.com.
Flashlight Tours
(7-10 pm Thursdays and Saturdays through Sept 3). Bring a flashlight and embark on a self-paced tour through a variety of discovery stations. See, hear and feel the desert at night. $22 adults, $20 seniors, $12 ages 13-18/students, $10 ages 3-12, free for ages 3 and under. Desert Botanical Garden, 1201 N Galvin Pkwy., Phoenix. 480-941-1225 or dbg.org.
Free Summer Concert Series
(7:30-9 pm Sundays through July 3). Bring a blanket or chair to hear a variety of favorite local bands. Food is available for purchase. Train and carousel rides are $2. Children under three ride free with a paying adult. McCormick-Stillman Railroad Park, 7301 E Indian Bend Road, Scottsdale. 480-312-2312 or therailroadpark.com/events.
Glow Kayak
(7:30-9:30 pm Fridays June 10, July 8 and Aug 5). Enjoy a night under the stars glowing and gliding across the water. All necessary kayaking equipment and glow-in-the-dark accessories included. $35 adults, $20 ages 10-17. Tempe Town Lake, 550 E Tempe Town Lake, Tempe. 480-350-8069 or tempe.gov/lake.
Prowl & Play
(5:30-8:30 pm Sat June 11 and Aug 6). Storytelling, character meet and greets, waterslides, water play at Yakulla Caverns and Leapin' Lagoon, games and more. $8, $6 members, free for ages 2 and under. Phoenix Zoo, 455 N Galvin Pkwy., Phoenix. 602-286-3800 or phoenixzoo.org.
It's a tad cooler in Tucson
Cool Summer Nights
(5-10 pm Saturdays through Sept 3). Weekly themes, entertainment, special nighttime activities, museum exploration and more. $20.50 ages 13-64, $18.50 ages 65 and older, $8 ages 3-12, free for members and ages 3 and under; $15.50 for Arizona/Sonora residents ages 13 and older. Arizona-Sonora Desert Museum, 2021 N Kinney Road, Tucson. 520-883-2702 or desertmuseum.org.
Night Wings
(5-9 pm Saturdays July 23 and Aug 27). Features one "main attraction." Main attractions in the past have included radio-controlled jets, LEGO Robotics, and the Physics Factory. There are also 12 to 15 different aviation-related activity stations that will engage children as they learn about flight. $10 adults, free for ages 12 and under. Pima Air & Space Museum, 6000 E Valencia Road, Tucson. 520-574-0462 or pimaair.org.
Summer Moonlit Hikes
(6pm Saturdays June 25, July 9 & 23, Aug 6 & 27, Sept 10). Rangers will offer a unique hike on the Foothills Loop Trail during the full moon. Visitors should meet at 6 pm at the front of the Discovery Center and wear suitable clothing and shoes, bring water and a flashlight. Visitors may bring a camera and/or binoculars, but it is not necessary. The cost is the $6 per vehicle park entrance fee. Kartchner Caverns State Park, 2980 AZ-90, Benson. 520-586-2283 or azstateparks.com.
Summer Safari Nights
(6-8 pm Fridays through July 8). Bring a blanket and purchase your dinner or snacks, then relax and enjoy a concert with keeper chats, animal encounters, vendors and wildlife activities. The bands and animal themes change weekly. $9 adults, $7 seniors, $5 ages 2-14, free for ages 2 and under; discounts for members. Reid Park Zoo, 3400 E Zoo Court, Tucson. 520-791-3204 or reidparkzoo.org/event/summer-safari-nights.
Twilight Thursdays
(5-8 pm Thursdays through Sept 29). Enjoy the garden at night without the intense summer sun. $9 adults, $5 children, free for members. Tucson Botanical Gardens, 2150 N Alvernon Way, Tucson. 520-326-9686 or tucsonbotanical.org.

---
---