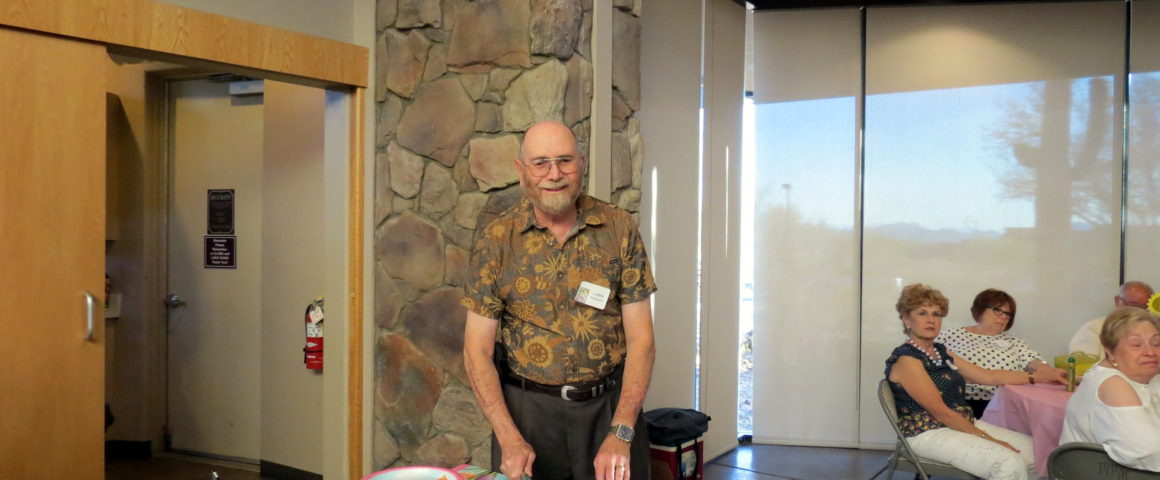 ---
Pictured above: President Lewis Rappaport reciting the blessing over the challah at the Spring Fling potluck.
In the spring of 1998, three Jewish friends living at Terravita Golf and Country Club in North Scottsdale explored the idea of hosting High Holiday services for the Jewish residents within their community. Jeanie Summer asked her husband Sam to assist them in hiring a rabbi and a cantor for these services. But Jeanie and her friends were told that time was too short to make plans for the High Holy Days scheduled for September of that year. Undeterred, the women acquired a borrowed Torah, found a retired rabbi from Sun City, and a cantor, and held a service at Terravita.  These women came to be known as the "Mitzvah Makers."
Sam and Jeanie formed an organizing committee which, in addition to themselves, consisted of Libbie and Jerome Rosenholtz, Verna and Maury Spear, Ann and Irwin Simes and Bobbi and Chuck Kibel. Questionnaires were distributed to the High Holiday attendees and feedback determined that there was interest in developing an organization that included a monthly Shabbat service along with a cultural program and time for a socializing. A board of directors was formed, and Sam Summer served as the first president. Desert Foothills Jewish Community Association was created, becoming a corporation and receiving 501(c)(3) status.
The history of the association's observance of the High Holy Days is befitting of the term "wandering Jews." Following the first High Holiday services at Terravita, we have also spent a few years in search of a "home" for the holidays. From 2001 to 2014 DFJCA High Holy Day services were held at Monterra at WestWorld. Since then, DFJCA has been at the Chaparral Suites for two years and last year at Camelback Golf Club. The newly renovated Troon Room at Troon Country Club has been contracted for 2018. We are truly a "congregation without walls." From 2004 to 2017 our High Holiday services were officiated by Rabbi Robert L. Kravitz of Scottsdale and Cantorial Soloist Sharon Friendly of Phoenix. Sharon will be returning in 2018 along with the first appearance of Rabbi Norman M. Cohen. We serve our members and non-affiliated members of the Jewish community in North Scottsdale and Phoenix. Our services are spiritual, meaningful, complete and are affordable by most standards.
Monthly Shabbat services started out at Terravita and later moved to the Harris Bank at El Pedegral for several years. A volunteer hospitality committee spent many hours setting up and tearing down the facility and providing an oneg for the attendees to enjoy after the service and program. As the attendance grew, we moved back to Terravita, where we are still meeting today. The Shabbat services are held on the third Friday of each month and led by members of our all-volunteer ritual committee. The programs following the services are varied with different types of entertainment, educational discussions and a summer film festival with movies of Jewish content.
Throughout the year, DFJCA also holds other events including a Second Night Communal Seder, potluck, fall picnic and Chanukah party.
Since we are a nonprofit organization, most of the funds we raise over the cost of providing the services are placed in a tzedakah fund and distributed annually to various local, national and international organizations. Tzedakah donations have been awarded to the Jewish Community Center where DFJCA is listed on the giving wall in the lobby for those donating $10,000 before the building of the facility. Several other organizations have benefitted from our gift-giving program over the past 18 years. A few examples are Magen David Adom, Jewish Family & Children's Service, Habitat for Humanity, Jewish Free Loan, Arizona Jewish Historical Society, Friends of Israel Defense Force, Hospice of the Valley, Jewish Federation of Greater Houston (after the devastation caused by Hurricane Harvey) and many others.
Desert Foothills Jewish Community Association is a family, and our virtual doors are always open to the Jewish community. We are proud of the past twenty years and impact we have had on serving a niche in the community. DFJCA has accomplished a great deal, and we will continue to do so. For more information, contact Andrea Malkin at 480-664-8847 or visit dfjca.com.
Lewis Rappaport is the current president of the Desert Foothills Jewish Community Association.

---
---