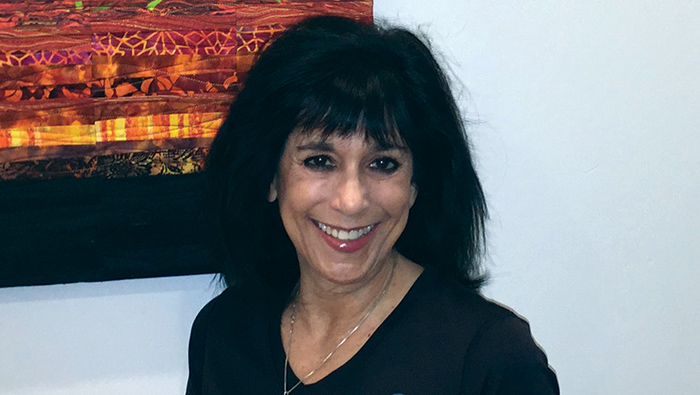 ---
Joan Tandet Nelson jokes that she can't draw stick figures and she can't paint. But, give her some colorful fabric and a sewing machine, and her creativity instantly starts to flow. Her canvas is the fabric, and rather than brushstrokes, she stitches different shapes and textures together to create bold, abstract wall pieces.
Joan is one of 174 artists participating in the 21st Annual Hidden in the Hills Artist Studio Tour, which takes place from 10 am to 5 pm during the last two weekends of November (Nov. 17-19 and Nov. 24-26). A signature event of the non-profit Sonoran Arts League, the free, self-guided tour features 44 studio locations throughout the scenic Desert Foothills communities of Cave Creek, Carefree and North Scottsdale.
As Arizona's largest and longest-running artist studio tour, Hidden in the Hills offers collectors and art enthusiasts a rare chance to observe artists at work in their private studios. Each studio also has one or more guest artists who will demonstrate how they create their art while displaying and selling their work.
Joan grew up in a suburb of Chicago, where she cherished her time visiting the city, especially the Art Institute. Soon after receiving a degree in special education at Southern Illinois University, she married and was lucky enough to be a stay-at-home mom to her three children for 15 years.
"That's when I first had the opportunity to explore my creative side through quilting," Joan says. "I started out with traditional patterns until I discovered contemporary design."
She took a hiatus from quilting while teaching in both California and then later in Arizona. Upon retirement from the Cave Creek Unified School District, she once again had the time to pursue her passion with fabric.
"Fabric is very tactile, and it provides a way for me to express myself," Joan, a Scottsdale resident, says. "I've never had formal training, but I continue to study to understand color, perspective and design. I continue to observe shape, design and the use of color in both contemporary and Impressionist art. My work has evolved quite a bit, particularly in the past two to three years."
She finds inspiration for her fiber art from photographs she takes of desert vistas, sunsets, storms in the distance and other experiences she has both here in Arizona and on trips to other states and abroad.
"I've gotten to be a serviceable photographer, and I pay a lot of attention to small details, especially the way light and shadow influence composition," she says. "The photographs help me put together a color palette, and from there I create abstract shapes, lines and curves to express the mood of my subject matter."
She also finds inspiration from her Jewish heritage. While the temple she attended as a child was conservative, she practices a less traditional approach to Judaism.
"It was important for me to raise my children to be Jewish, but now that they're grown and on their own, we live in a remote area, it's just too far to drive to temple," Joan says. "I still keep up the traditions surrounding the Jewish holidays."
The process of quilting also brings her tranquility. She does the piecing of the fabrics on a traditional sewing machine, and she uses a mid-sized free-motion sewing machine for most of the quilting since it allows her to move the fabric by hand in various directions.
Unlike a painter, who can sometimes cover up an error, if she makes a mistake, she has to start over. "It can be time-consuming, but I won't display a piece unless I'm proud of it," she says.
She works with more than 1,000 pieces of fabric and is always continuing to acquire more.
"I started out storing them in a bedroom closet, but now they are spread all over the house," she says, adding that some pieces she hand-dyed herself.
Joan hopes her participation in Hidden in the Hills will increase awareness of quilting as a serious art form. Her fabric wall sculptures range in size and price, with smaller pieces starting at under $100.
During the HITH tour, she will exhibit her work at ceramist Sylvia Fugmann Brongo's Studio #35, along with guest artists, jeweler Carol Fugmann and painter Mark Christopher. For more information, call 480-575-6624 or visit hiddeninthehills.org.

---
---