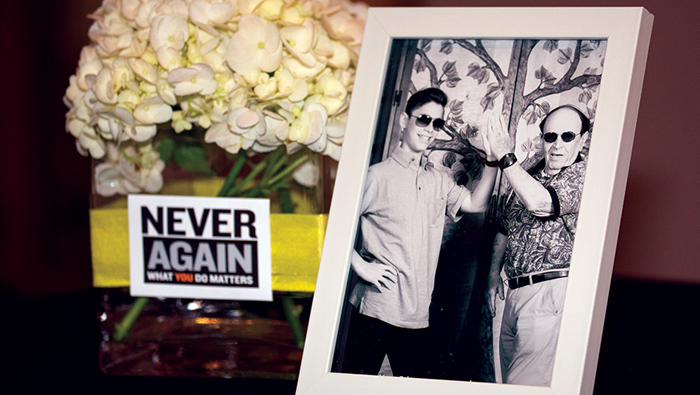 ---
Great stories often begin with the musing of "what if." The story of Isaac "Ike" Feiges and Max Miller is one of those. With a gulf of 67 years between them, the two celebrated a dual bar mitzvah ceremony in May.
Ike, 80, could not have envisioned a more poignant ceremony. Not only did he have the unique opportunity to share a memorable and spiritual event with his young friend, but he also transcended an incredibly painful past. While most American children were busy playing ball or riding bikes, Ike was bravely trying to stay alive in a place synonymous with death: Auschwitz. From the age of nine to eleven, Ike miraculously escaped the tentacles of a madman bent on wiping out every vestige of Jewish life and culture. With no rabbis around when the camp was finally liberated, he never experienced the joy of becoming a bar mitzvah. "For over 70 years a door was shut closed," says Max's dad, Jeff Miller. "Today we kicked that closed door back open."
Born in Czenowitzh, Romania, Ike started life in a typical middle-class home. His nightmare began with the proverbial "knock on the door." He was taken on a freight train as a young boy of eight, to Auschwitz with his mother, two sisters and father. "My father was very valuable to the Germans because he had a much-desired skill. He was a talented tailor," says Ike. After a harrowing two-day train ride with hardly any food and water, Ike was hidden in the barracks under floorboards by a family friend. "I was told what to do, and I was a good listener," he says. With rags on his feet to combat the bitter cold winters, Ike had to endure sawdust soup, moldy food, no showers and lice everywhere. "To make things even worse," he says, "I contracted Typhus, a disease caused by rodent droppings. I had a high fever but miraculously survived with no medication. When the adults were outside the barracks I was in there all by myself; mainly fantasizing." When Russia liberated the camp in 1945, Ike and his reunited family were sent to a DP (displaced persons) camp in Vienna and eventually to one in Germany, before entering the U.S. in 1951 and settling in Baltimore, MD. Ike went on to work for the government as an electrical engineer.
Ike's story of incredible hardship and bravery became a lightning rod at a Passover seder that Mike and Max were both invited to three years ago. At this dinner, there were many children who were learning about the events of the Holocaust, including Max. Upon learning that Ike never became a bar mitzvah, Max was so moved, a question immediately leaped into his head… what if he and Ike could have a bar mitzvah together? That "what if" question set the stage for an extraordinary and significant event neither will ever forget.
"I was surprised with joy at such a nice young man's great idea," says Ike. Max's enthusiasm was palpable that night, according to his mother, Stephanie. "He was determined to share his special day with Ike," she says. "I was talking, and he kept trying to get my attention because he was so excited. I had no idea of what he was thinking at the time."
A sacred gift
The next day, Stephanie, called Ike and his wife, Nancy, to arrange a brunch to discuss the possibility. "Max was so anxious to talk to Ike," says Stephanie, "he couldn't wait and asked Ike the day before. Ike slept on the proposal, and gave the answer Max was so eager to hear the next day… yes. The two families quickly bonded over the next few years; sharing Chanukah celebrations and Shabbat dinners.
The bar mitzvah ceremony, officiated by Rabbi Micah Caplan of Congregation Or Tzion in Scottsdale, was held this past May at the Valley of the Sun Jewish Community Center, which was able to accommodate the 250 people who came to honor Ike and Max. "By stepping up at the bar mitzvah, Max and Ike really went back 70 years and fulfilled a holy task that 1.5 million children weren't able to possess," says Rabbi Caplan "For that, they are both heroes. They brought a special and sacred gift to our community. They became bar mitzvahs not only for themselves but for the millions who never could during the Holocaust."
There was a moving moment during the service that served as a stark reminder of how Jews have come full circle since World War II. Rabbi Caplan had previously taken a group of teenagers on March of the Living to visit concentration camps in Europe. He skillfully intertwined the significance of these visits during the service. He brought back a slab of rock from one of the camps. During the service he took it out to further emphasize the haunting connection that still lingers through that rock.
"My bar mitzvah was the best thing in life that's ever happened to me," says Ike. "During all those years, I was content not having one. Now I am overwhelmed. The Torah portion read during the service speaks of the holiness of relationships. Long ago as a young boy, I lived in a time where people abused me and my people. Today I am blessed with Max, I am blessed with Nancy, I am blessed with the Miller family and I am blessed with my Or Tzion family. We lost a son at the age of 15 who had a bar mitzvah and mine was a great connection to him as well."
The evening party, for families and friends of both Ike and Max, was held at the Hilton Embassy Suites (formerly Chaparral Suites). "Ike and Max made a grand entrance with sunglasses and a smoke machine with dramatic music being played," says Nancy. "The only thing we didn't do is lift Ike in the traditional chair dance; we danced around him instead. I was afraid they would drop him," she laughs.
Photo by Molho Photography

---
---