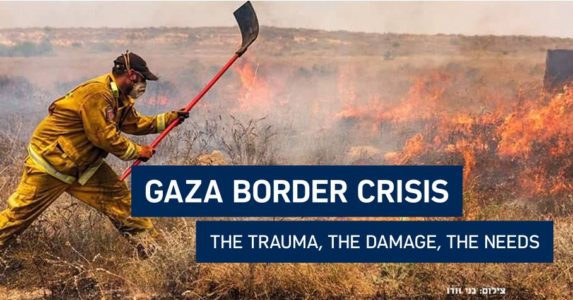 ---
Jewish National Fund (JNF-USA) is bringing three Israelis to the U.S. to put their voices to the headlines and share their personal stories of living along the Gaza border where hundreds of incendiary kites, balloons and rockets have steadily rained down on them for months. Join us on Monday, August 20 at the Ina Levine Jewish Community Campus at 6:30 pm to meet a mother, a young pioneer, and a farmer – residents of Gaza border communities – who will share their personal stories of living under attack.
"I recently returned from Israel where I saw firsthand the devastation of these terror kites," said JNF's Arizona Board President Susan Farber. "There are not words to describe how horrific the damage has been to the farms and wildlife. I am proud to be part of the Gaza Envelope Task Force as we are providing real support to the families that live near the Gaza Border. I am thrilled that Jewish National Fund is bringing residents from the region who will cross the country and share their stories about what life on the border with Gaza is like during this most difficult time. What an opportunity for all of us to show support for them, as well as bring attention to this situation."
Since March 2018, terrorists from Gaza have traumatized the people living in neighboring communities along the Gaza-Israel border that has forced young children and families to seek safety in shelters. These four months have and threated both their mental wellbeing and their livelihood. Nearly 10,000 acres of farmland have been scorched, decimating the region's agricultural economy, and there has been a massive increase in the number of individuals experiencing and being treated for Post-Traumatic Stress Disorder (PTSD).
"Our brothers and sisters living on the Gaza border are strong and resilient," said Jewish National Fund-USA CEO Russell F. Robinson. "Right now they need our support and for us to help them tell the real story of the atrocities they are facing. I am proud to bring these brave people to U.S. communities to share the truth behind the headlines and what life is really like when the terror is in your backyard."
In the face of these recent attacks, Jewish National Fund-USA's Gaza Envelope Task Force, a group of dedicated donors who work to raise funds and improve the lives of Israelis living on the challenging border with Gaza, has quickly mobilized to provide emergency support to the victims of terror.
It has also launched an emergency campaign to further relief efforts and support the communities affected by this terrorism. In addition to funding trauma resilience centers, the JNF Sderot Indoor Recreation Center, and animal assisted therapy in the region, the organization is planning to also add two new bomb shelters that can house 100 people each, paint 20 bomb shelters already in place to make them more child-friendly, provide three new fire trucks and nine firefighting wagons, purchase life-saving equipment and fund special activities for children of the region.
For more information and to register, please visit jnf.org/phoenixtownhall.

---
---