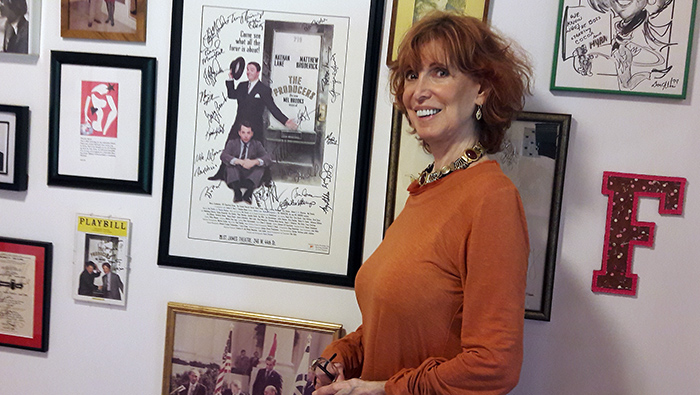 ---
Full disclosure: Myra Richman and I met in Columbus, Ohio as collegians and "sisters" in a Jewish sorority. She comes from small-town life in Hamilton, Ontario, Canada. I am a native New Yorker. To me, Myra – my "first Canadian" – was unique, soft-spoken and elegant. Since our happy reunion, she has admitted that she was originally taken aback by outspoken and outgoing East Coasters like me.
During her college years, Myra set her sights on New York City, where she says she sought "more of a world view and to live out a fantasy of working behinds the scenes in television production." This was precipitated by a post-graduate, chance meeting at a restaurant with a Big Apple-based scenic designer for the "Today" show. "We hit it off," says Myra. "He said to call when I got to New York. [Then] he introduced me to the news department and I was hired as an assistant to the producer." Myra also traveled the world with NBC News as associate producer to newscaster David Brinkley.
The late talk-show host Johnny Carson invited Myra to join his staff as a talent coordinator, so she moved to Burbank for several years, where she met an impressive roster of celebrities. "Some were terrific, some psychotic, but mostly neurotic," she says with a smile. She recalls playing tennis with Farrah Fawcett, "a doll," and spending time with "the late, great Joan Rivers."
After moving back and forth across the country and visiting her now deceased aunt and uncle in the Valley, Myra settled in Scottsdale in 1990. Divorced and looking for a new start, she started her own public relations firm, Richman & Associates. She admits she was "new in town and not particularly well-connected," but she was entrepreneurial and energetic and acknowledges that "my chutzpah and personality gave me the confidence to jump in." Her clients soon included resorts, spas, salons and some international associations.
A Canadian-based producer of "Unique Lives & Experiences," a lecture series featuring female celebrities, hired Myra to book, produce and promote events at Gammage Auditorium. Over a five-year period, the successful venture brought Mary Tyler Moore, Mia Farrow, Maya Angelou, Madeleine Albright, Julie Andrews and others to Tempe.
In 2005, her company's burgeoning client list led Myra to add Blacktie-Arizona as a subsidiary, forming an 11-market national franchise "that brings together nonprofits and individuals who support them, providing tools and promotional services to help raise money, lower costs and gain visibility." Blacktie-Arizona also provides photo and story coverage of member events and maintains an online, community fundraising-event calendar.
"We do everything to relieve [chairpersons] and nonprofits of the detail work – it's a one-stop shop," says Myra. A caveat: She requires that her public relations clients contribute to local charities.
Myra has served on the boards of the Scottsdale Healthcare Women's Advisory Council, the Phoenix Art Museum Contemporary Forum, the International Cancer Advocacy Network and other local and international agencies.
As if all this weren't enough, Myra's latest venture is co-founding Philanthropy, a glossy biannual charity register that "isn't a lifestyle magazine but is all about putting charities in front of high-net-worth individuals looking for donors and visibility." Myra is editor-in-chief of the publication, which is mailed to this select group and also available online. A portion of the proceeds is rerouted to nonprofit advertisers.
Myra's warm and welcoming Scottsdale home reflects her artistic temperament and talent. Brightly colored walls serve as the background for eclectic art, while shelves and tabletops abound with treasures she collects and crafts, including handmade quilts and decoupage. Myra attended Parsons School of Design in New York City for a time and much of her dramatic, handmade jewelry – especially necklaces – reflect a true talent. "My house is like my diary," Myra says. "It reflects my history."
So far, she says she treasures a life "filled with sensational memories of people, places and things." A self-described "media junkie, world traveler, avid reader and intermittent exercise enthusiast," she lists her passions as her daughter Samantha, granddaughter Francesca, the NBA and The New York Times. As she looks ahead to more life challenges and adventures, Myra says she is also "very much committed to living in the present."
Connect with Myra at myra@myragards.com, blacktie-arizona.com or azcharityregister.com.

---
---