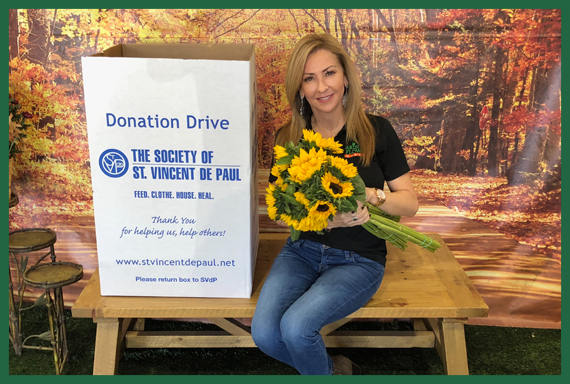 ---
This year Arizona Flower Market is hosting its annual "Flowers for Food" donation drive by giving away 10,000 stems of sunflowers in exchange for collecting 10,000 food items by Thanksgiving. All proceeds benefit The Society of St. Vincent de Paul, Phoenix. As an effort to pay it forward, any customer who donates food will receive up to two free bunches of beautiful California grown sunflowers. Each person donating five non-perishable food items will receive a 5-stem bunch of sunflowers, compliments of Arizona Flower Market.  Donate 10 items and receive two free bunches (limit two bunches per person). The event starts Monday November 12, and runs through 6 pm Wednesday, November 21.
"Giving back to the community is a commitment we take seriously at Arizona Flower Market," said owner, Cheryl Denham.  "The Society of St. Vincent de Paul is one of the most respected non-profit social services organizations in the valley and we are committed to supporting their efforts through our 'Flowers for Food' program. Our customers are generous when it comes to supporting our mission and with their support we are confident we can reach our goal of 10,000 food items to stock their pantry. This has become an annual holiday tradition, one that we are proud to sponsor" she added.
The Society of St. Vincent de Paul feeds an astounding 4,000 people a day a nutritious, filling dinner at their five dining halls throughout the valley, prepared and served entirely by volunteers. In addition, last year their food pantries delivered a staggering 6 million emergency food boxes to families in dire need. Said Danielle McMahon, Director of Food Services, "We need the help of volunteers all year long, and your donations help us bring food to those in need throughout the state. It would truly be impossible without the help of our community and businesses like Arizona Flower Market. Thank you!"
Flower Market hours are Mon-Fri 7 am-6 pm, Sat 7 am-3 pm, Sun Closed.
Holiday Hours: Open Sun 11.18.18 7am-12pm. Closed Thanksgiving Day.
Arizona Flower Market is located at 2050 S 16th Street, Suite 105 Phoenix, AZ 85034.
Read more stories about the Arizona Flower Market in our archives:

---
---