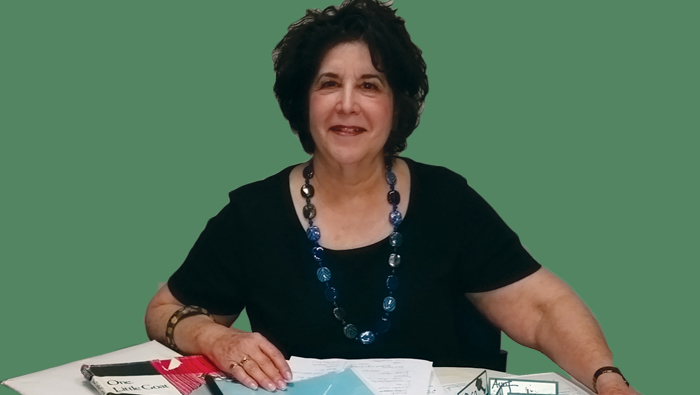 ---
It starts as Purim ends. That's when Tina Sheinbein goes into Passover prep and the countdown begins. Depending on the year, and which out-of-towners will make the trek, between 28 to 36 guests from ages one to 90 gather at Tina and Irwin Sheinbein's central Phoenix home for two seders. Tina explains that she and her sister-in-law, Sandra, used to alternate years, but when Sandra was widowed, Tina says "I was happy to do it all – and Sandra more than compensates throughout the year."
In advance of the holiday Tina shops for and stores non-perishables. In addition to leading the two traditional seders, Irwin helps to get the tables set up and set, as well as thoroughly cleaning the oven, stove and refrigerator, "removing all the shelves and checking out every nook and cranny." Tina says it is "one less stressor" to ready the tables at least 10 days in advance, and she acknowledges that switching several years ago from dishes to fancy plastic is a boon.
Food-and-wine-stained place cards, reused each holiday, are a meaningful tradition. Tina has preserved the cards through the years "and going through them never fails to bring back warm memories of people who have passed away."
Because there typically is a need for four tables to accommodate the crowd,  there also are four sets of "necessary accoutrements:" Pitchers for water, grape juice and wine; and seder plates replete with shank bone, maror, karpas and charoset and separate bowls of salt water for dipping. (For the charoset, Tina adheres to the basic and delectable combination of nuts, cinnamon, apples and wine.)
Irwin, who is flanked each year at the seders by his two oldest grandchildren, gives an annual "going through" to the family Art Scroll Haggadah and doles out assignments to all attendees, giving them about a month to prepare. They are welcome to read aloud, add personal commentary, ask questions, "Whatever they want to do," says Tina, "to really feel a sense of participation."
To add to the experience, in place at the tables are puppets, masks and a collection of small objects representing the plagues. A "Pesach Song Book" includes "Take Me Out to the Seder" and "Just a Tad of Charosis."
Every year Tina buys Irwin a new Haggadah to add to his sizeable collection, which includes a Women's Haggadah, one in Spanish and one dedicated to Soviet Jewry. They are on display for guests to peruse throughout the holiday.
Meanwhile, and according to Jewish law, the Sheinbeins follow the dictate of not knowingly owning any chametz (non-Passover food). They sell and then buy back the chametz before and after the holiday, with Rabbi David Rebibo of Beth Joseph Congregation acting as their agent. Irwin explains, "Chametz has to be sold by 10 a.m. the morning of the first seder and it can be bought back one hour after sunset the last night of the holiday."
Once the kitchen is kosher for Passover, signs are posted in the Sheinbein kitchen that declare "No chametz allowed."
Tina, who not incidentally is employed just short of full time as executive director of Jewish Free Loan, embarks on a cooking marathon. Soup, brisket, turkey, beef ribs and meat balls all are prepared and placed in the freezer. She has to push to get it all done, she says, "because I work – and I have plenty of family responsibilities with children, grandchildren, extended family – and a 90-year-old mom."
Major orders are placed with Segal's and Imperial, local kosher purveyors. Tina's shopping list at these venues includes Israeli salads, kugels, quinoa and grilled veggies, all of which "take so much time to prepare, and this way," she says, "I can pick them up the day before."
Tina shares a time-saving discovery: Mrs. Schreiber frozen matzoh balls, which are often available locally in stores that sell kosher foods. "I served them for the first time without telling the family – and no one guessed. They were a home run!"
A "pilgrimage" to California is a traditional part of the plan. Two to three weeks before Passover, the Sheinbeins drive out to Tustin, with ice chests and freezer bags in tow, to pick up delectable kosher foods for Passover including fresh baked cookies, cakes, dairy products and more at OC Kosher Market.
Tina says that the most challenging piece of her "Passover project" is what can't be done ahead of time, for example, "doctoring up the pre-purchased chopped liver, preparing the gefilte fish loaves, crafting the dry fruit platters and whipping the cream for the fresh fruit." She admits to taking two pre-Passover days off work and enlisting the grandkids to help peel the eggs and chop the charoset.
"This is my holiday," she says, "and all the work is truly a labor of love," but she strongly suggests, when possible, that hosts and hostesses get some help with the serving and cleaning up.
Sheinbein seders conclude with the reading of "Chad Gadyah" ("One Little Goat") by their daughter Deborah. "Even when she had fallen asleep," Tina recalls, "we woke her up." Now the family anticipates the time when Deborah's daughter, and the Sheinbeins' youngest grandchild, Sadie, going on two, will assume the responsibility to officially end the first seder.

---
---