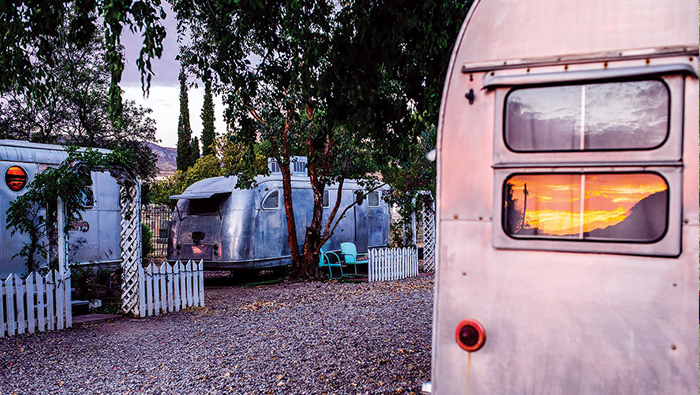 ---
There is a new way to travel that's been gaining popularity in recent years. It's called glamping – a fusion of glamorous and camping. Glamping is for those who want to experience the great outdoors, without having to be uncomfortable doing so. Apparently, it was popular internationally way before it came over to the U.S., perhaps because Europeans take more vacations than Americans? Who knows.
And as the weather cools down, fall in Arizona is a great time to get your glamp on.
Glamping is more than just a clean bathroom facility at the national park campground. It can be on par with a four-star hotel. For example, Arizona Luxury Expeditions (azluxtours.com), offers A Day and a Night of Glamping to either the Grand Canyon or Monument Valley. These trips feature lodging for up to four guests in a large expedition tent (or hogan in Monument Valley) outfitted with everything you will need from linens to end tables. All locations have toilets and showers. Meals are included: breakfast, lunch, dinner and snacks (fresh fruit and water available at all times). Staff are on hand to help you plan activities and excursions during your stay. The price may be a little high for one night ($750-$900 per tent), but it's hard to put a price on the combination of comfort and nature.
For something a little more affordable, there is the Shash Diné Eco-Retreat (shashdine.com). This bed-and-breakfast located on the Navajo Nation offers unobstructed views of Lake Powell and the Vermilion Cliffs. Guests stay in either a canvas bell tent or hogan (traditional Navajo dwelling). The accommodations contain cots, padding, linens, lanterns, towels, toiletries, books, games and water. Includes a traditional Navajo breakfast with blue corn hot cereal, seasonal fruit, nuts, coffee or Navajo tea. Prices here start at $150 per night. Starting in November, guests will also be able to stay in newly constructed earth and log hogans.
If you want to try glamping at a lower elevation, check out Raven's Way Wild Journeys (ravensnatureschool.org) located within Raven's Nest Nature Sanctuary near Patagonia. They offer a choice of two luxury safari-tented sites that contain beds, linens, bath towels, fans and a private bathroom with an enclosed hot or cold shower and an incinerator toilet. Included in your stay is a full gourmet breakfast, early morning tea and scones and use of all the facilities at the Raven's Nest. Located near the tent are dining and lounging areas, nature trails and the Sky Islands Discovery Center. The rate here starts at $95 per person, and the tents have a two-person maximum.
If you're ready to go glamping on your own, but need a tent, Stout Tent in Phoenix (stouttent.com) has you covered. You can rent tents starting at $250, and they will apply that fee if you decide to purchase a tent from them. They also set up tents for rent at various festivals (as advertised on their Facebook page). Stout Tent offers glamping event packages, too. They can create a bell tent village for a large group, such as a wedding, where guests can enjoy all the amenities of a hotel, but in nature.
I'm not sure if you could call The Shady Dell (theshadydell.com) in Bisbee glamping or just plain kitschy, but either way, it is a unique experience. What once started out as a place to provide trailer and camping spaces to weary travelers in the late 1920s is now a retro-chic place to stay in a vintage trailer. The accommodation range from a 1949 Airstream (starting at $85 per night) to a 1959 Boles Aero (starting at $105 per night). Some trailers have bathrooms, some do not, but there are bathroom and shower facilities just steps away.
There are more options around the state, and if you want to adventure further you can go to glamping.com for locations that span from Africa to the United Kingdom. So, if you are willing to give up the complimentary toiletries, breakfast and high-thread-count sheets –  wait, you don't have to give up any of that. Maybe all you give up by not staying in a hotel is being immersed in nature – oh, wait… maybe there is no downside to glamping.

---
---