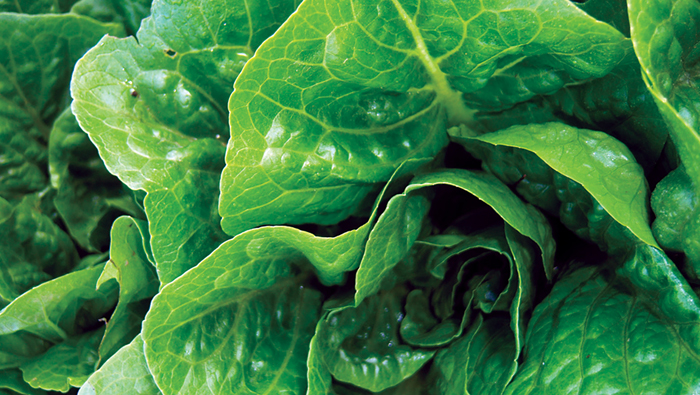 ---
Passover is fast approaching and the seder menu may be on your mind.
Of six of the traditional foods found on the seder plate, four categories are vegetables or herbs, or come from plants.
And you can actually harvest much of the Passover plate produce from your own garden.
Or, if your "green thumb" isn't up to the task this year… know that many of these crops thrive in Arizona, and are available locally.
Traditionally, fresh, unprocessed fruits and vegetables do not require kosher certification. That means whether you purchase your fruits and vegetables from the store, a local grower or grow them in your own backyard, if they are washed – they are considered kosher for Passover.
Crop foods that are not kosher for Passover include wheat, barley, oat, spelt or rye flour which have come in contact with water or moisture and were not fully baked within 18 minutes from the moment of contact.
In older Ashkenazim tradition, sages banned eating legumes, such as corn and rice, on Passover, because their textures resembled the above "five forbidden foods." These are known as kitniyot.
There are a few vegetables, such as garlic, ginger and radish, which certain communities don't eat for various reasons.
Ask your family, or your rabbi, for specifics regarding the customs of your ancestors.
Let's take a look at a few of the foods commonly found in most traditions on the seder plate, with a few tips on growing them in your own garden:
Bitter herbs (maror); apples, pecans and dates (charoset);green vegetable (karpas); bitter vegetable (chazeret).
Maror: Bitter herbs, that symbolize the bitterness of slavery the Hebrews endured in Egypt.
In Ashkenazim tradition, horseradish or romaine may be eaten in the fulfillment of the mitzvah of eating bitter herbs during the Seder.
Horseradish: We can grow horseradish in Arizona, with a few limitations, according to Peter Warren, associate agent in urban horticulture with the University of Arizona's Cooperative Extension. "Horseradish does better in cooler place above 2000 feet elevation.  It should be planted in November through January," says Warren. Horseradish roots look like carrots, and instead of planting seeds, you can plant 'crowns' that will multiply. Well-drained soil is best for horseradish, and it works well as part of a container garden.
Romaine lettuce: Romaine grows very well in Arizona. Warren suggests planting it between mid-August through the end of March. Soil needs to be well-drained, loose loam. Romaine should be kept moist, but not waterlogged.  Waterings should be frequent and light.  While romaine does well in sunny weather, it prefers shade in the hot Arizona weather. If you don't grow romaine in your own garden, it's widely available. Yuma is considered the "winter lettuce capital of the world", and farmers there supply 90% of the nation's leafy greens between November and March.  Chances are if you purchase lettuce at your grocery, it most likely came from Yuma.
In Sephardic tradition, many Jewish families use parsley, green onion or celery leaves.
Parsley:  Parsley is a winter crop. Warren suggests planting between the beginning of September and mid-January.  Many families have a tradition of planting parsley on the holiday of Tu B'Shevat to use on the seder plate at Passover.
Celery:  Celery should be planted in Arizona between August and mid-October.
Green onion: Green onions should be planted mid-August through the end of January.
Charoset: Charoset comes from the Hebrew word cheres, meaning clay, and it represents the mortar the Israelites used for building structures in Egypt. It is often a mixture of apples, nuts, wine and spices in Eastern European Askenazim tradition. In the Sephardic tradition, charoset is a paste made of figs, dates and raisins. Charoset ingredients are more difficult for the average home gardener to grow, but many of the ingredients are readily available in Arizona.
Apples:  Arizona's climate is often not thought suitable for apples. However, apples grow very well in cooler parts of Arizona with adequate irrigation and care. Golden Delicious, Anna and Gala are a few types that grow well in Arizona. You can find several growers of apples in our state. Willcox, in southern Arizona, is one of the most popular places to find apple orchards.
Pecans: While walnuts are traditionally the nut of choice for charoset recipes, pecans are abundant in Arizona. For the length of season pecans have, they are not considered a "high water use" crop. According to scientists at the University of Arizona, they "like" Arizona's climate. Arizona ranks as the fourth-largest pecan-producing state in the nation and is on track to double production in about 10 years.
Dates: Dates are low in fat and sodium, and are high in fiber and magnesium. They contain more potassium than a banana. Date palms are abundant in the Phoenix area. Dateland, a popular tourist spot in southwestern Arizona, caters to date lovers. Farmer's there grow least eight different varieties, including Medjool dates.
Karpas:  On Passover, a blessing over green vegetables is recited, and then a vegetable, usually parsley or celery, is dipped in salt water, and eaten. The green vegetables are symbols of spring, while the salt water represents the tears of slavery. See above for advice about growing parsley and celery in your own garden.
Chazeret: Romaine lettuce is usually used, which doesn't seem very bitter, but the plant has bitter tasting roots. The leafy greens from a horseradish root can be used, too. Again, see above for facts.
If you do decide to grow "Passover Plate Produce" in your own home garden, check out this resource, from the University of Arizona's Cooperative Extension: extension.arizona.edu/sites/extension.arizona.edu/files/pubs/az1435.pdf
For more on fruit trees, head to this link from Cooperative Extension cals.arizona.edu/pubs/garden/az1269/ .
For other questions about plants or your own garden, you can contact a Master Gardener. To find a Master Gardener in your county, visit extension.arizona.edu/master-gardeners. You can reach Warren at tucsongardensage@gmail.com.
Faith Schwartz is an information specialist with the University of Arizona's Cooperative Extension, sharing the science of the College of Agriculture with the people of Arizona.

---
---