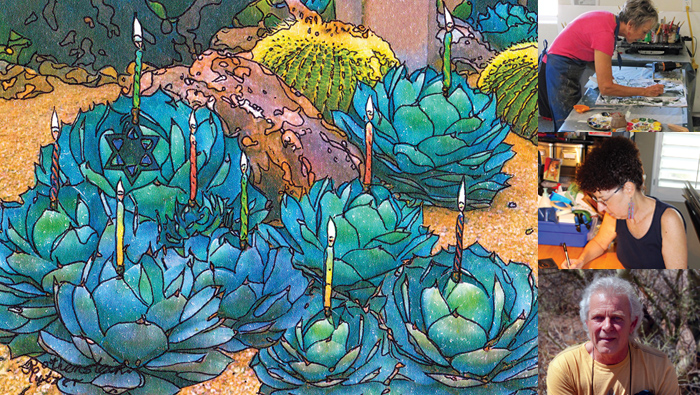 ---
Arizona's largest and longest-running artist studio tour and sale, Hidden in the Hills, celebrates its 20th year during the last two weekends of November: Nov. 18-20 and Nov. 25-27. A signature event of the non-profit Sonoran Arts League, HITH features 188 artists in 47 studio locations throughout the scenic Desert Foothills communities of Cave Creek, Carefree and north Scottsdale.
The free, self-guided studio tour offers seasoned collectors and art enthusiasts a rare chance to observe artists at work in their private studios, which are open to the public from 10 am to 5 pm during the six-day tour. Each studio has one or more guest artists who also display and sell their work. All HITH artists are Sonoran Arts League members and several come from different parts of the state to participate in the annual event. Many artists also demonstrate during the tour.
One such artist is Studio #29 host Bela Fidel, a talented painter who works in oils and encaustic (hot wax). Born in Sao Paulo, Brazil to Polish and Russian parents, Bela moved to Israel at the age of 21 to study at the Hebrew University of Jerusalem. She arrived in 1965 and two years later experienced her first war – The Six Day War.
"The weeks leading up to the war were tense and life had a surreal feeling. It could start at any moment and we went about our routine with dread and trepidation," Bela says.
When the war broke out, she was off-campus visiting a cousin in Jerusalem. She was stuck in a small building with a small shelter, leaving no room to stretch comfortably. Later, in 1975, she experienced the Yom Kippur War, which was much longer and left her with free time on her hands, since the company she was working for could not conduct normal business.
"I volunteered my services to the postal service, where they had set up a very large room for foreign correspondents sending articles to their countries. I typed articles in languages I never knew existed. This work helped me not to think of the war and how our lives had been shaken to their foundations," she said.
She began painting in 1965. "Until then I had had no interest in art, let alone creating it. It took me at least a decade to realize that art had become a permanent part of me, and essential to my happiness and wholeness," she says.
Although she very much enjoys painting with oils, she finds encaustic more conducive to playfulness.  "It's so much more versatile and I can't resist seeing what else it can do," Bela says.
"Once you start to heat the wax, surprises and accidents happen, taking you in a new direction," she says.
Bela, who keeps a kosher home with her writer/lyricist husband, Stan, has been a long-time participant in HITH and a studio host for 10 years.
She credits her curiosity with pushing her to regularly explore new mediums. Visitors to her studio will see new mixed media pieces, which she began delving into about four months ago. In addition, she will exhibit a new "Transitions" series of abstract expressionist pieces in oils and a new "Patterns" series in Encaustics.
When she's not working on her own art, Bela is involved in efforts to improve domestic and wild animals' lives everywhere and currently volunteers for the Foothills Animal Rescue.
"I have two passions and they are both first," she says of her painting and work as an animal advocate. "My love and concern for wildlife led me to create a series in oils called 'Endangered, Threatened and Exploited Species.'"
Creative use of alcohol
Guests to Bela's studio also will be able to see the stunning works of Scottsdale artist Judith Rothenstein-Putzer, who put a new spin to her photography by creating alcohol transfers with pen and ink.
The process involves printing an original photograph onto a transparency which is then transferred on to alcohol-soaked printmaking paper. Depending upon the concentration of alcohol and the type of printmaking paper, the results vary from the softness of watercolor to the boldness of acrylics. When the transfer is completed, Judith enhances the negative space with pen and ink, making the image more vibrant and alive.
Judith discovered her passion for photography while attending Brooklyn College. She went on to graduate studies in occupational therapy at Columbia University. She moved to Arizona 16 years ago and began taking art workshops in Scottsdale and Phoenix. After taking a printmaking class and learning the transfer process seven years ago, she modified the process to create her own custom technique.
"My first attempt needed something more, and that's when I came up with the concept of highlighting the negative space with black pen and ink," Judith says. "I'm really focusing on the components of the images. If the piece turns outs representational, that's fine and if it becomes abstract, that's fine too."
Describing her subject matter as very eclectic, Judith says she will photograph "anything and everything that catches my eye." During HITH, she will exhibit her vibrant alcohol transfers with pen and ink, including a number of Judaica pieces, as well as "wearable art" necklaces (small pieces of artwork framed in upcycled belt buckles) and note cards. She also will demonstrate her pen and ink technique daily during the event.
First responder finds peace in photography
Up the road a bit at Studio #36, Morrie Farbman will exhibit his evocative landscape and street photography. For Morrie, photography has been a lifetime passion ever since he got his first 35 mm camera at age 17. He started out shooting street photography during the hippie era of the late 1960s, until his career took him into public safety, where he served for 25 years as a fire chief in a suburb north of Chicago and as executive director of the Cook County 911 system.
"Most of my life was spent in the chaos of responding to emergencies in service to the public," Morrie, a Reform Jew, says. "That required a lot of training and preparation for the unknown, often thinking ahead or remembering a past event. When I am behind the camera there is only that moment, no past, no future, only that fraction of a second."
A Desert Hills resident, Morrie continues to find peace and serenity behind the camera. During HITH, he will exhibit stirring photographs of scenic landscapes and slice-of-life shots that he captured during his travels throughout the Southwest and abroad.
For tour details, call 480-575-6624 or visit hiddeninthehills.org.

---
---