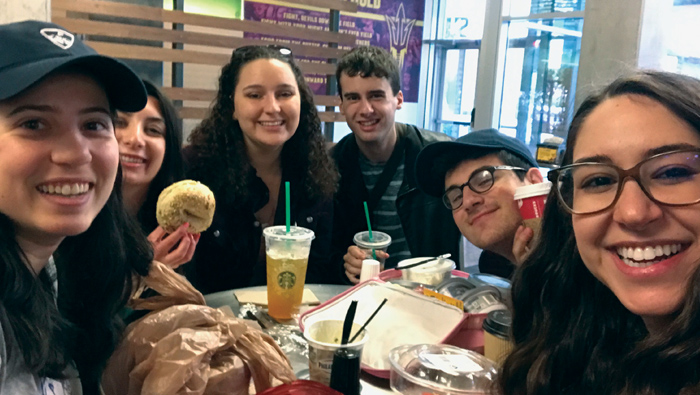 ---
Always at the vanguard of innovative programming for Jewish college students, Hillel is once again creating a buzz on campus. The Springboard Fellowship – a two-year talent pipeline for the next generation of Jewish professionals – sprung to life last July at Arizona State University in Tempe and will soon be in place at the University of Arizona in Tucson. Putting students in the driver's seat, the SF is attracting rising stars who are striving to be innovators and game changers.
"Early indicators show the SF is a robust and successful program helping to catalyze the next generation of leaders," says Josh Feldman, Springboard Fellowship director at Hillel International. "Under the leadership of a salaried postgraduate fellow, students are brainstorming fresh and imaginative programs and experiences."
The three themes of the SF program are innovation, social media and a combination of innovation and social justice. Any of these themes can be applied to social programs or a host of other Jewish-themed and Shabbat events. The goal is to spark new ideas and let students connect, take risks and implement fresh ideas. Conceived by local Hillels, Hillel International, Mosaic United and a partnership between the Shapira and Beacon Foundations, this ambitious project is poised to make an enduring mark on current and future generations.
The SF program has an impressive track record. Starting with 20 schools in 2016, a second cohort was opened in 2017, adding 25 more. ASU started its program last year and UA is gearing up to begin this summer. "We are proud to have been one of the 25 Hillels out of the 50 [that] applied to be chosen to participate," says Michelle Blumenberg, Hillel UA executive director. "Our fellow will be focusing on first-year, Greek and business students. … Now we'll have a professional on staff dedicated to engaging these populations, in addition to working on our social media, marketing and communications."
The SF program will tap into a wellspring of students' interests, curiosity and passions while promoting new ideas through their social networks. "It's all about relationship building," says Michelle. "This powerful tool will help the UA reach even greater numbers of Jewish students on campus. The entire staff is excited about the additional professional development opportunities the students will receive. It is an amazing experience seeing the thousands of students who have already come through here and [observing] the change they have brought to the Jewish community."
Change is also the name of the game at ASU, where Madeline Dolgin keeps up a dizzying pace as its Springboard innovation fellow. A native of Arizona, Madeline graduated from New York University with majors in business and sustainability. An affable and bubbly young woman, Madeline thrives in the arenas of Jewish learning, spirituality and interfaith connections. She honed her skills through a variety of NYU internships, such as the Jewish Learning Fellowship and the Global Spiritual Life office, where she helped to collaborate with and oversee various faith committees. Eventually, Madeline segued into an internship at the Auburn Theological Seminary, where her duties included researching mindfulness, interfaith relations and social activism.
The chemistry of Madeline's eclectic spiritual interests, coupled with her deep love of Jewish learning, made her an ideal candidate for ASU fellow. Working under Hillel Executive Director Debbie Yunker Kail, she has successfully formulated meaningful and inclusive programs, including a recent interfaith Shabbat experience for Christians, Muslims and Jews. Madeline has also led Shabbat programs at ASU's Barrett, The Honor College with her intern. In the high-tech arena, she has helped develop JNET, a job board and professional networking feature of the Hillel website. Tapping into the rich possibilities for future members, Madeline visits high schools to expand awareness of Hillel and to answer questions.
"Madeline is a highly talented, passionate and energetic team member who has added so much to the Jewish student experience at ASU," says Debbie. "Her quest and ideas have pushed us all to be more innovative in our respective roles at ASU Hillel."
To encourage relationship building and deeper connections, Madeline hosts a club called the "Shmear Society" that promotes social networking. With donations from Chompie's and New York Bagels 'N Bialys, she attends weekly gatherings with students at both the Tempe and downtown campuses. "It's a low-barrier entrance point for students who may not have participated in Judaism before."
Madeline's "Mi Cha Mocha" group (a play on words for "Mi Chamoca") meets at a coffee shop and examines the prayers and rituals performed on Friday nights. Typical discussions revolve around who wrote them, whether the prayer is a story or poem and if it's a modern interpretation. Other discussions may be about challah, including why it is braided and covered and the meaning of the blessings. Taste tests of challahs from the around the Valley are a delicious perk for everyone.
"I love working in the Jewish world on a college campus," says Madeline. "The SF allowed me to give back to Hillel, which influenced me so much in college. I knew I loved Judaism, but this experience has helped me discover a passion for teaching and higher education. The decision to work at ASU has definitely influenced my career path."
For more information, visit hillel.org/fellowships.

---
---