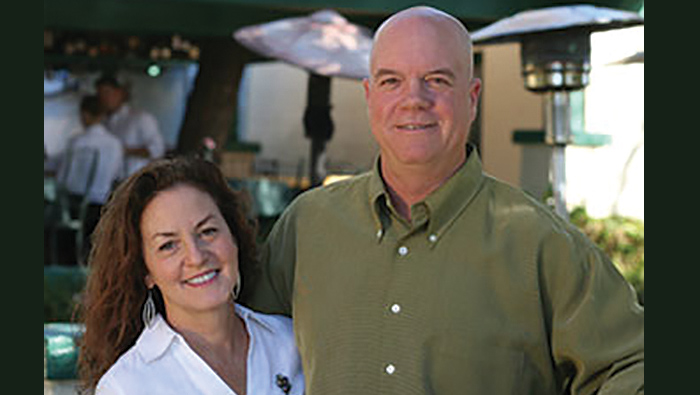 ---
Tucked away in downtown Tempe, there is a "secret garden" of sorts: House of Tricks, a charming, cottage-style restaurant with a disarming sense of nostalgia and a sense of whimsy. Owned by Temple Emanuel members Robin Trick and her husband Robert, this bucolic oasis is walking distance from the lively bustle of Mill Avenue and Arizona State University.
The couple has created a truly unique fine-dining experience that beckons with graceful trees and patios adorned with bursts of colorful flowers. Two separate, historic bungalows – connected by a large, outdoor, tree-covered bar – provide tastefully decorated rooms that include French fabric curtains, original wood floors, a vintage stone fireplace made with local river rock and fine-art prints.
According to Robin, House of Tricks has been an ongoing labor of love for 30 years. The duo has complementary roles that produce a winning team. Robin is the owner/manager in charge of finance, marketing and personnel. Robert, who was a chef for the first 10 years, maintains the property and keeps everything running smoothly.
"I love greeting customers and talking with them," says Robin. "It's my favorite part of the job. We have 60 employees, so I [also] put out a lot of fires." Another perk of Robin's position is meeting local personalities and even a sprinkling of celebrities. She has seen then-Senator Barack Obama, Mitt Romney, Janet Napolitano, and Mark and Harry Mitchell walk through House of Tricks' doors.
Raised in a traditional, conservative Jewish home in Queens, New York, Robin originally hitched her dream to fine arts. Pratt Institute in Manhattan was the ideal gateway, but the daily commute and congestion of the city took a physical and emotional toll. "It took several hours a day to get to Pratt and at the end of the day, it was hard to be creative," she says. After visiting her sister at ASU during spring break, she decided Arizona was where she wanted to live. She transferred to ASU, where she received a fine arts degree. Robin has since been on the boards of several arts organizations and is an avid collector of ceramics and fiber arts.
A college stint working at the wildly popular Bandersnatch Brew Pub (closed in 2003) in Tempe was Robin's first steppingstone to restaurant ownership. At graduation, she received an invaluable gift – the position of manager. "I had no business background, but they still wanted me," she says. "I wound up managing for eight years. I met a lot of really great people, including my husband, who I eventually hired as a cook."
At Bandersnatch, the couple stretched their entrepreneurial wings, creating a catering business on the side. Sensing their true niche, the two stepped up their game and decided to rent the first building of their current restaurant and create House of Tricks catering. Their passion for food creation led to a slew of lucrative contracts with the City of Tempe and the Tempe Public Library, as well as weddings and city and corporate events.
With their venture picking up steam, the Tricks added outdoor picnic tables to take advantage of the lush outdoor landscaping. A front patio that doubled the seating was the true, magic touch. "That's when the restaurant really took off and we decided to just focus on that," says Robin. "We did a lot of landscaping and installed a covering over the original grape arbor."
To accommodate the burgeoning popularity of House of Tricks, the couple purchased both buildings from their landlord in the mid-90s, one of which was a historically recognized adobe-brick building built in 1903. "It was a humongous step for us," says Robin. "We also put in the outdoor bar so we didn't have to keep making cocktails in the back room." A few years later, they added the second patio and a few years after that renovated the inside, creating two rooms: one for regular seating and the other for private parties.
The decision to locate in Tempe was never a question in Robin's mind – it was the only place on her radar. Mill Avenue was an exciting prospect, but the high rents were a significant roadblock. "Mill Avenue would not have [afforded] us the luxury of creating a place like this," says Robin. Little did the couple know that their decision had a huge silver lining.
Creating House of Tricks "took a village," says Robin. The couple used a contractor, but friends and family provided much of the manpower. Within a short five months, the first building was up and running; within a few years, the second one came to life. "Part of why we are successful is [that] we let the restaurant grow organically," says Robin. "We didn't want to get stuck on one particular vision."
To that end, the couple started with a French flair, which has since evolved into a more eclectic menu with interesting flavors. "We strive for local and seasonal food," says Robin. "Our seafood is flown in every day from Santa Barbara; our produce is as local as we can get it."
The Tricks are particularly proud of the awards they have received, including "Small Business of the Year" from the Tempe Chamber of Commerce and one for neighborhood beautification from the City of Tempe. Robin has also received the "Tempe Businesswoman of the Year" award. "We are consistently number one on Trip Advisor and always get mentioned in the Phoenix New Times 'Best of' section," she adds.
To experience the food and ambiance that receive so many accolades, make your reservation and savor this Tempe "treat." Join the mailing list to learn about special events throughout the year, including wine-pairing dinners. House of Tricks is located at 114 E. 7th St. in Tempe. Call 480-968-1114 or visit houseoftricks.com.

---
---