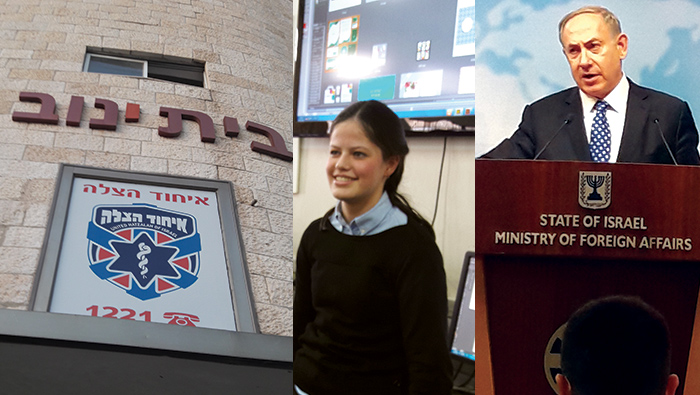 ---
Although this was my 15th business trip to Israel, it never ceases to amaze me that there is always something new and special to see and learn in and about the Jewish state. On this particular trip, I was one of a contingent of some 50 Jewish journalists from around the world invited to Jerusalem to participate in the 2016 Jewish Media Summit, sponsored by the Israeli Foreign Ministry and the Government Press Office.
Our group met with both Prime Minister Benjamin "Bibi" Netanyahu (more about that later) and President Reuven Rivlin, and our days were filled with sessions, panels, meetings and more. But what moved and impressed me most was a visit to the Beth Jacob Teachers Institute of Jerusalem and its Telem Inclusion Center. Founded 70 years ago, the institute is a religious high school and teacher seminary that serves more than 3,000 girls. It is also a highlight of Jerusalem's Haredi community.
BLURRING THE LINES OF SEPARATION
Thirty years ago, under the inspirational leadership of Mrs. Esther Jakobovitz, the Telem Inclusion Center was incorporated into the institute's curriculum to serve young women ages 14 to 20 and beyond "with all levels of learning, emotional, physical and social disabilities, intellectual challenges and autistic spectrum disorders."
In a fully equipped kitchen – and under the watchful eye of supervisors – we observed a group of Telem participants chatting and chopping vegetables for more than 800 daily meals for the needy children of Jerusalem's institutions. Other in-house, paying projects for students include sewing and computerized embroidery. The students also prepare and market a "Simcha Line" of festive products for celebrations. Mrs. Jakobovitz beamed with pride as she described the efforts of her students, each of whom she knows by name.
From its earliest beginnings, the institute's special education department has been a pioneer in the area of inclusion in mainstream classes and programs, blurring the lines that separate special education students from the rest of the population. Yedidut (Hebrew for "friendship") pairs students for common-interest activities. Weekly workshops include painting, choir, clothing design and elder care. Staff members report that the effects have been "no less than electric."
HEROES WITH CHUTZPAH
On the same day, I visited the Jerusalem office of United Hatzalah of Israel, the extraordinary free community-based, volunteer-led emergency medical response program. "Ambulances don't save lives – people do!" according to Hatzalah spokespeople. The program teaches neighbors and colleagues to become trained first responders. All are welcome to learn what to do when every second counts. Citizen rescuers from all backgrounds are on call 24/7 to respond and provide lifesaving care before the ambulance arrives. Hatzalah "ambucycles" enable responders to get to the scene of an emergency 75% faster than traditional ambulances.
A GPS-based command and control system automatically locates and dispatches the nearest volunteer to an emergency. As of last year, 10 cities worldwide – from Detroit to Delhi, from Jersey City to Panama City – have adopted the Hatzalah model.
"We all want to be heroes," says one volunteer. "All we need is a good idea, motivation and plenty of chutzpah!" In just one day, I connected with a good number of heroes.
A BOMBASTIC BIBI
As for the meeting with Netanyahu at the Israel Ministry of Foreign Affairs, all of us – mostly seasoned journalists for whom press conferences are fairly routine – were nonetheless abuzz with anticipation as we awaited the prime minister's arrival.
"What's on your mind?" was his opening salvo to the audience as he walked to the podium, ignoring the session chair's attempts to ask him a question. He told us what we should be asking him, virtually dissing those reporters who had thought long and hard about appropriate queries. He interrupted some of them, determined to set his own agenda. He boasted about his country's political and technological successes and acknowledged that his government has backed off from a promise to approve prayer space for women at the Western Wall. "These things take time," he said. He made the point that Israel now has allies in the Arab world ­– without naming them – who have joined with the Jewish state in fear of a nuclear Iran.
I consider my latest trip to Israel successful and memorable. But the consensus among my colleagues was that it is unlikely that Netanyahu would have been so arrogant, rude and dismissive to an audience of non-Jewish reporters. Live and learn!

---
---