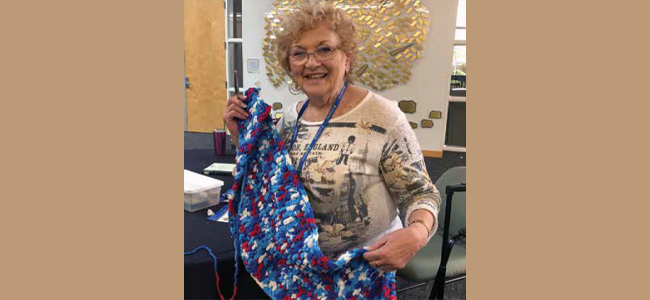 ---
Pictured above: Jeanine Korer with a lap blanket she is making for a veteran.
Every Tuesday afternoon, in the lobby of the Valley of the Sun Jewish Community Center in Scottsdale, you will find a group of ladies knitting and crocheting. If you have trouble finding them, just follow the laughter.
This group, affectionately named "Kappa Grandma Sigma" by their social director, Jeanine Korer, meets weekly, year-round.
"We call it 'the magic table' because everyone who sits at that table, including snowbirds, winds up having a connection to somebody else at that table," jokes Jeanine. There are knitters from California, Chicago and Canada.
Jeanine learned to knit from a blind woman who was a friend of her mother. "I've been knitting many, many years, but I'm nowhere near as good as the other women in the group," she says. "They can teach you to knit in one minute and crochet in 30 seconds."
Ita Wagen is the head director of the group and Evelyn Levine, Sandy Reichsfeld and Jo Pulvermacher are some of the regulars. "Ita is very innovative and Jo knows exotic stitches," says Jeanine of her fellow fiber artists. "Everyone has a remarkable story, and we are compatible beyond belief."
Some of the items the group knits include hats and blankets for newborn babies in the hospital, afghans for wheelchair-bound veterans and crutch covers for Jewish war veterans, so they don't get sores under their arms.
Knitting isn't Jeanine's only hobby. She also paints, plays mahjongg, volunteers on election days and sings in the choir at Temple Solel.
More than 25 of her paintings will be on display throughout November at Temple Solel as part of their Art @ Solel series.
Originally from Chicago, she began painting before she moved to the Valley in 1980. "I didn't know I could paint, I never had. I saw a Parade magazine cover I liked, and I just picked up a brush and started painting," says Jeanine.
Her favorite medium to use is oil paint, because "acrylic dries very quickly" and she likes the flexibility to make a change while painting. She has also dabbled in watercolor and more recently scraperboard, where you etch into the ink covering a board to reveal a color below.
She says all of her hobbies have a social element involved. Whenever she has a problem, somebody in one of her social circles knows the answer.
"I had a pain in my thumb, and there was a retired doctor (in class), and he told me that I had rheumatoid arthritis," says Jeanine. "Then I went to my doctor, and he said, 'Oh, that's RA.' I already knew that because I had an art class diagnosis."
She also told her knitting friends one day that she thought that she had to get a new dishwasher because everything was coming out cloudy. "In three seconds, somebody said to me, 'You have to get Lemi Shine (detergent booster)' – and sure enough that did it," jokes Jeanine.
When asked if doing knitting or painting helps to keep her mind sharp, she laughs and replies, "It definitely keeps your mind working; whether it keeps it sharp or not, I don't know. You do have to think, and it's very social, all of it."

---
---