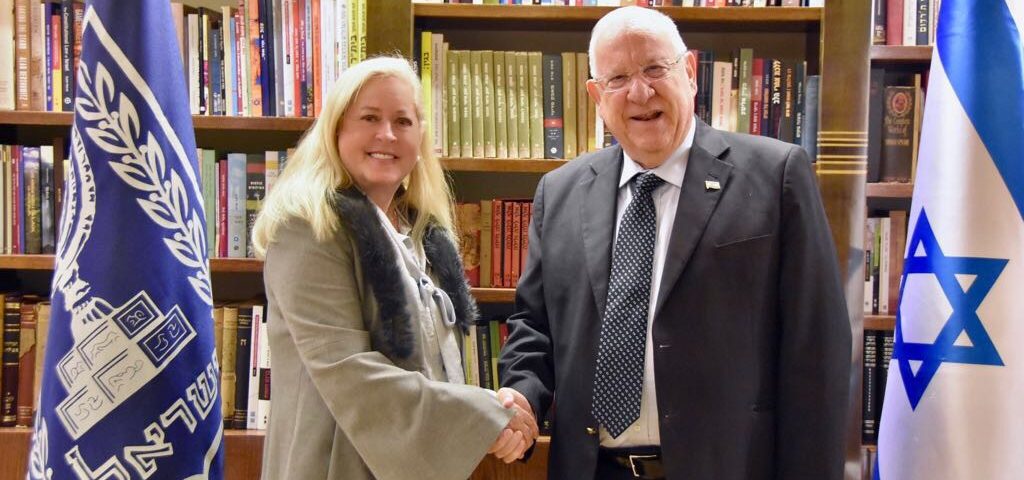 ---
Pictured above: Theresa Lungwitz, left, shakes hands with Israeli President Reuven Rivlin.
In March, Jewish National Fund celebrated National Women's History Month by highlighting the remarkable women who have taken on leadership roles within the organization.
Throughout the month, JNF hosted over 30 events across the country to bring women together to share their personal stories, and highlight the important work JNF accomplishes thanks to the women who give their time and financial support to the nonprofit. Thanks to the generosity of Theresa Lungwitz of Scottsdale, and Polly Levine of Paradise Valley, donations to JNF's Women for Israel campaign from March 8 to March 31, were matched up to a total of $1,000,000.
"Women should be celebrated all year, not just in March," says Theresa, who recently helped launch The Theresa Lungwitz Supportive Care Center program in the upcoming new rehabilitation hospital at ALEH Negev-Nachalat Eran. "I am so thrilled to be able to be a part of Jewish National Fund's gift matching initiative and to bring attention to the tremendous work being done by my JNF sisters. What a beautiful way to acknowledge the meaningful work of JNF."
This year alone, the number women on JNF's National Board doubled and more women are stepping up to fill roles on their local boards and committees. Almost half of the leadership positions at Jewish National Fund across the United States. are held by women – including 22 National Board Members and 19 Local Board Presidents and 150 task force members.
"In 2013, women contributed a little more than $11 million to our annual campaign," said JNF's National Vice President of Women for Israel and San Diego Board President Myra Chack Fleischer. "In just four short years, that number has ballooned to more than $22 million – an incredible 100% increase."
In 1999, Jewish National Fund's Women for Israel was founded with the creation of the Sapphire Society. In less than two decades, JNF's Women for Israel has become a powerhouse within the organization with over 50,000 donors across the country contributing more than 25% of the dollars raised each year to improve the quality of life in Israel for all who call it home. In fact, one of JNF's largest and most successful initiatives – the building of the artist colony of Zuqim in Israel's Central Arava – started out as an idea that was developed through Women for Israel.
To keep the momentum going, JNF in Arizona invites women to attend their upcoming event and see what they are all about. On April 18, the Professional Women's Division is hosting a cooking demonstration event in Scottsdale, at the home of Deb Rochford, JNF executive vice president to the Desert States and Southwest. There is no cost to attend and seating is limited, so reserve a spot by April 13 by contacting Leila Nouri at lnouri@jnf.org or calling 480-447-8100 ext. 932.
"I hope to see lots of new faces at our event to join the strong, dynamic group of females who are already putting their passion and energy into building a better future for the land and people of Israel," said Rochford.

---
---