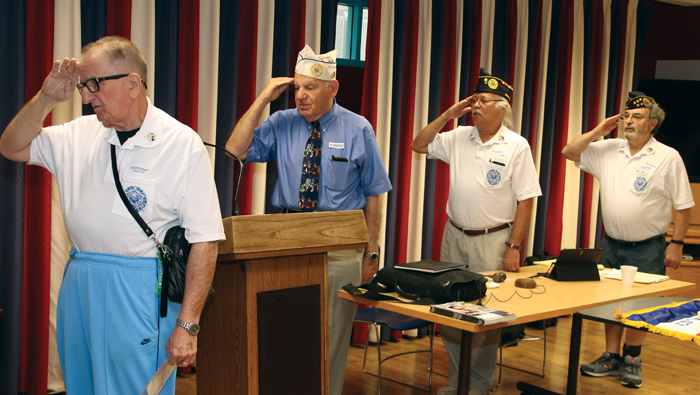 ---
As the proud daughter of PFC Edward A. Rosenberg, who fought, was wounded in Germany's Black Forest in WWII, and earned the Purple Heart and the Bronze Star, it was a pleasure and privilege for me to attend a recent meeting of Jewish War Veterans Scottsdale Post 210, one of four such groups in Arizona.
Some 20 veterans, their wives and friends gathered for this monthly meeting in the Liberty Room of the Arizona State Veteran's Home in central Phoenix, a 200-bed facility that includes offices and meeting rooms and is currently home for three Jewish vets.
Now celebrating 120 years as the oldest continuously operating veteran's service organization in the United States, JWV is a true band of brothers and the fraternal bond among the members of Post 210 was evident as they greeted each other and kibitz over bagels and Danish. Several told me what the organization means to them:
Stan Rosen, who describes himself as "very retired,"   says "JVW members increase awareness of Jewish service to our country."
Bernie Brownstein is proud that the organization, among many other projects, refurbishes rooms for homeless vets.  A life member, Bernie says, "This is a great group."
Mel Brody serves as treasurer of the committee in charge of the annual Memorial Day service at Arizona's National Memorial Cemetery, where thousands gather to pay their respects to the fallen.
Bella Kazen, whose late husband, Dave, served in WWII, has remained an active member since his passing. She says the Post "takes care of all vets. We have Shabbat dinners and even have Christmas and Super Bowl parties – and we collect and distribute toiletries."
Carlos Rausch, who turned 92 in March, was born in Argentina, experienced anti-Semitism as a youngster, and was able "to start a new life" in the U.S. at age 33. He shared recollections of "life under Peron," and enchanted the audience with his piano artistry. He says he was invited to come to a meeting as a guest, "felt part of the family – and never left."
One item on the meeting agenda was the upcoming "Buddy" poppy sale, held each year on Memorial Day and Veteran's Day. The poppy is the official memorial flower of Veterans of Foreign Wars of North America. Sale proceeds of the artificial flowers provide compensation to the disabled and needy vets in VA hospitals who assemble them. These funds are also designated to maintain state and national veteran rehabilitation and service programs.
I'll be wearing one on May 30 – and thinking, as always, of you, Dad.

---
---