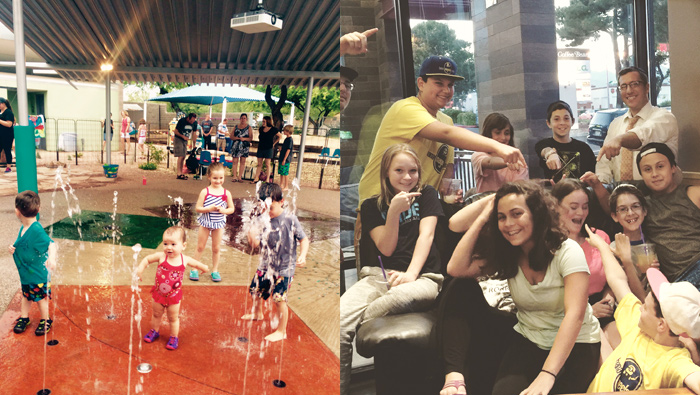 ---
The calendar may insist that it's still winter, but summer will be here before you know it. It's not too early to start thinking about how your kids are going to spend their summer. If you're considering summer camp, those slots are filling up fast, so start looking now to find the right camp for your child, one that will provide a fun, exciting summer while building skills and creating memories that will last a lifetime.
For generations of children, attending summer camp has become a rite of passage as American as apple pie, and Jewish children are no exception. The benefits of camp are self-evident. Campers can discover new passions, develop skills, gain confidence and create lifelong friendships.
For some children, sleep-away camp may be the first time they have been away from home for an extended period of time. This separation is healthy and helps build self-confidence and a sense of independence. For city kids, camp puts them in touch with nature in a way they may never have experienced before.
For many of us, our memories of camp consist primarily of making lanyards or singing songs around the campfire. That type of camping experience is still popular, but in recent years there has been an explosion in the number of specialized camps that cater to a specific skill or interest. Examples include computer camp, science and math camp, Lego camp and, hey, remember that one time at band camp?
If you decide to send your children to a Jewish summer camp, there are a plethora of regional options. Jewish summer camps help strengthen the bonds of the community by bringing Jewish kids together in a fun and healthy environment.
A 21-page report from the Foundation for Jewish Camp in 2011 concluded: "What do children bring home with them from a stay at Jewish overnight camp? The analysis indicates that they bring, first of all, an increased inclination to practice Jewish behaviors in their lives, from Shabbat candle lighting to using Jewish websites, and to appreciate the value of Jewish charity. Secondly, they bring an increased inclination to value and seek out the experience of Jewish community. These acquisitions will enrich the lives of campers now and in their adult future."
Jewish day camps can also provide an enriching experience for your child. Day camps at synagogues have the additional benefit of deepening the connections among children that have been forged during the year in Hebrew school.
Jewish camps allow children the opportunity to experience and express their Judaism in a new way. At camp, children discover Judaism isn't just services and Hebrew school.
Summer is also a time to explore new activities or become more proficient at a budding skill, with locales ranging from equestrian to aquatic.
Sports enthusiasts have myriad options that include both multi-sport explorations and single-sport skill-building. Google "sports camps" and you'll likely find hundreds of local options in seconds.
Those who attend a camp near water can experience exhilarating new activities such as waterskiing, wakeboarding and sailing. Camps with a ropes course, zip-line or climbing wall help kids hone strength and endurance. Classic camp sports such as archery, softball, basketball, tennis and soccer give campers the opportunity to test themselves and discover new skills.
Campers can also pursue, or discover, their passion for music, fine arts and performing arts at both day camps and sleep away camps. The possibilities are limited only by their own imaginations.
If your child dreams of becoming a veterinarian or simply loves caring for animals, there's a camp for that, too! Animal lovers can learn to respect and care for dogs and cats, or they can become advocates for endangered species.
Some zoos have day camps that introduce campers to animals and habitats from around the world, while a camp offered through your local Humane Society plants the seed of empathy, creating future animal advocates, adopters and donors.
The best summer camps not only help children become better people, but also show them that they can make a difference, maybe even change the world. Tikkun olam or "repair of the world" can be practiced every day, even if it is something as simple as making a new friend.
No matter the camp experience you choose, one thing is certain: the sky's the limit!

---
---