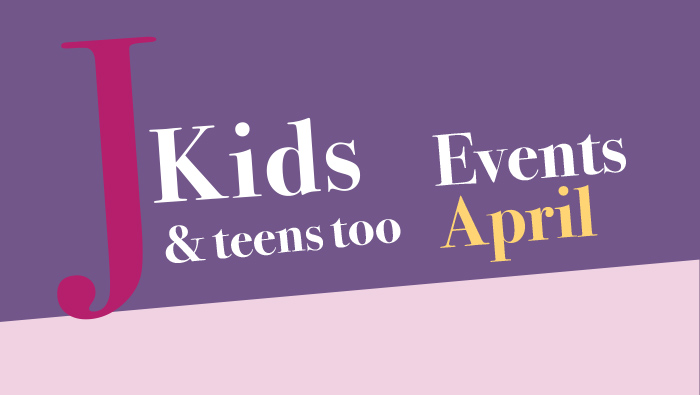 ---
Ongoing:
Club J at the Valley of the Sun JCC
Provides after-school programming ranging from sports to cooking and crafts to Israeli culture and more for those in K-8. Transportation from nearby schools available. Valley of the Sun Jewish Community Center, 12701 N Scottsdale Road, Scottsdale. 480-634-4949 or youth@vosjcc.org, vosjcc.org.
J Care at the East Valley JCC
Parent drop-off or bus transportation from area schools for grades K-7. Includes homework club, cooking, Israeli culture, dance, sports, gymnastics and more. Early pick-ups from Kyrene schools on Wednesday early dismissals. East Valley Jewish Community Center, 908 N Alma School Road, Chandler. Contact Jeff at 480-897-0588 or hastj@evjcc.org, evjcc.org.
J-Care After-School Program at the Tucson JCC
Includes a variety of activities, Homework Hangout program (help from education specialists), arts, sports or teens can hang in the Youth Lounge. Bus transportation from schools available for K-12. Tucson Jewish Community Center, 3800 E River Road, Tucson. Contact Scott at 520-299-3000 ext. 192 or szorn@tucsonjcc.org, tucsonjcc.org.
April 1
Open House at Friendly Pines Camp in Prescott from 11 am-2 pm. Bring the whole family for an exciting day of camp tours, wagon rides, toasting marshmallows, zip line rides, drawings for prizes, delicious refreshments, and more. A complimentary buffet lunch, hot Dutch oven biscuits with honey butter, and ice cream cones will be served. Free. 928-445-2128 or friendlypines.com.
April 2
Darkaynu Family Fun Day and Open House at Darkaynu Tucson Jewish Montessori, 5150 E Fifth St, Tucson. Tour the facility that specializes in early childhood education for Jewish children, and meet the administration and teachers. Enjoy arts and crafts, face painting, music and movement with Rabbi Becker, refreshments, games and prizes and a jumping castle. 520- 591-7680 or darkaynutucson.com.
April 3, 17 & 24
Parent-Tot Class for ages up to 24 months and their parent(s). Participants sign songs, make art projects, read stories, have a snack and share parenting advice. Free. 9-11 am at Congregation Anshei Israel, 5550 E 5th St., Tucson. 520-745-5550 ext. 229 or lynne@caiaz.org.
April 7, 14, 21 & 28
Mommy & Me Rock Shabbat at Temple Kol Ami Early Childhood Center, 15030 N 64th St., Scottsdale from 9-10:30 am. Teacher-led class for moms and their children ages infant to 2 years. Moms connect and share experiences while their children learn and grow. Classes are just $5 per class (or $35 for a 10-class pass) for Temple Kol Ami members. Non-members pay $10 per class (or $75 for a 10- class pass). For registration or information contact 480-951-5825 or tkaecc@templekolami.org.
April 8
Parent's Night Out at Xtreme Gymnastics, 15821 N 79th St. #3, Scottsdale from 6-10 pm. Leave your kids for a fun-filled Saturday evening of gymnastics fun, games and group activities while you go out and have a lively time of your own! For ages 3-12; open to non-members. $24/individual, $58/family. Reservations required. 480-596-3543 or xtreme@xtremegymnastics.com.
April 14
Fit-N-Fun Day Camp at Xtreme Gymnastics, 15821 N 79th St. #3, Scottsdale from 9 am-3 pm; extended hours available. Gymnastics, trampoline, group challenge activities, obstacle courses, team sports, inflatables and more. For ages 3-12. Half- and full-day options. $49-62 daily rate; $199-$256 weekly rate. Reservations required. 480-596-3543 or xtreme@xtremegymnastics.com.
April 22
Kid's Night Out – Cat in the Hat at the Valley of the Sun JCC, 12701 N Scottsdale Road, Scottsdale from 6-10 pm.  Ages pre-K-5 learn magic tricks, create their own cartoon flip-book, share jokes and watch the "Cat in the Hat" movie! Dinner and snacks are included. Member: $25 per child; Non-member: $35 per child. For those grades 5-8, we enjoy Havdalah mixers in the Teen Lounge, then hop in the vans and for an evening of fun at Dave & Busters. Members: $40; Non-members: $50. Sibling discounts available. 480-634-4949 or youth@vosjcc.org.

---
---