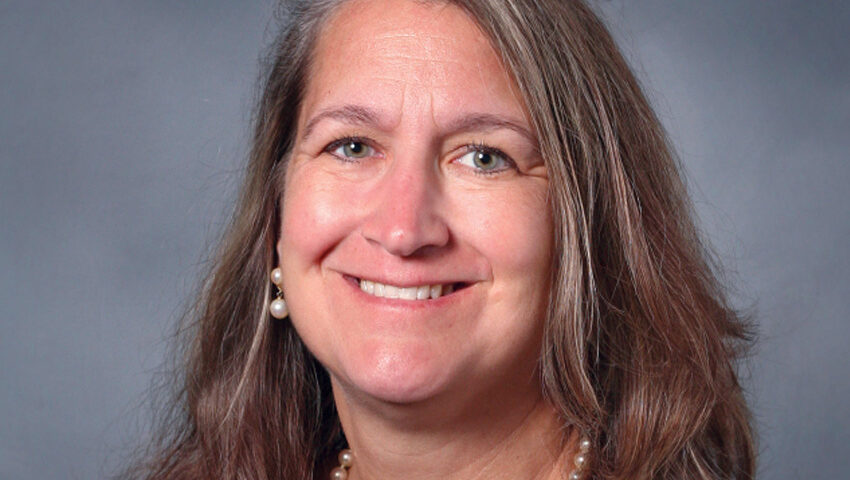 ---
"Human rights matter no matter who you are." That is the driving philosophy of Kim Klett, an English teacher at Mesa's Dobson High School.
Inspired by an Arizona State University class in Holocaust literature and history in 1999, she felt compelled to share her newfound knowledge and insights with her students. She envisioned an educational atmosphere that would not only ignite the students' imaginations, but also engage them on a variety of intellectual levels. Klett took a leap of faith and started the wheels spinning on her dream – to teach her students about a monumental watershed moment in the history of the world: the Holocaust.
Now after 24 years of teaching and in her 14th year of teaching about the Holocaust, she acknowledges the vital impact of the class she took at ASU. "That course has taken me on a totally different track in teaching and started the ball rolling," she says. "Before this class the only books I read on the Holocaust were The Diary of Ann Frank and Night by Eli Wiesel."
To receive the green light from the district for her proposed class, Klett submerged herself in research, wrote papers and read all that she could. She recalls relying heavily on Images from the Holocaust, a chronological anthology of Kristallnacht, the ghettos, camps and the eventual liberation of prisoners. Soon after, a plethora of other books, journals and articles were incorporated into her self-created curriculum. "I bought tons of books, used the library, Internet and websites such as the one from Israel's Holocaust museum, Yad Vashem," she says. "In addition I worked with historians, authors and lecturers."
Klett's students use critical analysis to analyze the deep complexities of the Holocaust, including aspects of peer pressure and conformity. They also gain keen insights into the historical, social, religious, political and economic factors involved.
To provide depth and variety, Klett uses both literature and film in her class. Students read Survival in Auschwitz by survivor and author Primo Levi and see Spielberg's "The Last Days" – documented testimonies of Holocaust survivors, bystanders, eyewitness, liberators and rescuers. "Life in a Jar" is a film shown about the courageous Irena Sendler, a Polish-Catholic woman who saved Jewish children and adults from the Warsaw Ghetto. To demonstrate the early historical stages of anti-Semitism, Shakespeare's Merchant of Venice is also dissected, highlighting Shylock's famous speech where he eloquently reminds the prejudiced Venetians of the Jews' shared humanity. "Some of my students think Hitler was the first person that hated Jews," says Klett. "I educate them on the history of anti-Semitism that began thousands of years ago with the concept of blood libel, for example."
Navigating such a grim and painful episode in world history is never easy, but Klett's students tackle the subject with the same drive and commitment to learning that she possesses. Through papers and presentations, they immerse themselves in areas of the Holocaust that resonate with them, such as the Nuremberg trials, a particular rescuer or displaced persons camps. "One year one girl even did a talk on Muslim rescuers," says Klett. To extend the boundaries of the classroom and provide a more colorful experience, every spring the class benefits from trips to the Los Angeles Museum of Tolerance and the Los Angeles Museum of the Holocaust.
"Ms. Klett brings passion to teaching about the Holocaust," says student Heather Benson. "Not only does she pick a variety of literature to engage students, but she provides many opportunities to meet survivors. I leave her class inspired and with a new perspective."
Students get a powerful boost in their quest for Holocaust information from the local Anti-Defamation League. Because Dobson is considered a "No Place for Hate" school, they have access to a peer-training program provided to students. Through the World of Difference program, teams of kids who are trained by the ADL go into freshman classrooms every quarter and provide activities. "As a sponsor, I set up the schedules with the teachers, put the teams together (and) handle problems, practice sessions and meetings with kids," explains Klett. "We started with 20 kids in training and now we are up to 60.
The peer trainers impact about 800 kids a year."
In 2003 Klett received a powerful teaching tool that would prove to benefit her students greatly: a coveted fellowship from the United States Holocaust Memorial Museum in Washington, D.C. "They paid for a weeklong trip where every day we had extensive training," she explains. "In addition to bringing in historians and authors, we went behind the scenes to view artifacts such as a model of the ghettos constructed by an actual resident, suitcases and a uniform from Auschwitz. Professionally, it was the best thing that ever happened to me."
In 2006 Klett became a member of the Regional Education Corps for the USHMM and learned how to develop workshops for high school teachers around the country who were eager to initiate their own programs. Armed with the guidelines and materials provided by the museum, she has led workshops in Texas, California, Nevada, Washington, D.C., and Arkansas. "It's exciting to work with teachers who are anxious to teach the topic," she says.
In the classroom, Klett goes to great lengths to make sure the Holocaust is not taught in isolation. "Once Darfur started happening I realized the connection," she says. "I realized I did a disservice by not teaching current events. I now start with a book on Darfur, so they can see what is happening now, then I segue into the Holocaust. The kids make really interesting connections between the two events. After they finish the Darfur book, I have them write letters to elected officials to find out what we're doing about it. I want them to become active about what is going on." In addition, Klett formed a STAND (Students Taking Action in Darfur) chapter at her school.
With the World of Difference program, Klett initiated a yearly Genocide Awareness Day, an all-day event with different speakers every hour. "We try to represent different genocides, as well, such as Darfur and Rwanda," she says. To dramatize the students' commitment to human rights, they created a Pledge Wall in the hallway where their painted handprints symbolize their commitment to not hate.
Klett says she feels very gratified by the advances her students have made. "They write letters or tell people like their parents – it's an eye-opener to them that they have a voice to spread awareness. You never know how many people those people will tell. Some kids take it  to next level: one went to Uganda, and that's very rewarding. Some become teachers and teach this topic, as well. What they are learning expands into community in so many ways."

---
---