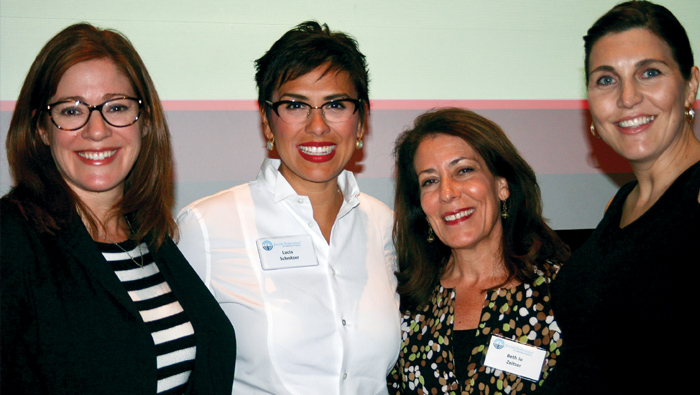 ---
The popular "Ladies First" event returns to the Ina Levine Jewish Community Campus in Scottsdale on Feb. 9. The topic of this event will be "Rising to C-Level" and will feature moderator Marcia Mintz, CEO of Boys & Girls Clubs of Metro Phoenix and panelists Jordan Rose, founder and president of Rose Law Group; Jami Schulman, chief operating officer of HavenBrook Homes and Stacy Tucker, vice president & CFO of Flinn Foundation. There have been two previous Ladies First events which featured businesswomen in the Jewish community who shared their stories of success.
Amanda Garcia, special events manager at the Jewish Federation of Greater Phoenix helps organize the Ladies First events. She also runs the Business and Professional Groups as well as all major federation events. Arizona Jewish Life posed some questions to Amanda about the event.
Q: Where did the concept come from for creating the Ladies First events?  
A: We developed the idea for Ladies First by exploring ways to engage more professional women of all ages. We are inspired by so many female leaders in the community but were not seeing them regularly at events. Our goal was to provide an environment where guests could gather, learn from women at the top of their game, be inspired and make connections.
Q: What is your involvement with the Ladies First events?
A: The program was created with the support of the Jewish Federation's Business & Professionals Groups and NowGen young adult program. Thankfully all the women we have asked to be involved have been eager to contribute. We have poured our hearts in to the Ladies First event series by making it inclusive, inviting and an event that we would want to attend. We thought about every detail including child care to make it more accessible for working women.
Q: What are some of the topics planned for the future?
A. Our final event in the series Ladies First: Rising to C-Level will be on Feb. 9th. The Ladies First series has been well received by the community which motivates us to continue to provide programming tailored to the specific interests of professional women. We hope that the women who attended Ladies First will continue to interact with the Jewish Federation through the Business & Professional Groups, NowGen and Women's Philanthropy programs.
Q: Why this event so important for the community?
A: Jewish women are the driving force of many community and professional organizations in the greater Phoenix area. Yet these hard working women do not often get publicly recognized for their accomplishments or have the opportunity to share their insights with others. We aim to make local Jewish women more visible as role models and provide a forum where women can network with each other in a comfortable setting.
Q: What have you gained personally from planning/participating in these events?
A: I have learned that there are so many women doing incredible things in this community. I am inspired by their drive, knowledge and ability to succeed in a variety of industries. The women who attend the events are eager to connect and help each other to reach their professional goals.
Ladies First: Rising to C-Level
Feb. 9 at 6 pm
Ina Levine Jewish Community Campus Social Hall 12701 N. Scottsdale Road, Scottsdale
Wine, appetizers, free child care, and secrets of success from leading Jewish businesswomen. $10, $18 at the door. Register by Feb. 7 at jewishphoenix.org.

---
---