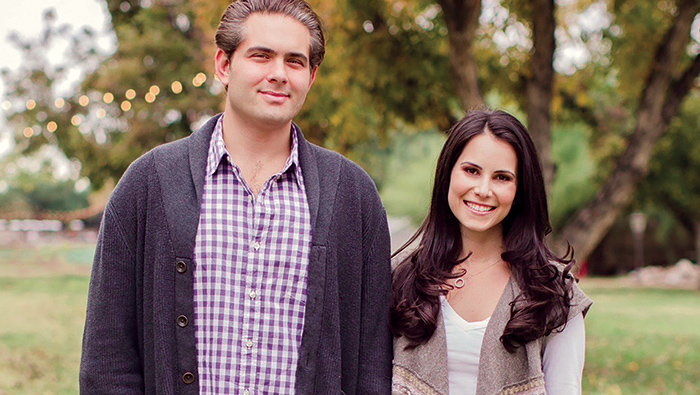 ---
Lauren Hendeles started her career as a journalist, working as an editor for AOL and the Huffington Post. While she enjoyed writing, she also realized that journalism didn't have the objectivity for which she was trained and that most articles today are motivated by the "click" – not the story itself.
"I started exploring different options where I could harness my talent for writing but also intrigue my business mind," says Lauren. What she stumbled upon was a field called corporate communications.
She worked at Sprouts Farmers Market, leading the company's communications effort throughout its IPO. From there, she moved to a global technology company called IO. "I got a tremendous amount of experience with global communications there," says Lauren. "We had teams in London, Singapore and both coasts of the U.S. It was a very demanding job, but I learned a lot."
Then Lauren married Zev Hendeles and came to the realization that she may be a workaholic. Working in five different time zones was not allowing her to be as present as she would have liked in her new marriage. So she started thinking, "What can I do where I will have a little bit more flexibility as we look to start a family and move into the next chapter of our lives?; where I can still work and write and do what I love and be a successful career woman but not chained to my phone and desk six-and-a-half days a week?"
It took Lauren about five months to "pull the trigger." That was more than a year ago and it has been one of the best decisions she has ever made.
Her company, Hendel Content Creation, states the goal on its website as "your quick, cost-effective and reliable solution to communications." Lauren has coined a unique term for her approach: "I call it 'influencer relations.' You have all of these different 'relations' when you are in a marketing team. You have public relations, analyst relations, investor relations and employee relations. I lump them all together and call them 'influencer relations' – because no matter who we are talking to, we are trying to influence them." Lauren says she accomplishes this with "really clear, engaging copy and content. Whoever [we] are talking to, we are going to figure out the best way to tell their story in that engaging, insightful way."
"Everything that a company does hinges on storytelling and really crafting that story and making sure that the message is really clear," says Lauren. She finds this concept difficult for most companies; yet she considers it the most important element of marketing and communications.
This is where Lauren's journalism background comes in handy. She uses an interview format when talking to clients to learn in a clear, succinct way what they do. She says many agencies try to be a "one-stop shop" to potential clients, positioning themselves as masters at everything, from websites to social media. "I don't pretend that I am a jack of all trades. I am very good at a lot of different things, but my core talent is writing, storytelling and strategic communication planning," says Lauren.
When asked what motivates her, Lauren doesn't hesitate to say her husband. "He, too, is an entrepreneur and we are both out there charting our own course and succeeding together." He also gave her the push she needed to go out on her own. "Without him, I don't know that I ever would have tried," says Lauren, who also admits that "seeing my clients be successful time and time again is really motivating and makes me want to keep learning and succeeding more and more."
Giving back is also important to Lauren. She is a member of the Jewish Woman's Philanthropy Circle of Arizona, which raises funds independently but also seeks matching funds. "Our goal is to raise $50,000," says Lauren. "We have a grant application process for predominantly Jewish, nonprofit organizations." The members decide as a group what to fund.
Lauren has solid advice for young entrepreneurs: "Start in the real work force and work for others. Stay humble and recognize that you don't know it all and there is so much to learn. Keep your eyes and ears open and learn every facet of the business. When you're an entrepreneur, you are the receptionist, accountant, janitor – you are everything. Once you feel like you have a strong foundation beneath you, don't be afraid to jump."
She advises finding good mentors as a support system for sound advice "because everybody needs that. Then make sure that you take life into your own hands, whatever that may mean for you. Nobody can tell you what you can or can't do – you are in charge."
Lauren has always known what she is capable of; even when working for others, she didn't want anyone to dictate how fast she could grow or how successful she could be. She is now in charge of how busy she is and how successful she can become, writing her own story as she helps others write theirs.
For more information, visit Hendelcontent.com

---
---