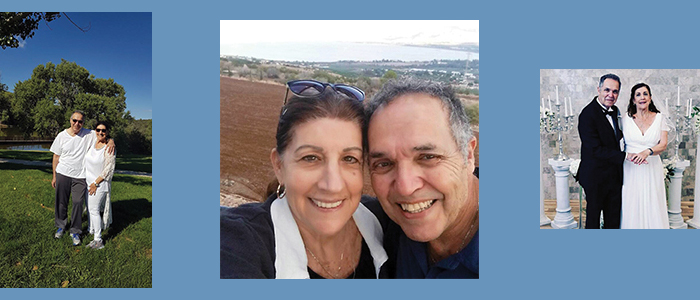 ---
Rachel Shamir and Moshe Raccach have a unique love story. They spent most of their young lives in the same country, Israel, although it took until later in life for them to meet. They met online, although not on a dating website, but on Motke, "like an Israeli Facebook" Rachel describes.
It was on this site that Moshe saw a photo of Rachel and sent her a message asking for her phone number. "I said 'Why not?'" says Rachel. "I didn't read about him online. I didn't know anything about him; I didn't know he was from Arizona, that he was a professor – he just seemed like a nice guy from his picture. So, I gave him my phone number."
When Moshe called, and she saw that his phone number was from America, and he told her he lived in Arizona, she didn't answer with a reply he expected. "What do you want from me?" was Rachel's response. "I live in Israel. I have a quiet life."
But Moshe was not discouraged, and after talking on the phone for the next two months, he traveled to Israel to stay with his brother, and to meet Rachel in person.
At the end of his visit, since the two had hit it off so well, he decided not to return to America but to make aliyah instead. This was actually Moshe's second aliyah. He was born in Alexandria, Egypt, and came to Israel as a child with his father and brother. He studied at The Hebrew University of Jerusalem and enrolled in the IDF.
He moved to the states with his first wife and children to get his Ph.D. in microbiology at Cornell University. He's resided in the United States for the last 40 years. In contrast, Rachel was a Hebrew teacher and during her first marriage traveled the world teaching.
After her divorce, she "started to live a quiet life" in Israel. "I come from a big family," she explains. "My mother was born in Israel, and my parents were very involved with the founding of Israel." Rachel has four grown children and nine grandchildren who all live in Israel. She and Moshe lived for two years in her house on a small moshav (cooperative agricultural community) not far from Netanya.
One day Moshe asked Rachel if she would like to get a green card. Her reply was simply, "I don't mind." So Moshe made the arrangements, and they came to Arizona. The two were married by a judge in Mesa in 2014, and they renewed their vows the following year in Las Vegas.
Last summer, the couple made a trip to Prescott Valley to escape the heat and ended up buying a home there. They are enjoying their retirement together and travel to Israel often. Their hope is to one day live half of the year in Israel and half in Arizona.
"Moshe is Israeli in his soul," says Rachel. "I was lucky to find him at my age – it doesn't happen every day, I don't think." I'm sure Moshe considers himself lucky too!

---
---