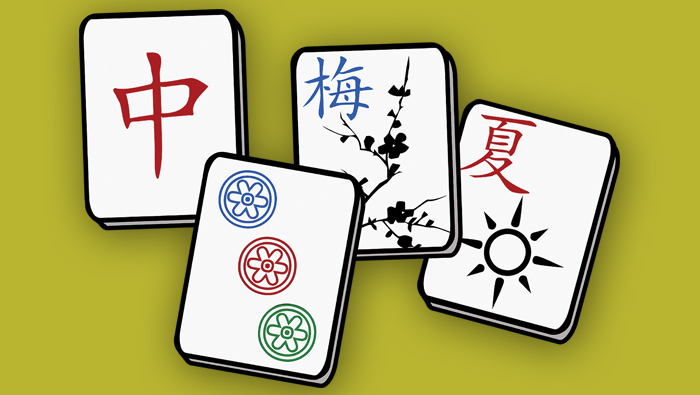 ---
Mahjong instructor Vicki Errigo Hunt has been playing the tile game for about 30 years. Six years ago she began teaching at the Valley of the Sun Jewish Community Center in Scottsdale. She teaches all levels of the game from beginners to intermediates – some people even take the same class twice.
"Back when I learned how to play 30 years ago (in Washington state with some friends) there were no teachers, you were invited to play," explains Vicki. "It's like gin rummy with tiles. I won my first game and I was excited and thought this game is easy. Then I didn't win a game for a year!"
Mahjong came to the United States from China in the 1920s. The game was patented by a gentleman named Joseph Park Babcock. Abercrombie & Fitch put out the first official game with tiles and instructions. "It became popular in the early 1920s and then kind of faded out and became popular again during the war," explains Vicki. "Groups of women would play because there were not many things you could do and it was an indoor game where you could pass the time while husbands were gone. It became popular in the Catskills, and that's where the Jewish community became so involved with the game." In fact, the founders of the National Mahjong League were all Jewish women.
To this day, mostly women play the game although Vicki says a lot of couples will learn mahjong, especially if they've been playing bridge. The age range of the player is also changing. "My average age in my classes are usually people in their 60s," Vicki explains. "But if you stop by The J during the week and see the groups playing downstairs – during open play – you will see all ages."
Playing mahjong is good for your cognitive skills as Vicki explains, "You are multi-tasking with your brain. It's good for memory and even has math skills because you have to figure out how much money you've won, or how many quarters you've lost."
You also learn a new vocabulary when you are playing mahjong. Chinese words like "pongs" and "kongs" are used for three of a kind or four of a kind. Vicki teaches according to National Mahjong League rules with a standardized card. You have to know those Chinese words to convert hands to cards.
Vicki wants people to know that the mahjong game you can play on your smartphone is no where near the mahjong game she is teaching. "Stacking and matching tiles off of a mountain is not what we are doing at all," says Vicki. "We are playing a close form of gin rummy where you have runs, three of a kind. You are dealt 13 tiles, and you are arranging them by suit, and you try and get a hand that matches."
There are at least eight or nine types of mahjong and at least five types of Chinese mahjong. The National Mahjong League and American Mahjong Association are the only two that use a standardized card with hands that are meant to be made. It is said that the National Mahjong League is one of the hardest to play because the hands are limited to what's on the standardized card. "Those are the rules and that is how you are going to play," says Vicki.
There are many ways for those who want to play to find a game. "Classes give people the chance to play with others at their same skill level – some people from my classes years ago still play," explains Vicki. "There are also groups on 'Meetup' and different restaurants around the Valley that have games." Some people play mahjong every day.
Vicki has advice for anyone who might want to try mahjong, "If you're a game player, it's a great opportunity to keep your mind alert. It's also good for your emotional attitude because you are interacting socially with others – and you get snacks. What could go wrong? Seems like the perfect thing!"
The Valley of the Sun Jewish Community Center in Scottsdale offers beginning mahjong on Wednesdays from 10 am to noon. There is also an intermediate class offered on the same days from 12:3 to 2:30 pm. Cost for a six-week session is $100 for guests and $75 for members. To register, contact Harriet Colan at 480-481-7033 or email her at harrietc@vosjcc.org.

---
---