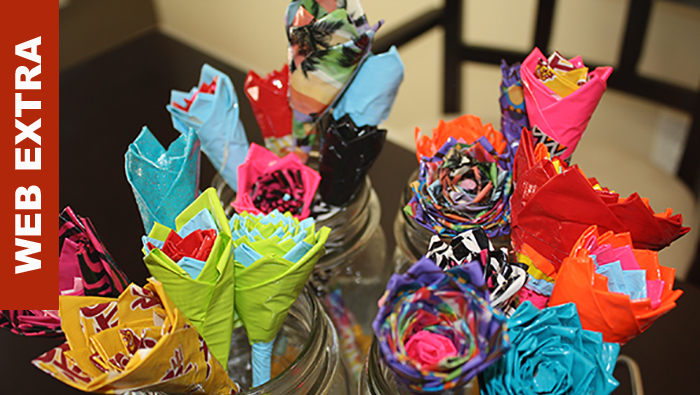 ---
Gabriella Aronoff is a girl on a mission. The Phoenix 8-year-old is a bundle of creativity coupled with a desire to do mitzvot in her community. Her philanthropic streak emerged at summer camp, where she took a duct tape class. "It was a really fun class, where we created bows, book marks, bracelets and even a boat from the tape," Gabriella explains. "One project I really enjoyed was using the tape to create beautiful flowers on the tops of pencils."
The young visionary was so enamored with the artistic pencil creations, she decided to parlay them into a business opportunity that would empower children. Deciding to sell the playful pencils to raise money for Phoenix Children's Hospital, she promptly went into entrepreneurial mode, creating self-made business cards and enrolling neighbors to help her decorate pencils.
"Gabriella doesn't like spending money on herself," says her mother, Julie. "Since two or three she's been saving money. She never asks for anything; she just wants to donate her money. She's made pipe cleaner bracelets in past and sold lemonade to raise money for charity in the past. She even created Valentine's Day cards for the kids at Phoenix Children's Hospital because she was afraid they wouldn't have any. This business is just another way of her wanting to help people."
Gabriella has been networking her business venture through the community Facebook page in her neighborhood, garnering huge support from friends, coworkers, neighbors, and even teachers, who are anxious to buy her handcrafted works of art. Her friends frequently come over with supplies and the girls are soon whipping up colorful bouquets of flowers to adorn the pencils.
When not busy doing her "flower power" project, Gabriella is active in soccer, a sport in which she has won medals she proudly displays. Her home is also a showcase for the many other creative projects she gets immerses in, such as paintings, drawings, and scrapbooks. One of her significant achievements is a dress she designed herself that her grandmother sewed for her.
At the tender age of eight, Gabriella has an innate sense of the power of intention, which guides her causes: she writes down her dreams and puts them in a "wish jar," uses a vision board with pictures of her ambitions and has a "good thought" pouch to store feelings.
"It is truly heartwarming to see kids raise money to help other kids," says Maureen Salloom, guest relations coordinator at Phoenix Children's Hospital. "We sincerely appreciate Gabriella's efforts and the contribution she made to help our patients. Every donation makes such a difference."
For now Gabriella is looking forward to starting third grade, playing soccer and pursuing her dreams of making the world a better place. "I believe the more you give, the more you get," she says. "I get excited when I get orders and know I am helping kids."
To support Gabriella's cause, email az.duck.tape.girls@gmail.com.

---
---