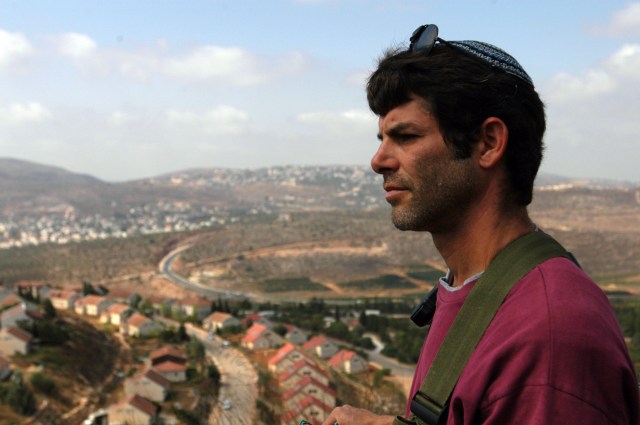 ---
Pictured above: Marc Prowisor is security project director of One Israel Fund.
These two men are coming to the Valley in October to share their different perspectives, but similar passions, regarding the nation of Israel.
ONE ISRAEL FUND
Marc Prowisor is a security expert living in Israel's Shiloh Region and has worked for the past decade as security project director for One Israel Fund. He will be participating in a private fundraiser on Oct. 17 and on Oct. 18 he will be at the East Valley JCC in Chandler at 11 am and at the Valley of the Sun JCC in Scottsdale at 6 pm.
One Israel Fund is a project-based organization that is dedicated to the safety and welfare of the people of Judea, Samaria, the Jordan Valley and the reemerging communities of Gaza evacuees.
"We pick up and deal with all sorts of security issues, whether it be playgrounds, schools, synagogues, perimeter systems – all sorts of things. Anything and everything to help out the people there," says Marc of One Israel Fund's work in the region.
Marc has lived in Israel since he was 15 years old. He served in the Israel Defense Forces from 1981 to 1984 as a paratrooper. He fought in the Lebanese war and was involved with security operations in the Shiloh Region during the Intifada.
He receives security reports every day in his current position. Working in conjunction with the IDF and the security chief he assesses vulnerability in an area.
"You always have to be in touch with what's going on and always trying to figure out where the next problem could be and to prevent that," says Marc. "This is something I'm very proud of. There's not a week that goes by that something was prevented due to the efforts that we've made."
Due to their accomplishments with security in Judea and Samaria, Marc gets contacted for assistance from other parts of Israel. "We were called down to the Gaza border by the security chiefs and directors," he says. "They said, 'We need to do what you guys are doing." We were able to address their issues and help them out with fighting the fires and fighting possible infiltration by terrorists, and enabling them to keep their communities more secure."
Marc is the only one in Israel who works with a fundraising organization that has his operational experience. "I can make sure the money gets to go where it's needed and not just out there," says Marc. "One Israel Fund is project-based and funds are restricted, so they go specifically toward the projects and not to fund an organization."
When Marc travels to give presentations, he likes to speak about the situation in Israel and share things that are not covered in mainstream media.
"We are flooded with news and also flooded with philanthropic pressures, this is a great opportunity for people to connect and understand what's going on," he says. It's the only land we have and people have to wake up to that. I think it's important to us as a people."
ISRAEL VICTORY PROJECT
EJ Kimball is the director of the Israel Victory Project at the Middle East Forum in Washington, D.C. He will be speaking in the Valley on Oct. 29 at 6 pm as part of a community event presented by the Bureau of Jewish Education at the Valley of the Sun JCC in Scottsdale.
After law school, EJ began his career on Capitol Hill as a legal fellow with the House Foreign Affairs Committee. He then worked as the legal foreign policy counsel to Congresswoman Sue Myrick.
"That was really rewarding work," recalls EJ. "It started me on the path focused on counterterrorism. During my time there I also started up, created and ran the congressional anti-terrorism caucus to educate members about the nature of the jihadi threat."
He left the Hill and worked for some nonprofit and for-profit organizations that focused on counterterrorism and government affairs. More than four years ago he started working with a group called the Israel Allies Foundation, a nonprofit in D.C. that focused on building political support for Israel in governments around the world.
Then in 2016, he started his own business and began working with the Middle East Forum as one of his clients. Today he is running the Israel Victory Project full-time.
"I've been leading the effort in D.C. starting with the idea in 2016, and then it launched in 2017," says EJ. "The idea of creating a new paradigm to resolve the conflict that moves away from Oslo (Accords) and the idea if only the two sides would sit and negotiate the conflict could be resolved." The Israel Victory Project takes a step back and says wait, how do wars historically end? They don't end through just negotiations. Before you can negotiate the terms that end the conflict, one side needs to give up its goal.
"We propose a different view, to convince Palestinian society that the war is over; that they have the possibility of a better, brighter future only when they accept that reality," explains EJ. "Israel is here and it's not going anywhere. To continue their rejectionism is only going to lead to more hardship, where recognition can lead to a bright future where they can build their society and economy and be part of a world community – as opposed to their current situation as outcasts."
It's a simple concept when you look at it – the problem is how do you achieve that outcome?
EJ and the Israel Victory Project have been building support within Congress, the Knesset and the policy community in the U.S. and Israel. "The idea is to bring this message outside of the Beltway," says EJ. "We've been focused on D.C. and the policy community, executive and legislative branch, activists – now we want to bring this message around the county."
EJ is not sure how or when it will happen, but he has ideas of what victory will look like.
"Victory is when Palestinians are penning harsh op-eds rather than rockets," he says. "When Israelis can travel into areas of the Palestinian population centers without fear of being murdered. When Palestinian media or textbooks don't vilify Jews or Israel When government mouthpieces talk about working with Israel – rather than destroying it".

---
---