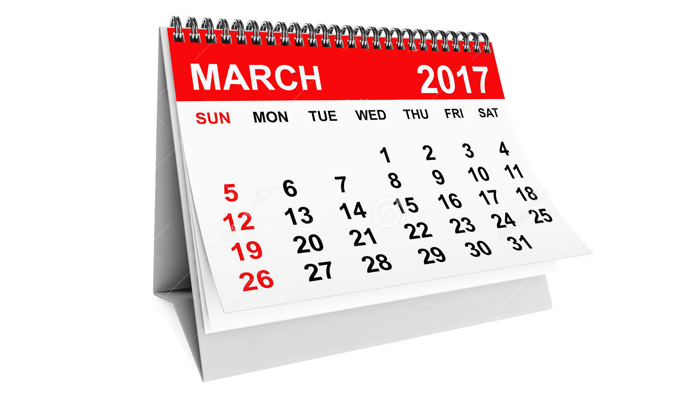 ---
March 1
It's Not Just Lunch at the Valley of the Sun Jewish Community Center, 12701 N Scottsdale Road, Scottsdale from noon-1:30 pm. Great speakers and a different topic each month with a full kosher lunch. $5 suggested donation. A collaboration with Smile On Seniors. Contact Chani at 602-492-7670 or chani@sosaz.org.
MEGA Israel 2017 at the Fairmont Scottsdale Princess, 7575 E Princess Dr., Scottsdale at 6:30 pm. Features guest speaker former Prime Minister and Minister of Defense Ehud Barak. Contact 480-481-1754, megaevent@jewishphoenix.org or jewishphoenix.org/megaisrael.
March 2
UA Cancer Center Lecture at the Tucson Jewish Community Center, 3800 E River Road, Tucson from 6:30-8:30 pm. The University of Arizona Cancer Center is partnering with the Tucson Jewish Community Center to deliver a four-part educational series on cancer. Free. 520-299-3000 or tucsonjcc.org.
Torah for Real Estate Professionals presented by the Phoenix Community Kollel, held at private residences. Real estate professionals meet for cigars and scotch, and reconnect with their fellow Jewish colleagues in the real estate industry. A key feature of these meetings is a Torah class on a business related topic which is presented by a Kollel scholar. aztorah.com
March 5
Cactus Kosher Hot Dog Day at Beth Emeth Congregation, 13702 W Meeker Blvd., Sun City West from 11 am-2 pm. Menu will be a kosher hot dog, soda and chips for $5. For information, call Sandy at 623-584-7210.
Southwest Vocal Competition Finals Concert. See page 96.
Aharon Razel to perform at Beth Tefillah Gala. See page 96.
March 8
Handmaker Lecture with Rabbi Sanford Seltzer at Handmaker, in the Rubin Café, 2221 N Rosemont Blvd., Tucson from 10-11 am. Learn about Jesus' significant role in Jewish history, and the surprising relationship between the Christian Savior and the Hassidic Rebbe. Free.
520-322-3632 or handmaker.org.
March 11-12
JFCS at Tucson Festival of Books. See page 96.
March 12
2017 Purim Carnival. See page 92.
East Valley Purim Carnival. See page 97.
Purim Dinner & Celebration at Congregation Chofetz Chayim, 5150 E Fifth St., Tucson at 5 pm. Dinner and comedy ventriloquist, Chuck Field & Friends. RSVP by March 2. $21 adults, $15 students, $10 students ages 3-12. Contact Rabbi Becker at 520-747-7780 or yzbecker@me.com.
Purim Under the Sea at Pollack Chabad Center, 875 N McClintock Dr., Chandler from 4:30-7 pm. Masquerade in sea attire, sushi making, mechanical surfboard challenge, crafts and more. $18-$25. 480-855-4333 or info@chabadcenter.com.
March 13
Brandeis National Committee Annual Book & Author Event. See page 97.
March 14, 21 & 28
Lecture Series at Beth Emeth Congregation of the West Valley, 13702 W Meeker Blvd., Sun City West. 9:30-10:30 am study Ecclesiastes; 10:30-11:30 am spiritual convictions of three Nobel Prize Laureates. Free (a donation of $15 for all the lectures is suggested) but you are requested to register by calling the office at 623-584-7210 so that we may know how many handouts to prepare.
March 15
Mix. Mingle. Match. A Jewish Speed Dating Event at the Valley of the Sun Jewish Community Center, 12701 N Scottsdale Road, Scottsdale at 6:45 pm. Hosted by Project Jewish Love, Schmooze, and Our Jewish Generation. Age groups include 23-30, 30-45, 40-55, 55-70, and 70+. $18/person. For information and to sign up, visit mixminglematch.com.
The "Q" is Back. See page 97.
Celebration of Heritage Concert at The Tucson Jewish Community Center, 3800 E River Road, Tucson at 6:30 pm. The Arizona Symphonic Winds performs with a tribute to Jewish American composers Irving Berlin, George Gershwin, Leonard Bernstein and others. $10 for non-members and $9 for members of The J. 520-299-3000 or tucsonjcc.org.
March 16-25
"Albatross." See page 42.
March 17
JNF for Arizona's Breakfast for Israel.
See page 91.
March 18
Schmooze Scavenger Hunt in downtown Phoenix. Singles and couples (30s-40s), explore Downtown Phoenix on teams. Starts at 2:45 pm near Monroe and 2nd St., followed by Happy Hour at TGIF inside Chase Field. $10/person. For additional details and to RSVP, visit Facebook.com/azschmooze.
March 19
Fabulous Finds Outdoor Sale at Beth Emeth Congregation of the West Valley, 13702 W Meeker Blvd., Sun City West from 10 am-2 pm. Large selection of books, tools, clothing, art and more. For further information, please call 623-584-7210 between 9 am and 1 pm Monday thru Friday.
The Refugee Expereince: The Women's Stories Luncheon and Panel Discussion at The McCormick Scottsdale, 7401 N Scottsdale Road, Scottsdale at 11 am. NCJW AZ Presents five remarkable women whose stories of courage, resourcefulness, determination and optimism are an inspiration to all who share our values. $50/person. RSVP by March 10 to cheri829@gmail.com.
March 22
Jewish Free Loan Offers Financial Literacy Programs. See page 97.
March 23
Jewish Treasures Roadshow. See page 97.
Artist's Reception – Robert Rivera at Buffalo Collection, 7044 E Fifth Ave., Scottsdale from 5:30-8 pm. Meet the artist and see his latest collection. 480-946-3903 or buffalocollection.com.
March 26
Special Needs Community Seder at The New Shul, 7825 E Paradise Ln., Scottsdale from 1-3 pm. Come join CJSN for a very special Passover. CJSN will be hosting a special needs community seder luncheon – led by Rabbi Elana Kanter from the New Shul. For more information, contact Rachel at 520-850-6583 or rachel@cjsn.org.
Friends of Israel at Sun Lakes Chapel Center, 9240 E Sun Lakes Blvd. N, Sun Lakes from 3-4:30 pm. Rabbi Michael Beyo, CEO of the EVJCC will present "Is Israel a Jewish State or a state of Jews?" Free. 480-895-4660 or mwcohen000@gmail.com.
L'Dor V'Dor Golden Gala at Beth El Congregation, 1118 W. Glendale Ave., Phoenix at 5:30 pm. Honors Dr. Leon and Evelyn Zeitzer and the 50th anniversary of their building on Glendale Ave. For additional information, contact Anne Schafer at 602-944-3359.

---
---