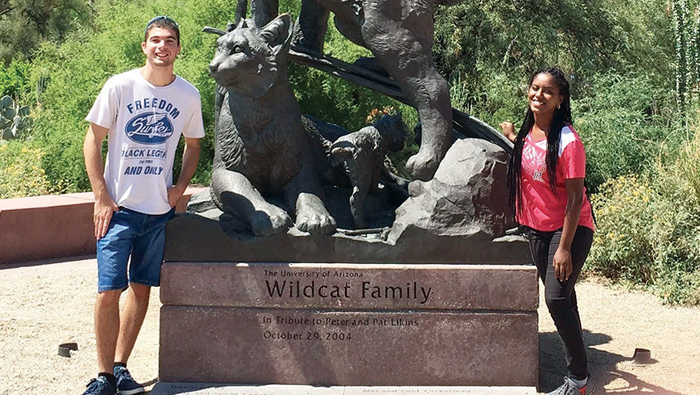 ---
Sitting down for an interview at 8 pm on a Tuesday night, after a long non-stop day of classes and meetings, Leah Avuno and Bar Alkaher are still bubbling over with energy and enthusiasm. The Jewish Agency for Israel could not have found a more perfect pair of 18-year-olds to bring Israel to life for the Tucson Jewish community.
Leah and Bar are the first participants in the Shinshinim Young Ambassadors Program to spend a year of service in Tucson. So far, they are loving it and it looks like Tucson loves them.
"Shinshinim" is the plural form of the Hebrew acronym for "sh'nat sherut" – a year of community service that many Israeli teens take on between graduating from high school and enlisting for mandatory service with the Israel Defense Forces. The two were among 115 Young Ambassadors selected from some 3,000 applicants to represent Israel in communities around the world. It's easy to see why. They both exude confidence, warmth, a love for Israel that they are eager to share and … did I mention enthusiasm?
Leah, who was born in Ethiopia and made aliyah as a toddler with her mother and aunt in 2000, lives in Kiryat Malachi, a city in Tucson's Partnership2Gether region in southern Israel. She served as chair of the local youth council for three years and volunteered to lead Birthright groups that visited Kiryat Malachi. Leah applied to be a Young Ambassador because she wanted to do something meaningful after high school. "I wanted to give back to the people," says the oldest of seven siblings. She was also intrigued by American Jews, who had been so instrumental in supporting programs that benefit Ethiopian immigrants and others in her community, that she wanted to better understand their connection, why they were driven to help people on the other side of the world.
Bar grew up in Shimshit, a northern village in the Jezreel Valley, about 20 minutes inland from Haifa, where he was born. When he was in 5th and 6th grade, his family lived in Virginia while his mother did post-doctoral work at Virginia Tech. In high school, he served as a youth group counselor and wanted to do something similar, working with kids, for his year of service. So the Young Ambassador  Program seemed like an ideal way to combine his passion and his skills. He wants to give Americans a different perspective on Israel, to see the country the way he sees it, not the way it's presented in the media.
Leah concurs. When she was working with Jr. USY (a youth group for 7th and 8th graders at Congregation Anshei Israel) just before the interview, she spent an hour or so answering questions about her life in Israel. "Because I live very close to the Gaza Strip, they were so curious. They thought it's always dangerous. That's why it's so important that we're here. They have someone first hand, telling them the truth and about life in Israel. They were so amazed that we are doing everything that they basically do. We were comparing stuff – what do you after school, what do you like to do? They were so amazed that we are so similar at the end of the day. We can talk to them about bands and celebrities, the silly stuff that connects us."
Leah and Bar also stress the importance of connecting with young adults and participating in activities at the University of Arizona Hillel Foundation. They see this as an opportunity to influence future leaders and help combat the Boycott, Divestment and Sanctions (BDS) Movement.
Their days are packed with activities. As Bar puts it, the more places they visit, the greater their potential impact. One-on-one conversations are the most influential, Leah says, noting that people are very interested in talking to them, wherever they go. I think it's in response to their own openness and energy. Although their assignment is primarily to work with children and teens, they find that adults are just as likely to engage them in conversation. For example, one day while she was eating lunch at the Tucson Jewish Community Center, between working with kids in the Early Childhood Education and young adults in the special needs program, Leah was approached by a woman in her 80s. She turned out to be a Holocaust survivor, and soon the two were sharing their life stories.
"Those are the moments that are stuck in my head. Honestly, these are the things that excite me and I want to experience them every day," says Leah.
To follow the adventures of Leah and Bar in Tucson, like them on Facebook at facebook.com/Tucson-Shinshinim-192190631150877.

---
---