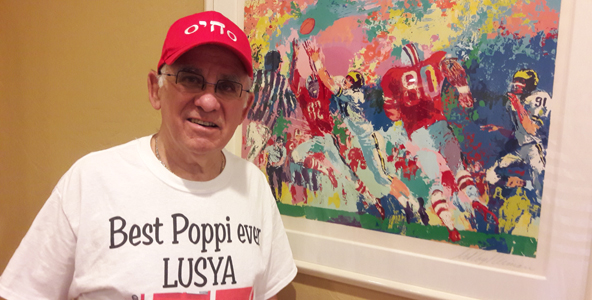 ---
Pictured above: Fred Fingerhut with a 1973 limited edition of a Leroy Neiman serigraph.
There are sports fans – and fanatics – and then there's Fred Fingerhut. When I phoned the longtime, now retired gynecologist/obstetrician here in the Valley, he was at home, on his treadmill. He was engrossed in watching a taped replay of the national championship Fiesta Bowl game between Ohio State University and the University of Miami – from 15 years ago. "One of the best games ever," the OSU alum enthuses. "We won it in double overtime!"
And when I visited with him at his central Phoenix home (painted gray with a bright scarlet door – the school colors – and a school banner on the front lawn), we talked in a room dedicated to all things OSU.
This Toledo, Ohio, native and graduate of the OSU medical school took to heart the advice to "go west, young man," completed an internship/residency here in the Valley at St. Joseph's Hospital and decided to make this his home after a two-year stint in Oklahoma.
He met his wife, Susi, at his alma mater. "She was an undergrad and I was a med student," he says, "and once we met, I never dated anyone else. Bottom line," he adds with a big smile, "I love OSU, but Susi is the best thing that ever happened to me."
The Fingerhuts started their family here in the Valley and have a daughter and son. Fred opened his medical practice in Maryvale in 1976 and retired after 38 years. Including his residencies, he is proud to report that he delivered 10,000-plus babies.
Always "a big Buckeye fan," Fred says that the home here in Phoenix the couple purchased in 1981 featured an extra room "that called out to be a shrine to Ohio State." With Susi's blessing ("She's a big fan too!!") the Ohio State-themed collection bloomed.
Fred first wrote personal letters requesting autographs and autographed pictures and heard from legendary football coach Woody Hayes and others including Jack Nicklaus, Jesse Owens, Jerry Lucas and Howard "Hopalong" Cassidy. He obtained a football signed by every OSU Heisman trophy winner, and even met and played golf with the only two-time recipient, Archie Griffin. A framed 1973 limited edition serigraph by Leroy Neiman hangs over the couch. Entitled "Rivalry," it is part of the artist's hugely popular Ohio State Buckeye Suite.
There are OSU-themed bobbleheads and Russian nesting dolls, a bigger than life cardboard cutout of Brutus, the school mascot, a light switch frame – and an O-chai-O kipah, lovingly needlepointed by Susi. Fred is wearing special-issue scarlet and gray Sperry Topsiders.
There's also a "tip of the hat," Fred says, to his Arizona years: autographed and framed pictures of most of the members of the Diamondback team that won the 2001 World Series.
And there is hardly space for anything more.
A self-described "world-class kibitzer," the good doctor, inspired by Susi who works out several days a week, says he is checking out JCC exercise classes. "Susi and I do almost everything together," he says, "and that includes eating, going to the movies, and watching Jeopardy on television. That's a tradition. We just enjoy each other's company."
As I get ready to leave, Fred opens a desk drawer in his OSU inner sanctum and takes out a plastic bag filled with Buckeyes, the "useless nut" he says, that grows on the Ohio state tree and supposedly attracts good fortune. "I have one in my pocket right now," he says, and proceeds to choose one of the small, shiny, dark brown nuts with a light tan patch from his stash as a gift for me.
In 2011 New York Times reporter Nate Silver conducted a study of football fans. He determined that Ohio State has the most fans of any college team in the country. Fred Fingerhut sets a high bar.
Reveal: My husband Barry and I met at OSU. Go Bucks!!!

---
---