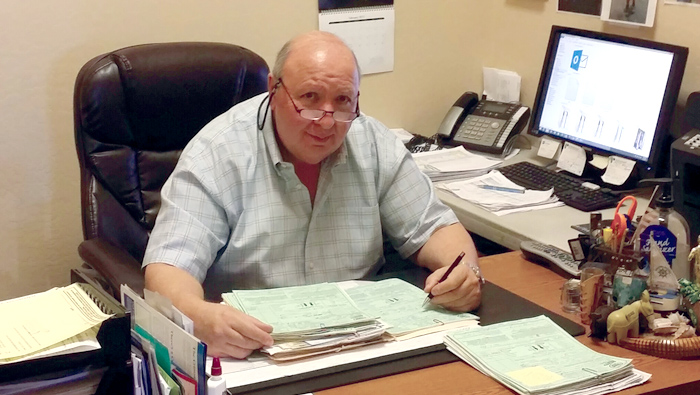 ---
For Michael Maher, owning Steel Shield Security Doors & More was the furthest thing from his mind when he sold his New Jersey CPA firm of 28 years and moved with his wife to Arizona to be closer to their son. He thought retirement was the next step.
"About a year went by and I didn't know what to do with myself," says Michael. "I started to feel that I had no reason to get up in the morning. I didn't like that feeling at all. It was terrible."
Michael decided to take his knowledge (he has a master's degree in taxation) and open U.S. Tax Recovery. "I used to review tax returns for business owners, looking for mistakes or missed opportunities," says Michael. "We would go back three years, amend the returns and get [clients] a lot of money back. About half of returns are not correct anyway." He showed clients what to do for future returns and how to avoid overpaying taxes.
Then the IRS changed the tax law and licensed preparers were no longer allowed to charge a contingency fee. Since Michael was a licensed CPA, he wasn't going to start charging people up front on the chance of finding errors. So he closed that business and started another: ­CFO on Call.
"I [worked with companies that] could not afford a full-time CFO," says Michael. "I would do one day a week at this company, two days a month at that company. I built up a clientele that way."
One day, a gentleman he had met during his travels approached him and said, "Mike, I'm a part owner in a door company and I think it's in a lot of trouble. Would you mind looking at things for me and seeing if there is anything we can do?"
Michael agreed and he started working with Designer Doors. Barely functioning, the company owed the IRS and the state of Arizona a lot of money after investors put someone in charge who didn't have the necessary background or experience.
For six months, Michael tried to help, cutting expenses by over a million dollars; but when the company couldn't make payroll, it closed its doors. During that time, Michael got to know the people and liked the business. He asked some key people if they would join him in starting a new company. With a resounding "Yes!", Steel Shield Security Doors and More was born.
That was almost nine years ago. "We started this business at the height of the recession, when things were getting bad and worse," says Michael. "Everything was uphill for us, but we continued to grow and fortunately everything turned out nicely."
Steel Shield's product line includes decorative, all-steel security screen doors. Homeowners can safely leave their house doors open with the security screen door in place. "We do everything here ourselves – from the moment the steel comes in to the time [the door is] installed in your house," says Michael. "Every door is custom made."
"The stainless-steel security screen looks like a regular screen, but you can't cut or break through it." says Michael. "To get through any of these products, you have to have power tools, make a lot of noise and cut things apart – it's a big job." He adds that burglars don't want to take the risk with such an effort: "They want to kick in a front door, grab what they want and get out."
In the eight years the company has been in business, there has been only one incident, years ago, where someone broke through one of his security doors. "It was a domestic dispute between a mother and son," recall Michael. "He hooked up a chain to the security door then hooked [the chain] up to his truck. Not only did he pull the security door off, he pulled the whole door frame off the house!"
Security screen doors help people feel safe in their homes again after they have experienced the trauma of a break-in. Michael tells the story of one couple who, after a break-in, never left the house unoccupied; one would always stay home while the other was gone. Michael says that installing a security screen door has now made them comfortable enough to leave the house together. Another customer who had moved into a hotel after her home was robbed didn't return until she bought a security screen door.
Instead of customers with expensive homes in Paradise Valley and North Scottsdale, Michael finds that most of his clients "are people who have been in their modest homes 20 to 30 years. They really don't want to move, but the neighborhood has changed…and they are concerned about the security." They feel safer investing in security screens for their homes.
Michael stresses that a key to the success of the business is his employees, particularly those who came over from Designer Doors with valuable experience – some with more than 20 years. To them I tip my hat," says Michael. "They work so hard and do their best. I'm very appreciative of everything they do."
As Michael likes to say, "I always tell everyone I used to be a CPA – now I'm a 'doorman.'"
Steel Shield Security Doors & More's main location (factory and showroom) is at 1725 W. Williams Dr. in Phoenix. There's also a showroom and retail location on Bell Road in Surprise and a permanent spot at the Mesa Market Place Swap Meet. Call 623-581-DOOR (3667) or visit steelshieldsecurity.com.

---
---