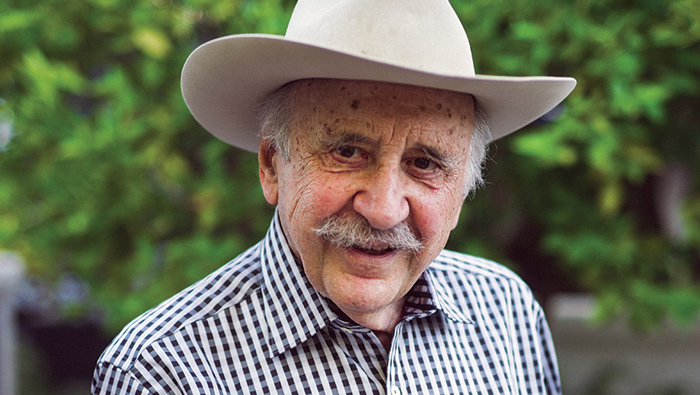 ---
Millard Seldin turned 90 in August this year, but his voice and mind are as strong as his convictions. He is a businessman, builder, developer, horse racing enthusiast and breeder, philanthropist, father, grandfather and doting husband.
His days now are filled with keeping track of wife Beverly's caregivers and working from his home office, although he does manage to go into the office of Seldin Real Estate, Inc./Kent Circle Investments "to do filing and a few meetings."
His business career started when he returned home to Council Bluffs, IA, from serving two years in the U.S. Navy during WWII. "My dad wanted to build homes, and he needed a body to learn the business and operate that end of it, that's where I got involved learning to build homes and develop," says Millard. He graduated from the University of Iowa, in 1951.
In 1957 he moved the company to Omaha, NB, where he acquired 1,000 acres to develop. He built homes and from there it developed into a complete community with shopping centers, apartments, churches, schools and more.
In the late '80s and early '90s he became more involved in real estate in Arizona and California. Millard co-founded Southwest Value Partners and, according to a 1997 article in the Wall Street Journal, the company accumulated 30% of the class A office space in downtown San Diego. Since 2002, Millard has worked closely with his son Scott in the offices of Seldin Real Estate, Inc./Kent Circle Investments in Scottsdale.
His keen business sense transformed a hobby of handicapping race horses (predicting which horses will win) to owning and breeding his own. In 1978 Millard bought his first two horses at the Ocala, FL sale. For his 89th birthday, his children purchased Awesome Mil as a surprise. This horse has not started to race yet, but is expected to be a formidable presence on the track.
When asked about his fondest memory of horse racing, Millard is reflective, "I guess one of the best parts of the whole business has been meeting and making friends. [There are] so many hard-working people in the industry who passionately love and enjoy being around horses. That has really been one of the nicest and greatest things about the business, the friends you've made and the people that you become very good friends with – and you appreciate their love."
The Seldins used to travel to watch their horses compete in various stake races and would spend summers in Omaha. But in 2000 Beverly required surgery after she fainted in the shower and broke her neck. They had a problem getting the proper 24-hour care she needed in Omaha, so they stopped visiting there.
Beverly had neck surgery in 2000 at Barrow Neurological Institute in Phoenix and also had surgery there in 2009 for spinal stenosis. Millard had been told that about 85% of the population at one time or another will have back problems. So in 2013 he donated a gift to help fund a new laboratory at Barrow for the research of spine surgeon Nicholas Theodore, M.D. "Even though the research program was not something that would benefit Bev, it held promise to the population as a whole," explains Millard. The Beverly and Millard
Seldin Family Disc and Spinal Regeneration Lab was named in their honor.
Philanthropy has always been an important part of the Seldins' lives and in honor of his 90th birthday, Millard's family donated $50,000 to Pardes Jewish Day School in Scottsdale, where his granddaughter and twin grandsons attend. When it comes to giving, Millard has this advice for his children, "Mainly they should give from their heart and always realize it's much better to give than receive."
More wisdom that Millard shares is, "One of the most important things I believe is the importance of the Golden Rule. Another thing is getting along with others, accepting others as they are, rather than trying to change people."
When asked what advice he might give his younger self, he is reflective, "Then I was always looking at new, challenging opportunities to conquer, and I was never satisfied until they were either realized or dropped. I more or less reflect now on the importance of being content and satisfied, versus on the go, go, go and so forth. I remember the quote 'You can't push a string' – I guess that comes with being 90."
He admits one of the downsides of turning 90 is that many of his good friends and business associates have passed away. But he tries to remain upbeat and active, and he says, "You have to keep your mind going." He recently read about one secret to aging, "If you are conscientious, you are going to live longer." If that is the case, Millard Seldin may be blessed with many, many more years ahead of him.

---
---