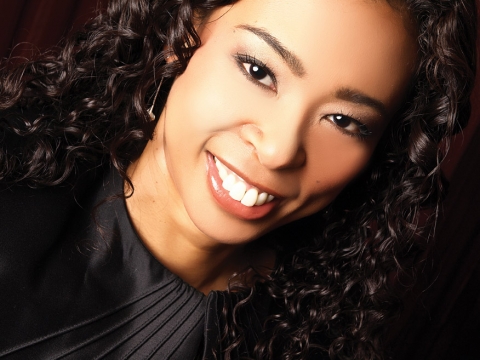 ---
Acclaimed violist Nokuthula Ngwenyama knew she wanted to be a musician at the tender age of 4. When she told her mother she wanted to learn to play the violin, her mother advised her to start with the piano.
"I just kept asking for violin lessons," laughs Ngwenyama. "Finally, for my sixth birthday, she got them for me." After developing a facility on the piano and violin over the next few years, Ngwenyama had an epiphany at the age of 12: she was destined to play the viola. She explains: "I heard a recording of Music from Marlboro: Mendelssohn Octet in E-Flat for Strings. There was an incredible solo in the third movement, which was a scherzo – the notes sounded like pearls. I tried to recreate the sound on the violin until I thought, that might be a viola!I strung a violin like a viola, and it was very close to the sonority. Once I heard that recording, I decided I love that sound, I love the instrument that makes that sound and I want to make music on that level."
According to Ngwenyama, many of the finest European classical composers have played the viola. Wolfgang Amadeus Mozart, Antonín Dvořák and Felix Mendelssohn were accomplished violists; the instrument fine-tuned their ability to hear the inner voices of a composition. "They could hear things from the inside out, how things are constructed, how to construct both harmonically and melodically."
After Ngwenyama found her calling, she quickly became a leading figure in the classical music world. At the age of 17, she won both the Primrose International
Viola Competition and the Young Concert Artists International Auditions. After graduating from the elite Curtis Institute of Music and the Conservatoire National Superieur de Musique de Paris, she went on to establish an international performing career. Her appearances in the United States have included concerts at The Kennedy Center, Merkin Hall and The White House, she has also toured Europe, Japan and China. Her musicianship has been praised by such publications as the Los Angeles Times, Gramophone and the Washington Post.
Today the violist wears many hats. While maintaining a busy performance schedule, she functions as an educator, arts advocate and arts administrator. She has taught at Indiana University and the University of Notre Dame; currently, she directs the Primrose International Viola Competition and serves as president of the American Viola Society. When asked how she juggles all of these responsibilities with her career as an artist, Ngwenyama ays, "You just don't think about it; you do what has to be done every day. With the American Viola Society and the Primrose International Viola Composition, I'm working with a really great board, so they do help me a lot. As far as playing and performing, those concerts and those commitments keep me on my instrument. You have to spend time with your instrument; you have to continue to grow. I just do my best and hope that it all works out."
While Ngwenyama discovered her calling early in life, her Judaism was a much later discovery. She explains: "My mother is from Japan and my father was from Zimbabwe. What's interesting about my father's background is that he came from a group of Ndebele but also Lemba, who are the Jews of southern Africa. I didn't know much about this growing up because my father was extremely secular."
It was only after Ngwenyama's father passed away that her heritage was revealed to her. "I went to visit my relatives, and there I was in the middle of the bush in Zimbabwe and this cousin says, 'You know we're Jewish, right?' I was like, 'What?' I'm sitting there in shock because my father had never told me about this."
At the time, Ngwenyama was involved in theological studies at Harvard University, and she began to research the story of the Lemba. "This is not only my hypothesis," she says, "the working consensus is that the Lemba really came from the Arabian Peninsula, down through the trade routes on the Indian Ocean. You have Jewish communities along the Malabar Coast in India. This predates the rise of Islam and coincides with the time when there actually was a Jewish kingdom in modern-day Yemen." The Lemba people now reside in South Africa, Malawi, Mozambique and Zimbabwe.
Interestingly, the Lemba tradition is patrilineal. So, when Ngwenyama married a Ukrainian-Lithuanian Jew in Arizona, the rabbi said, "As far as I'm concerned, you don't need to convert." The couple, who now have two children, are members of the Or Adam Congregation in Phoenix. Says Ngwenyama, "We've belonged to them for a little over a year, and we just love it. They are a wonderful group of people – everything they do is so thoughtful. I love their programs for the children; we're very happy."
It is under the auspices of Or Adam Congregation that Ngwenyama will be holding a lecture/performance at the Arizona Jewish Historical Society on Feb. 14. The idea for the presentation arose after the violist was invited to play in Kraków with the Sinfonietta Cracovia. She stayed in the Kazimiersz, which still bears traces of its origin as the main Jewish neighborhood in the city. "I got to go around and see the incredible synagogues that are still there; they are maintained by the city," remarks Ngwenyama. "But what was amazing is to see all of the Hebrew lettering on the buildings that still exist. You can still feel that there was a very vibrant and incredible Jewish community, and that's something that even time and history have not been able to take away."
While in Poland, Ngwenyama performed an ambitious program of music that included the Penderecki Viola Concerto. She is excited to play excerpts from this program at the Arizona Jewish Historical Society. Says the violist, "I was thinking of looking for other music by composers who perished in the Holocaust, like Gideon Klein; I thought it would be fitting to play some of these composers' works in between talking about my experiences. We lost multiple generations of brilliant minds; we are lucky that there is a trace left from these people. What's left is really quite amazing.

---
---