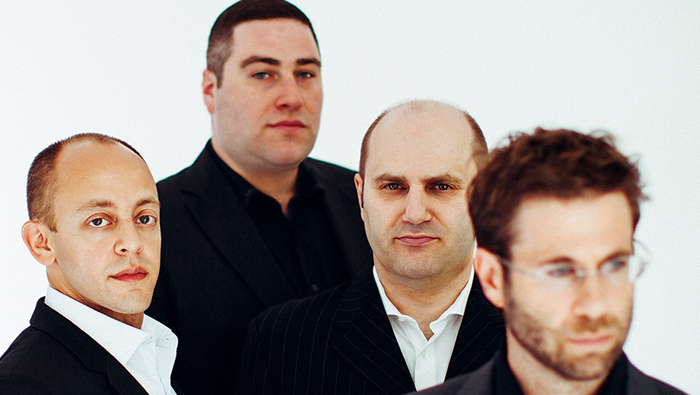 ---
"Last year I read a book called Forbidden Music – I don't know how I got the book or why I did – which is about composers whose music was forbidden to be performed by the Nazis.  I found it fascinating," says Daniel Asia, composer and professor of music at the University of Arizona.
The book included well-known composers, such as Arnold Schoenberg and Kurt Weill, along with other lesser-known musicians. While in London last fall, Asia met the author, Michal Haas, who asked if he had ever heard of Hans Winterberg. Asia had not. That's because Winterberg's musical archive had been sealed under a Nazi law and only recently opened. Winterberg was practically unknown.
With a whole new treasure trove of music to explore, Asia's fascination with forbidden music became the inspiration for the UA Fred Fox School of Music's "Music + Festival 2016: Forbidden Composers – Schoenberg, Weill, Winterberg." This is the ninth annual composers festival, directed by Asia. Featuring a conference, a symposium and four concerts, the festival takes place Oct. 14-16 on the UA campus in Tucson.
"Winterberg's story is astonishing," says Asia. An Austro-Hungarian composer, he survived Theresienstadt, a concentration camp in Czechoslovakia, only to be sent on a forced march to Germany. "German speakers were unwelcome in other countries after the war," Asia explains. He ended up in Munich, where he was hired by the Bavarian Radio Orchestra. "He was a composer of some note, but was marginalized, as most composers were after the war who did not write in the serial style made popular by Schoenberg.  His music was recorded by the Bavarian Symphony. After he died in 1972, "his archive was put under some Nazi law that said it couldn't be opened until 2040 because he was Jewish," says Asia. His grandson and Haas got the ruling overturned and the archive was opened last year.
"There might be a few pieces here that will enter the repertoire, and that's a big deal," says Asia, who has spent months going through the archive and is excited to bring Weingarten's music to audiences who have never heard of him. "We are bringing this music back to life. How cool is that?"
Although Schoenberg, Weill and Winterberg composed in vastly different styles, the common thread among them is that their music was banned by the Nazis because they were Jewish. The festival explores their lives and the relationship between serious and popular music. Highlights include Schoenberg's "Five Pieces for Orchestra," Weill's "Three-Penny Opera," and Winterberg's "Wind Quintet." All Winterberg performances will be American premieres.
"Schoenberg was a committed Jew, who then became a Lutheran, who then became a Jew again," says Asia. He wrote the opera "Moses and Aaron" to "try to figure out the relationship between these two biblical characters. In his later life, he was committed to Zionism and Judaism." In the 1930s and '40s, after fleeing Nazi Germany, Schoenberg worked tirelessly to help other Jews escape Europe. Although Schoenberg was known as a rebel for inventing the 12-tone approach to composition, Asia says that the music he wrote later in life from Los Angeles was more "old school."
"We're going to present the complete picture of Schoenberg: Schoenberg the revolutionary and then Schoenberg the man who, in his 40s, 50s and 60s moderated … and discovered … continuity of the generations," says Asia.
If Schoenberg wrote for the musical elite, Weill wrote for the populace.
Asia describes Weill as "another nice Jewish composer, whose father was a cantor." Like Schoenberg, his early music was in the late romantic idiom, as influenced by Richard Wagner and Richard Strauss. But when he discovered jazz in Berlin, he "went completely over to the other side and started writing popular songs influenced by … Tin Pan Alley. … like 'Three-Penny Opera.'" Forced to leave Germany, Weill ended up in New York, where he was a significant presence on Broadway until his death at the age of 50. Weill, too, was a devoted Zionist. His liturgical piece "Kiddush," commissioned for New York City's Park Avenue Synagogue in 1946, will be performed on the last day of the festival.
The conference includes keynote speaker Haas, who will present on Winterberg; Dr. Stephen Hinton, author of Weill's Musical Theater, on Weill, and Dr. Sabine Feisst, author of Schoenberg's New World: The American Years, on Schoenberg. "The speakers will talk about the composers, but will also talk about their sense of themselves as Jews and as Jewish composers," Asia says.
On Saturday, Aaron Mobley and Robert E. Gordon of the School of Music will present a symposium reflecting on the places and larger cultural context in which all three of the composers lived and worked.
Two concerts will be presented on Saturday and two on Sunday, including a performance by the Amernet String Quartet.
"The Amernet emphasizes the music of the Jewish diaspora, given its members' diverse Jewish backgrounds and, through our teaching and concertizing worldwide, aim to discover and disseminate the works of composers whose voices were silenced," says the Amernet String Quartet's Jason Calloway.
For information, visit music.arizona.edu.

---
---